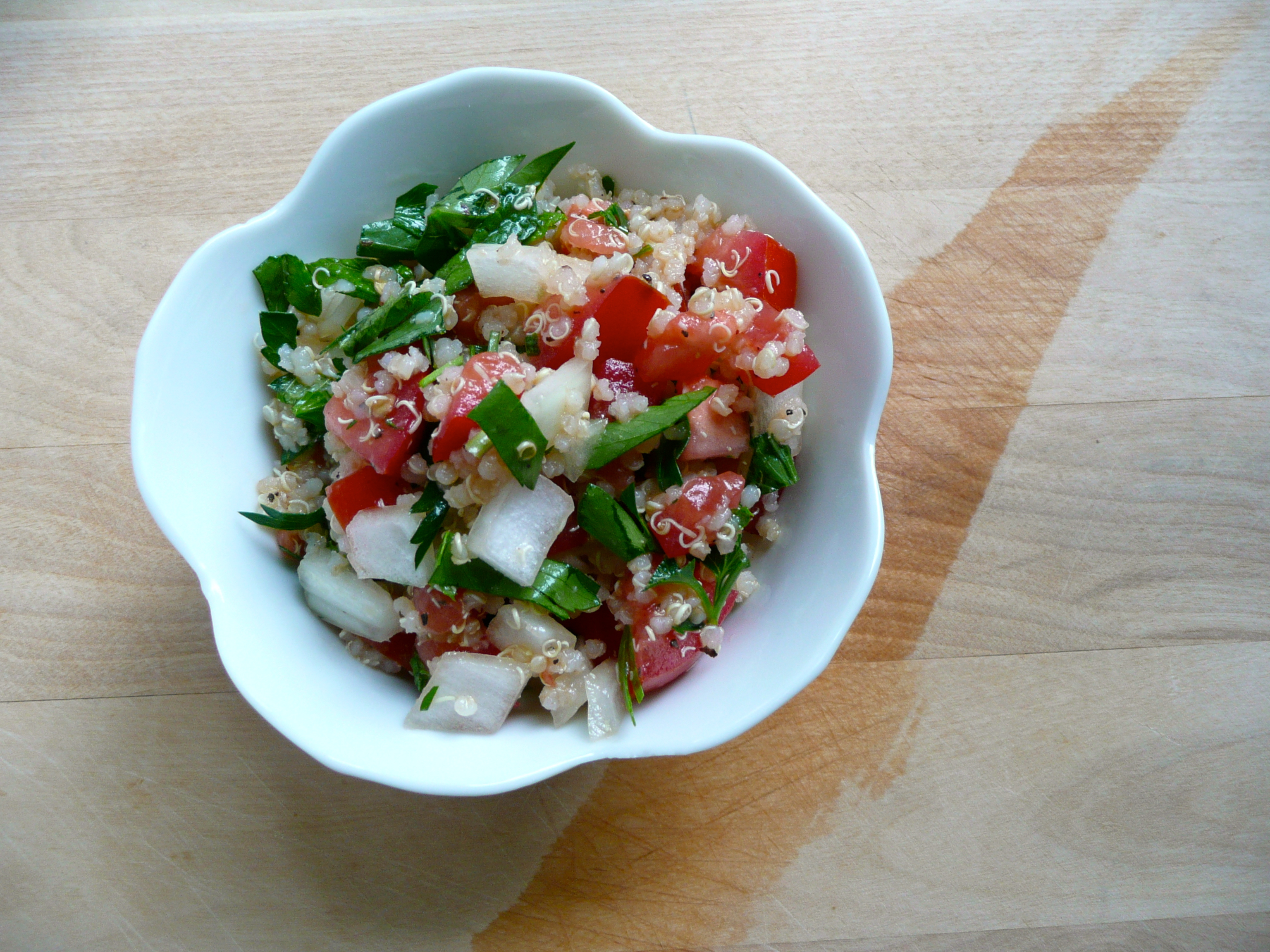 I have a bit of secret…
I don't actually love eating quinoa.
I know that it's healthy, but like most people, I didn't grow up eating it. So quinoa lacks that sense of nostalgia and comfort that many of my favorite foods have. It doesn't have too much of a flavor, and to be honest I'm still sometimes at a loss as to what to eat with it, or lack ideas on how to make it more exciting.
I know that people say that you can swap quinoa out for rice, but honey, it ain't the same.
Making sushi with quinoa doesn't work that well, and when you're eating something like Lou Rou Fan (Taiwanese Braised Pork with rice) or Taiwanese Style Scrambled Eggs with Tomatoes and Green Onion, you want rice. I can eat brown rice with both of those dishes and not feel like I'm missing out, but I don't want to eat those dishes with quinoa.
But this is a recipe that I love to eat. This recipe makes quinoa taste (imagine Oprah saying this) amazing! I love the brightness of the lemon juice with the freshness of the mint and parsley. The quinoa has a lovely texture that really works well with this dish, and gives the tabbouleh a lot of good protein. This tabbouleh is also full of different colored vegetables and herbs, and it's a very nutrient dense salad that just tastes great.
And it doesn't feel like another boring old salad, it looks and tastes exciting.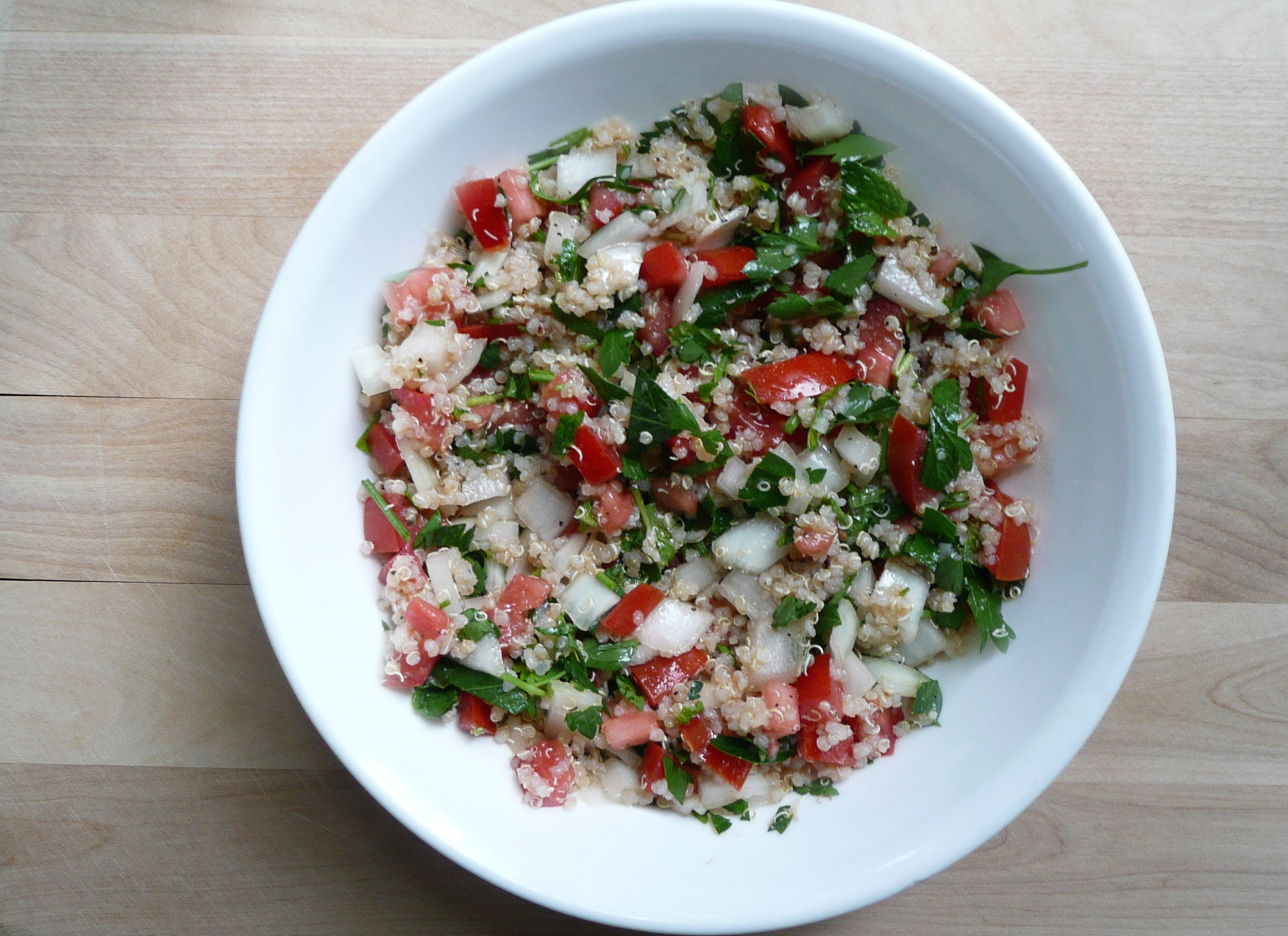 So if you're ever stumped as to what to do with leftover quinoa, make this dish and see if you don't just eat the entire portion yourself in one sitting.
I like to make this dish a day in advance so that the lemon juice has time to mellow out the sharpness of the onion. It's also nice to have a batch of this sitting in the fridge so that there's always something healthy to snack on when you're hungry.
Quinoa Tabbouleh
Makes 2-3 servings
Ingredients
1 diced Roma tomato (about 2/3 cup)
½ cup diced white onion
¼ cup finely chopped parsley, loosely packed*
1 tbsp finely chopped fresh mint*
¾ cup cooked quinoa**
1 tbsp olive oil
3 tbsp fresh lemon juice***
¼ level tsp sea salt
¼ level tsp black pepper
*For tips on how to keep your excess herbs fresh, here's a link to a post that I wrote about that.
**If at all possible, buy the quinoa in the store that doesn't say to rinse it on the package instructions. Quinoa can be difficult to rinse if you don't have a fine enough strainer, and life is easier if you can just scoop the dry quinoa out from the container, add it to a pot with some water and cook it in the rice cooker and not have to think to hard about it.
*** If you have any excess lemons, you can freeze them.
Instructions
Stir all ingredients together. Cover and refrigerate overnight. Taste it the next day, and adjust the seasoning if needed.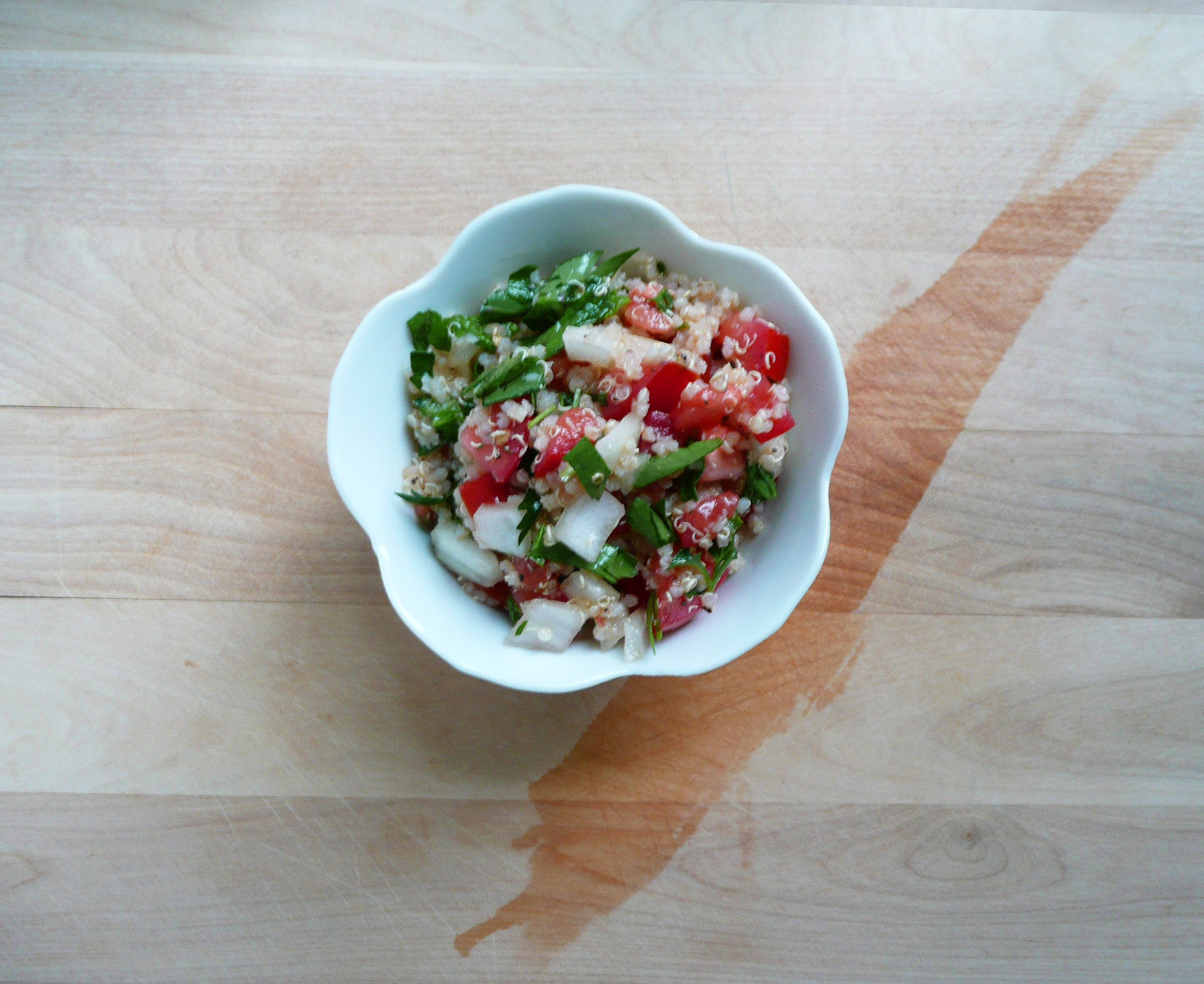 Happy Eating!