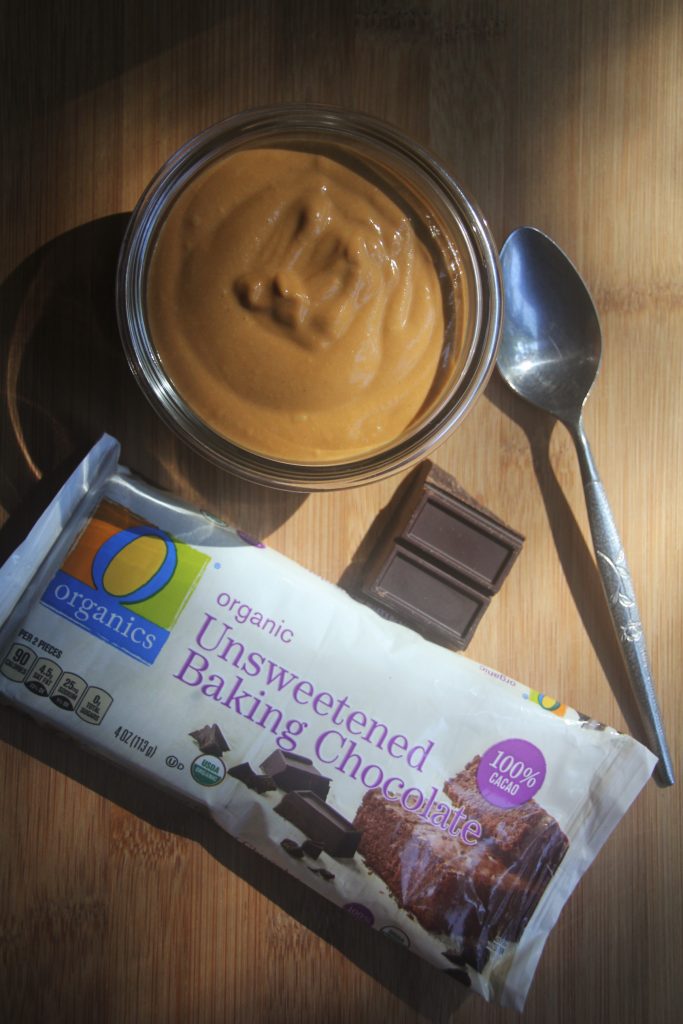 This is my super easy recipe for chocolate pudding! Eating this reminds me of eating those chocolate pudding cups when I was a kid. I like to make a big batch of this and stash it in the fridge for a quick snack and it keeps for about 5 days in fridge.
This pudding is lovely and thick, and has a rich and decadent chocolate flavor but no added sweeteners. The pudding still tastes sweet (it gets is sweetness from the milk, coconut oil and sweet potatoes) and it's a nice treat for days when you want to eat something that tastes delicious but also helps you get in an extra serving of vegetables.
You can make it with any kind of milk that you like (the milk that I use for this recipe is the organic lactose free 2% milk from Costco which tastes very sweet without any added sugar, but you can use coconut milk for a vegan version). Feel free to play around with the flavors of this pudding. You can add a bit of peppermint extract for a mint chocolate pudding, or swap out some of the milk with a little coffee for a slightly deeper chocolate flavor.
I like to freeze 1 cup portions of this and then let it thaw on the counter for about 30 minutes so the pudding sort of becomes this fudgesicle / chocolate ice cream-like frozen treat. In luscious pudding form or frozen, this treat is great when eaten with fresh strawberries.
You can also add about a 1/2 cup less milk and blend it in batches in a food processor for a more chocolate mousse-like texture.
Easy Chocolate Pudding
Makes 6-8 generous servings
Ingredients
28 oz cooked sweet potato – (3 medium sweet potatoes, or about 4 cups diced)
1.5 oz unsweetened baking chocolate
2/3 cup coconut oil
2 cups milk of choice
small pinch of salt
Instructions
1. Peel your sweet potatoes and cut them into 3/4 inch cubes. Steam them for about 30 minutes until they are soft and easily pierced with a fork. Allow to cool to room temp, measure out 4 cups of sweet potatoes and transfer to a blender.
2. Pour the milk into the blender and add the salt. Melt the coconut oil and chocolate over medium low heat stirring frequently (this took about 5 minutes for me). Pour the chocolate and coconut oil mixture into the blender and blend until smooth, stopping the blender occasionally to scrape down the sides and give it all a good mix with a spatula.
3. Pour the pudding mixture into a airtight container and refrigerate overnight until thickened.
4. Spoon into bowls and enjoy!