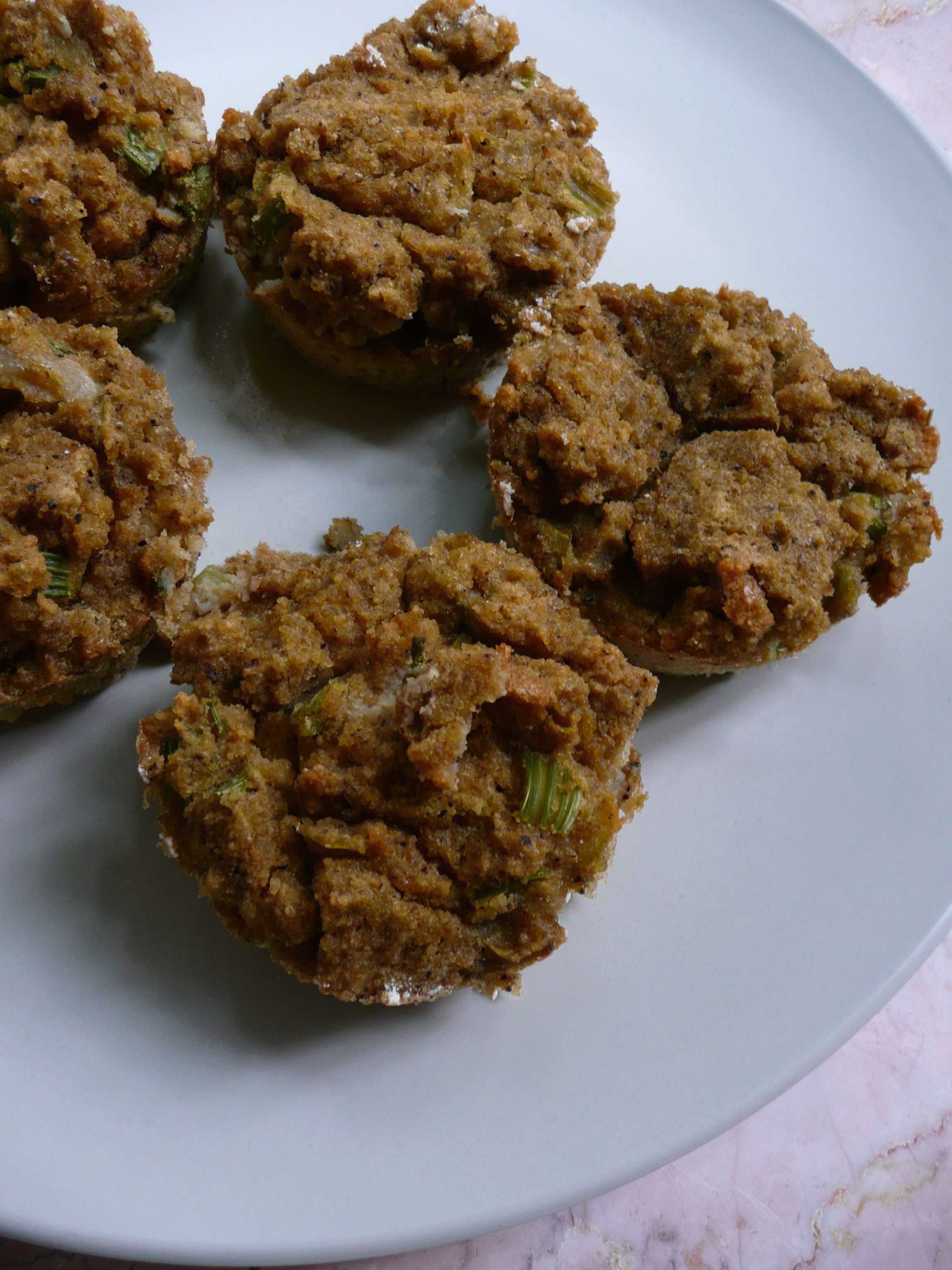 There are many types of incredible stuffing, but Southern Style Cornbread Dressing is my absolute favorite. The taste of this brings back so many happy memories of friends and family over the years, and always brings a smile to my face. It's slightly crispy on the top and moist and creamy in the middle, and it's definitely a crowd-pleaser.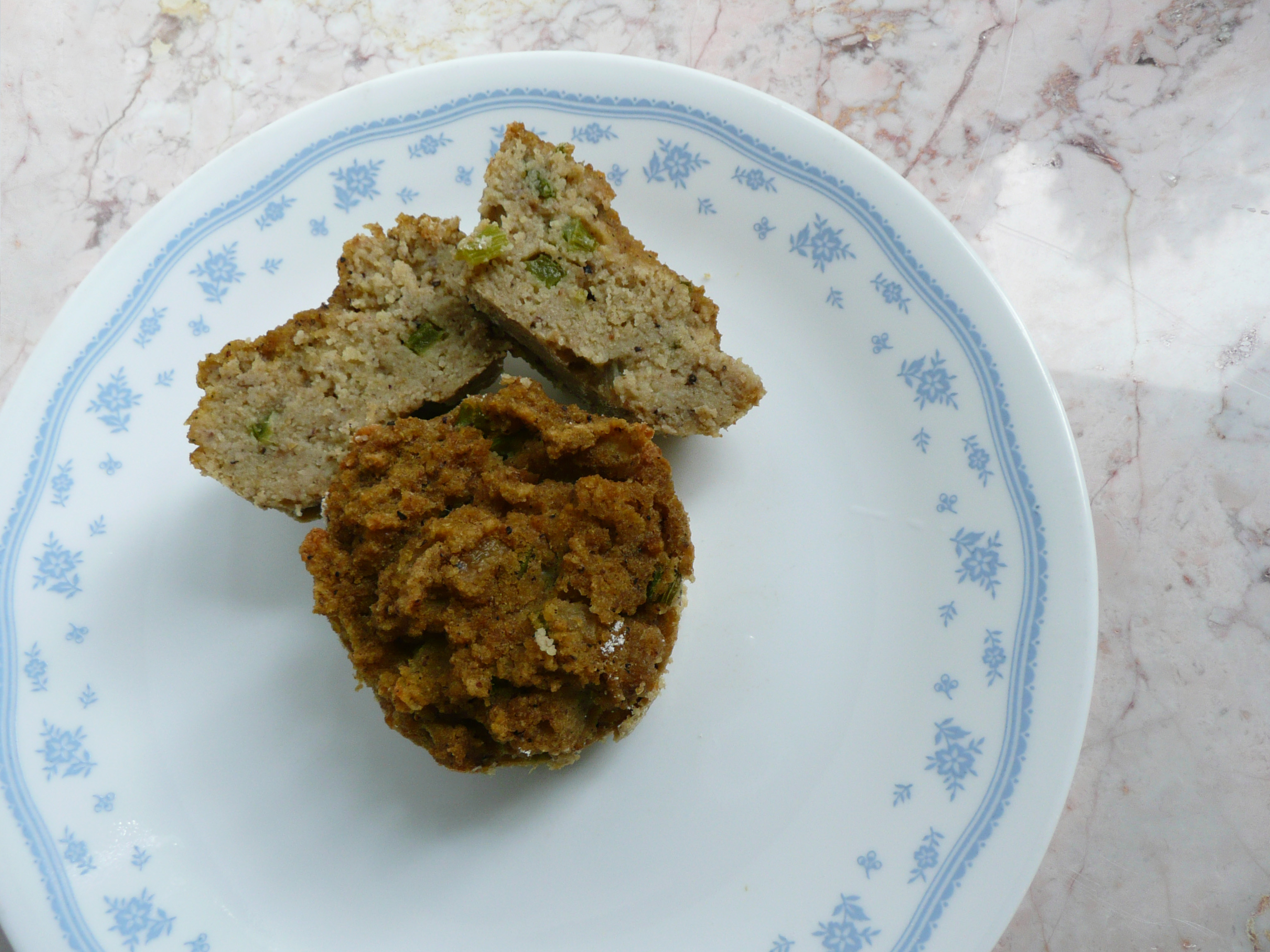 You can either bake this in a muffin tin (will make 12 muffin size portions of stuffing) or bake it in a 13 x 9 casserole dish. The baking time will be the same either way. I would use the muffin pan if you're planning on making the stuffing ahead or want to freeze individual portions to enjoy later.
Southern Style Cornbread Dressing – Gluten Free
Makes 4-6 servings
Adapted from this recipe.
For the Cornbread
Ingredients
¼ level cup + 1/3 level cup of oat flour*
1 level cup + 3 tbsp. of cornmeal **
¾ level tsp. baking soda
1 tbsp. ground flax seed (or add another ½ a beaten egg to the wet ingredients)
4.5 tbsp. avocado oil – or any neutral flavored oil
2 tbsp. apple cider vinegar (or white vinegar)
1 ½ tsp. maple syrup
1 cup of water
1 egg
Instructions
1. Preheat the oven to 425. Grease and flour a 8 x 8 baking dish with oat flour and any neutral flavored oil.
2. Sift the cornmeal, oat flour, baking soda, and ground flax seed in a large mixing bowl.
3. Stir together the wet ingredients until well combined. Add the wet into the dry and stir to combine. Pour into the 8×8 baking dish.
4. Bake at 425 for 30 minutes until golden brown. Set the cornbread aside to cool.
Notes – * I grind oats into oat flour using a blender. Don't grind the oats in a food processor because the flour won't be fine enough.
Any extra oat flour (or ground flax seed) I don't use in the recipe goes into an airtight container and I use it for another recipe.
**If you're allergic to corn, you could try substituting brown rice flour for the cornmeal at a 1:1 ratio. I didn't test this recipe specifically with this substitution, so I'm not 100% sure this will work, but last year I made a cornbread dressing with brown rice flour instead of cornmeal and it came out great. You couldn't tell the difference at all.
For the Cornbread Dressing
3 tbsp. olive oil
½ cup diced onion
¾ cup diced celery
1 egg
2 cups of chicken broth (homemade or store bought)
¾ tsp. pepper
¾ tsp. dried rubbed sage
¼ + 1/8 tsp. sea salt
Instructions
1. Sauté the diced onion and celery in the olive oil over medium heat until tender, about 12 minutes.
2. Add the sage and sauté 1 minute longer.
3. Crumble the cornbread into a large mixing bowl. Add the cooked vegetables, salt, pepper, sage and chicken broth to the mixture. Taste for seasoning, and add more salt and pepper if needed.
4. Stir in the beaten egg, then cover and chill the mixture overnight (at least 8 hours).
5. Preheat the oven to 375. Grease and flour your muffin tin or 13 x 9 baking dish with oil and oat flour. Pour the mixture into the pan and bake uncovered for 30-40 minutes until golden brown on top.
If your making this in a muffin pan, let the stuffing cool in the muffin pan for 30 -45 minutes so that the stuffing has some time to firm up and hold it's shape. Run a butter knife around the edges to loosen them, pop the stuffing muffins out and refrigerate. Reheat them to serve.
If you're putting a dish straight from the fridge into the oven, put the fridge-cold dish into the cold oven (so that the ceramic dish does shatter from the temperature change between the cold fridge and the hot oven). Then preheat your oven with the dish inside so that it warms up with the oven and bake as usual.
You can reheat any leftover stuffing by covering the dish tightly with foil, and baking at 300 degrees for 45 minutes until warmed through.