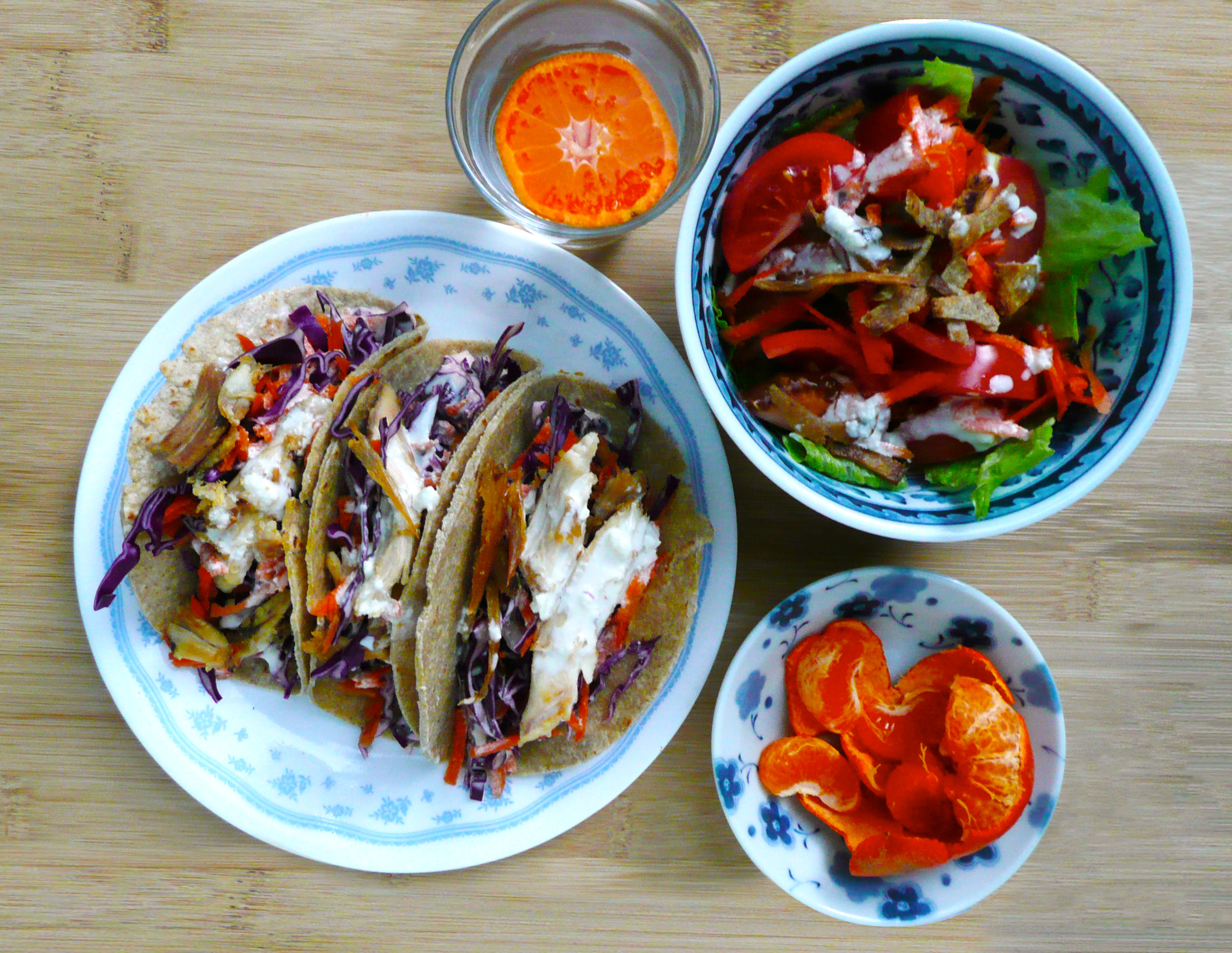 I love this creamy dressing. The dressing takes just minutes to put together and you can make it ahead of time as well and dress the cabbage and carrots when you're ready to eat.
It's slightly sweet from the maple syrup, and has a little bit of a bite from the apple cider vinegar and finely grated onion. And the dressing makes eating a good size serving of a cabbage (which is really good for you as it's a cruciferous vegetable) a delicious experience.
When I first went gluten free, I experimented with a lot with different food combinations to try and come up with more exciting dishes to eat.
One of my first and favorite food combinations ones turned out to be chicken and cole slaw tacos.
I use homemade gluten free tortillas, top them with cole slaw and some leftover roasted chicken. If you're vegan, you can use a vegan mayo and a meatless chicken subsitute (or crispy tofu would be good too).
You can also serve the dressing over a normal salad (like I did in the picture). I trimmed off the edges of the tortillas and pan fried them with a little oil until they were crispy and added them to salad as a crouton substitute.
I hope that you enjoy the dressing (and that it makes eating lots of vegetables more exciting!).
Happy Eating!
Cole Slaw Dressing
Makes 1 serving
Ingredients
1/2 tbsp finely grated white onion (I use the really small holes on my box grater for this)
3 tbsp mayo (I used an avocado oil mayo)
3/4 tsp apple cider vinegar
1- 1 1/4 tsp maple syrup
pinch of salt (to taste)
1 cup finely shredded cabbage and grated carrot mix
Instructions
Stir together the onion, mayo, vinegar, and maple syrup. Add salt to taste.
Pour over the cabbage and carrots and stir until well mixed. Serve.