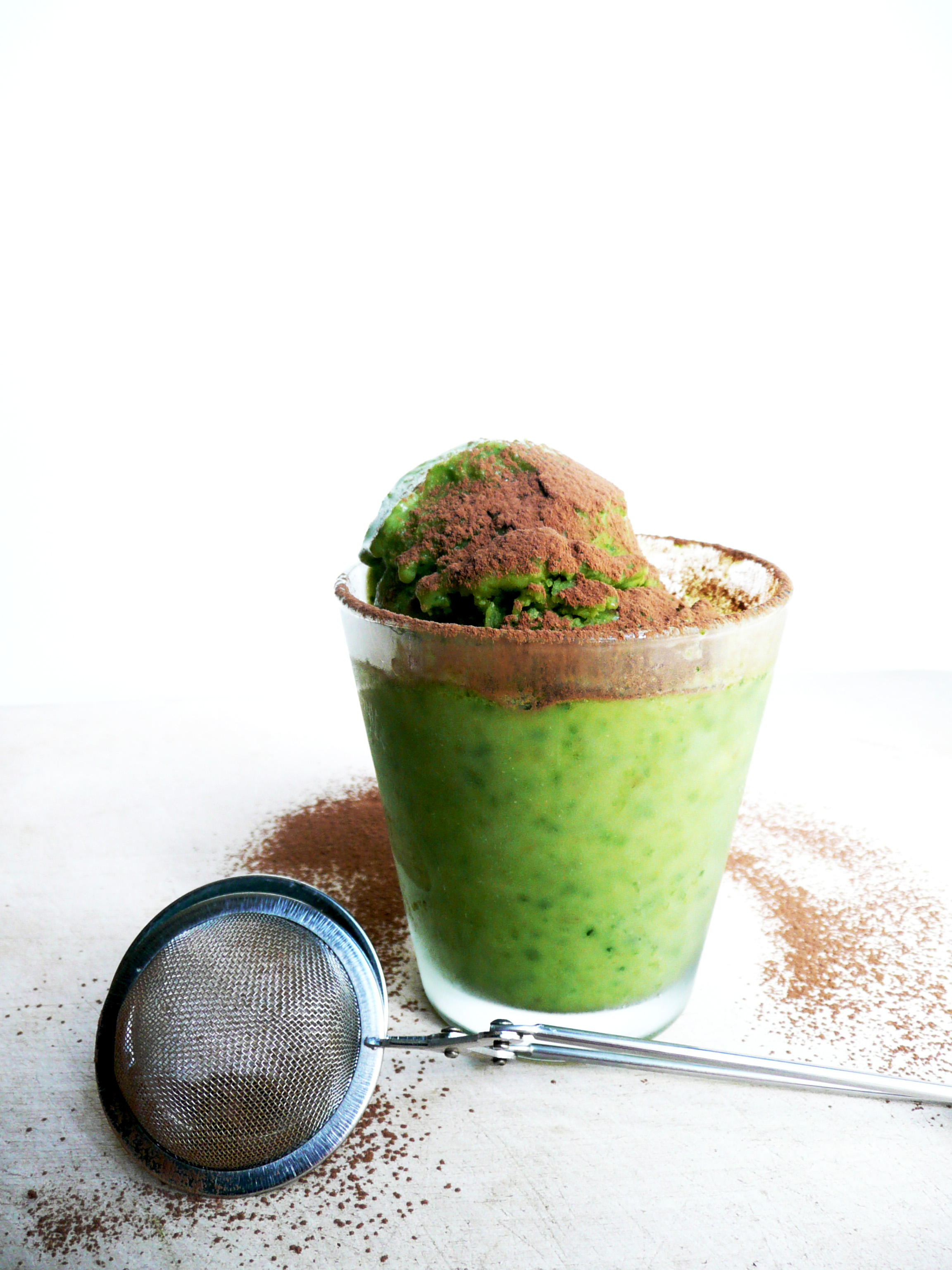 When I first realized that St. Patrick's Day was coming up, I was at a bit of a loss as to what to make to celebrate.
So I googled "Traditional Irish Food" and pictures of things like shepherd's pie, Irish stew, and colcannon popped up, along with literally a picture of a potato. That's right, a plain ol' uncooked potato.
After I finished laughing for a good solid minute (that lone potato really cracked me up), I decided to go check out what was in the fridge and see if I could come up with a recipe from the ingredients that I already had. After a quick glance at the bananas on the counter, I opened the fridge to find that I still had a big box of baby spinach. After a little tinkering, I came up with a recipe for this gorgeous ice cream.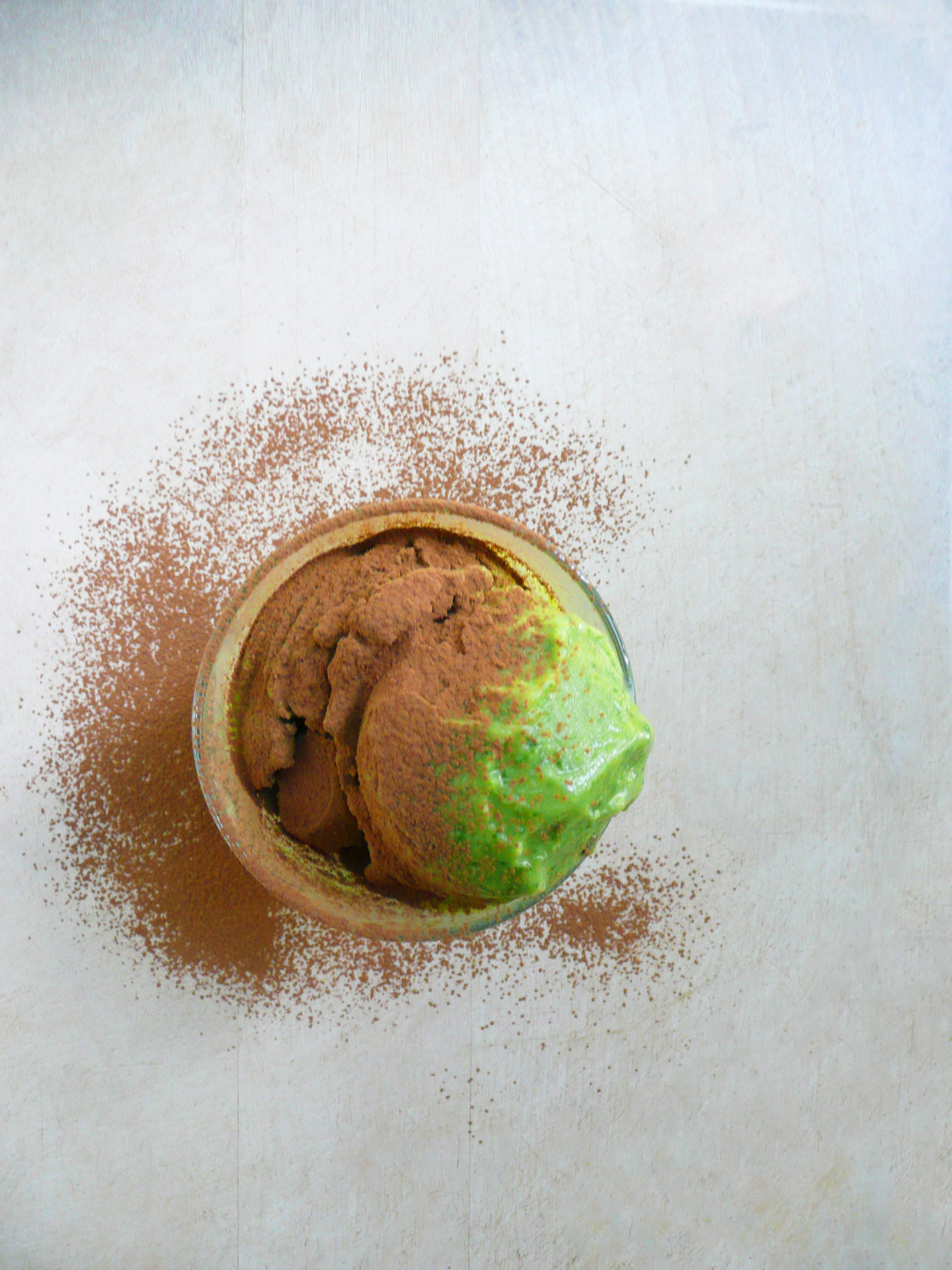 Ireland is the Emerald Isle after all, and this recipe borrows just a bit of that lush green color just in time for St. Patrick's Day.
This amazing mint chocolate ice cream is rich and creamy, and you can't taste the baby spinach at all, but it gives the ice cream it's lovely bright green color without any food coloring. Little flecks of dark green dance across every beautiful spoonful, making every bite a little more festive, a little more special.
Sprinkle over a little cocoa powder before just serving and every delicious bite will taste just like a Thin Mint cookie, but in ice cream form (which is even better).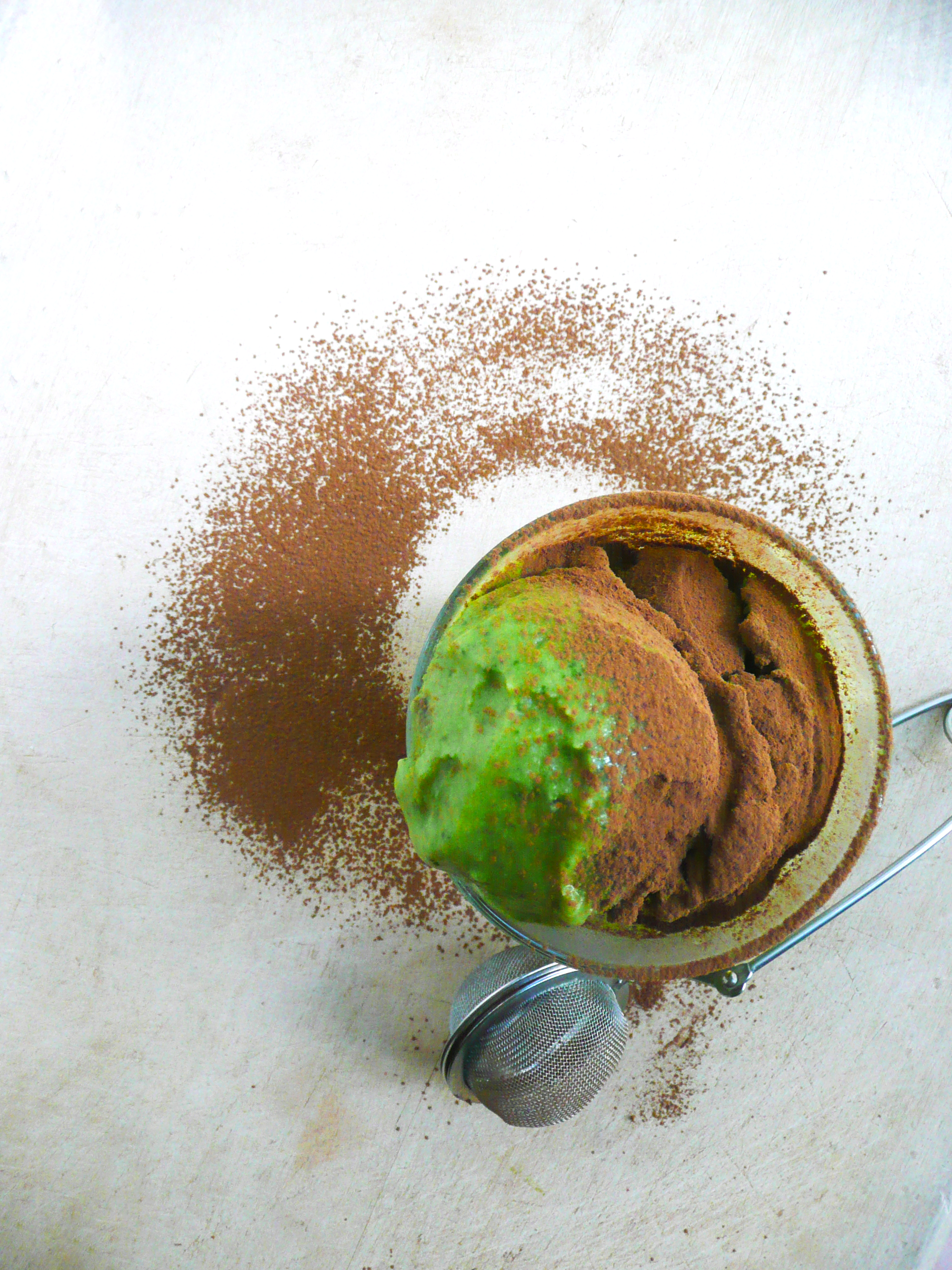 That little bit of cocoa gives a little bit of bitterness which goes incredibly well with the brightness of the mint and allows the flavor of the ice cream to really sing.
This recipe is also a great way to use up extra baby spinach and overripe bananas. The avocado oil seems like a funny addition, but it adds a real creaminess and makes it taste more like traditional mint ice cream.
Mint Chocolate Ice Cream
Makes a generous serving for 1 (about 3 scoops)
Ingredients
2 bananas
1/2 cup packed baby spinach leaves
5 1/2 tsp – 6 1/4 tsp maple syrup
5 tsp avocado oil (or any neutral flavored oil)
1/8 cup water
1/8 tsp peppermint extract (or more to taste)
the tiniest sprinkle of sea salt imaginable (optional)
A little cocoa powder to sprinkle over the ice cream before serving
Instructions
1. Peel and slice the bananas into 1/2 inch slices. Put a piece of plastic wrap over a plate and arrange the banana slices in a single layer over the plastic wrapped plate. Cover with another layer of plastic wrap and freeze until solid.
2. Allow the bananas to defrost for 5-8 minutes until just thawed. Add the bananas, baby spinach, maple syrup, avocado oil, water, and peppermint extract to a food processor.
Blend until smooth. Taste and add in the tiniest sprinkle of sea salt if desired, and at this point you can add more mint flavoring if you like (add a drop at a time as this stuff is strong).
3. Once you're happy with the flavor of the ice cream, scoop the ice cream into a dish and sprinkle with cocoa powder. Serve.
Notes – The bananas that I used were medium sized and they were ripe but were only lightly speckled brown, so if the bananas that you use are very brown and sweet, then you can probably decrease the amount of maple syrup.
The measurements that I ended up using in my own batch were 6 1/4 tsp maple syrup, and 1/8 tsp + 3 drops of peppermint extract (as I like a strong minty flavor in this ice cream).
You can also make the ice cream ahead of time and put it into something like a plastic snapware container and stash it in the freezer. This works especially well if you want to be able to scoop it into pretty scoops of ice cream for a nice presentation.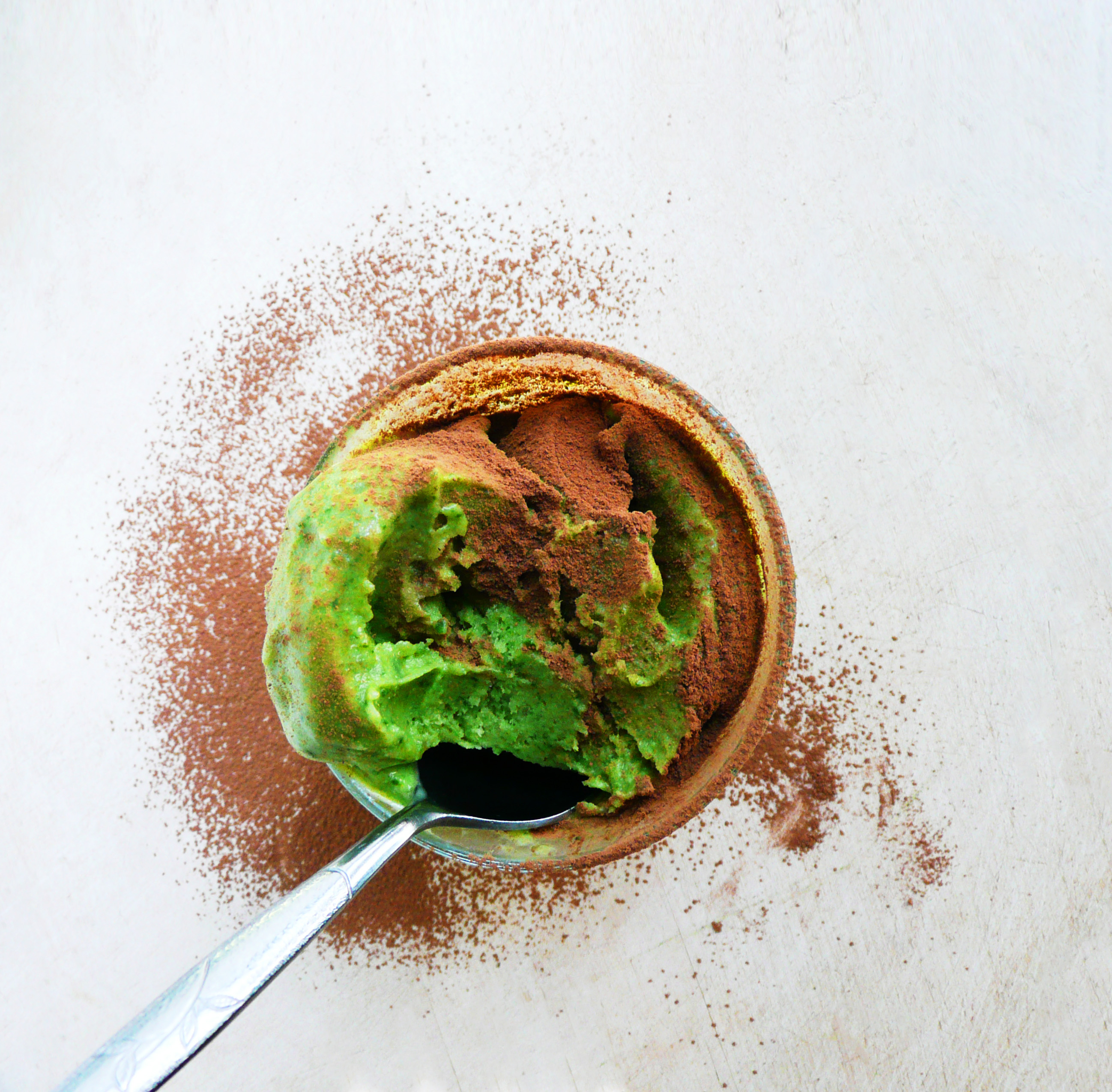 So much minty chocolate goodness in one bite…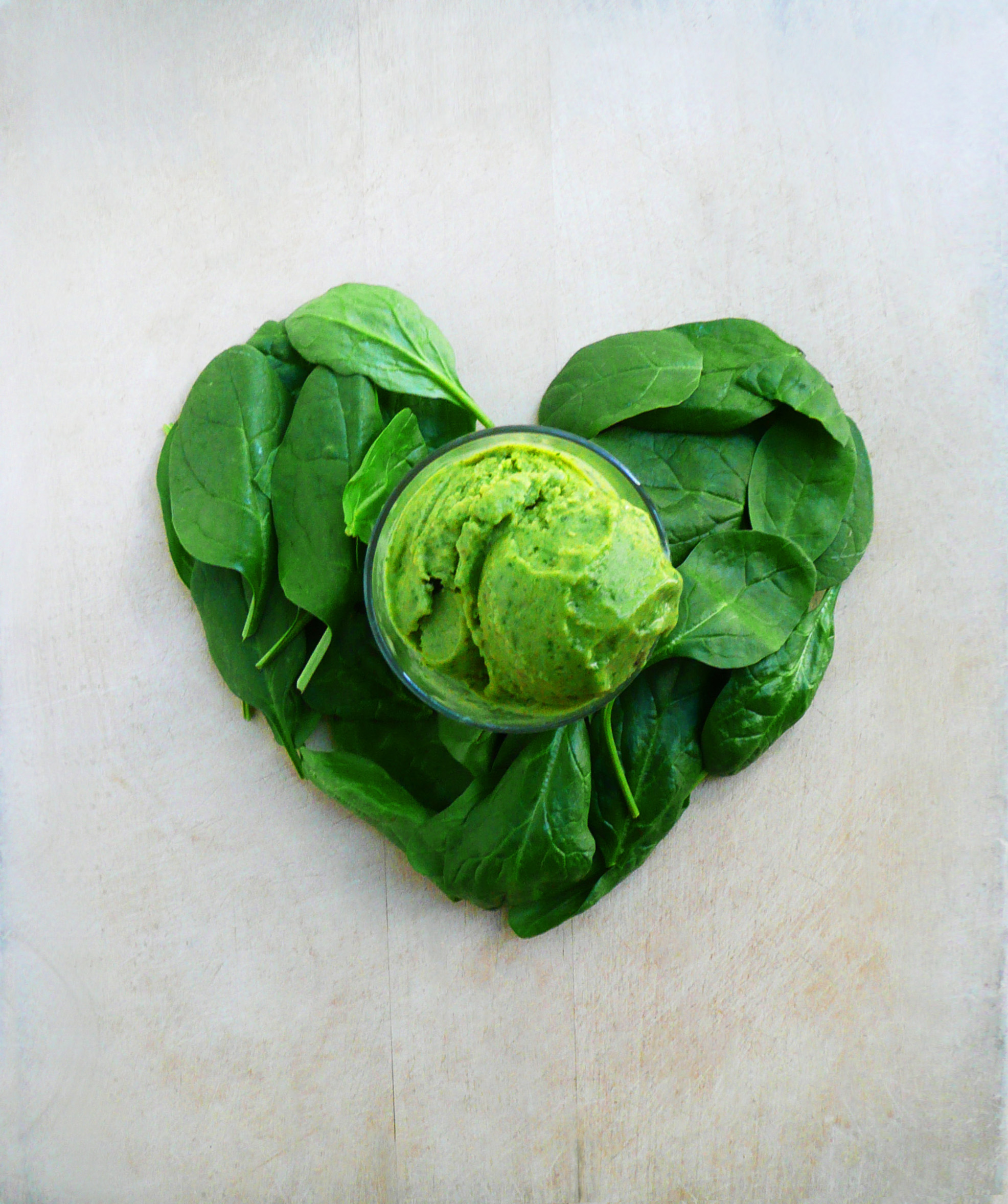 Happy St. Patrick's Day!