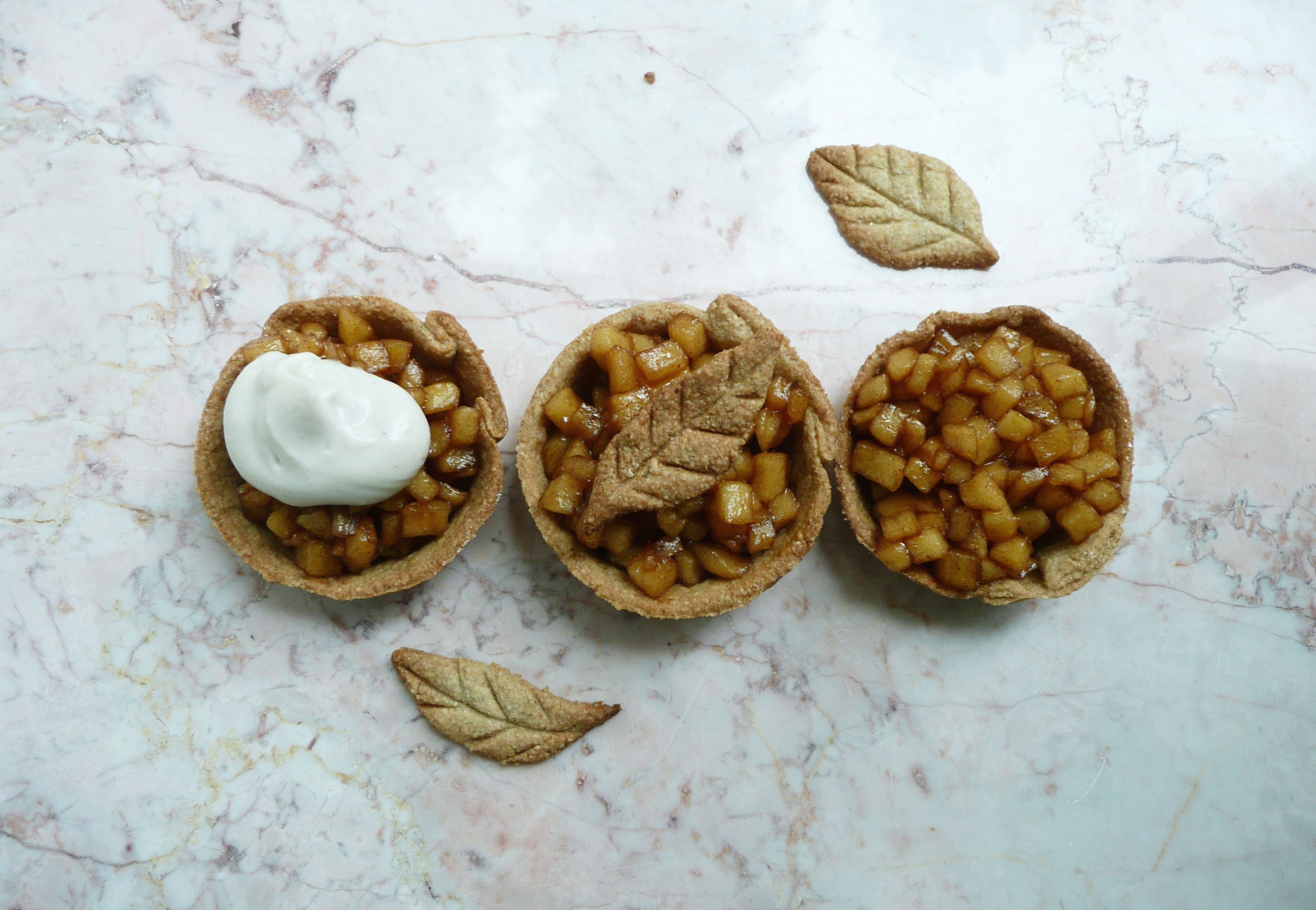 Happy Thanksgiving!
This is a bonus recipe, my gift to you for Thanksgiving! I hope that your family will enjoy them as much as my family does.
Apple tarts are full of fall flavors, and conjure up happy memories (or simply lovely daydreams) of wearing plaid (lots of plaid), and being bundled up in warm hats, scarves and mittens, and going to the local orchard for a fun day of apple pickin' with friends and family.
These tarts are simple to make, they just require about 35 minutes of your time, and a bit of stirring. I made up a batch of apple filling last night, and it's just sitting in the fridge as we speak. I'll spoon it into the tart crusts and top them with some cashew whipped cream right before serving.
You can easily double the batch to make the filling for 12 tarts, and I'll leave the measurements for 12 tarts at the bottom of post, just in case you need them. You may have to slightly adjust the cooking times for the bigger batch.
Apple Tarts
Makes 6
Ingredients
2 Fuji Apples – cut into 1/4 inch dice (about 2 1/2 cups)
1/2 cup maple syrup
1 1/2 cups water
1/4 level tsp ground cinnamon
3/4 tsp vanilla extract
2 tsp avocado oil (or any neutral flavored oil)
Instructions
1. In a medium saucepan (if doubling the recipe, us a large pot instead) cook the apples, water and maple syrup over medium high heat for 20 minutes, stirring frequently.
Wear an oven mitt and a shirt with long sleeves to stir the mixture, as the steam from the cooking apples can be hot.

2. Turn the heat to medium, and cook for another 10 minutes stirring constantly.
Don't touch the mixture with your hands during the final 10 minutes, or until it cools, as we're basically making a caramel with apples in it. You don't want to burn yourself from the hot sugar mixture.

The pieces of diced apple will become golden brown, and there shouldn't be any more pools of liquid in the pan. The mixture will become more difficult to stir, and lots of tiny tiny bubbles will form on the bottom of the pan while you stir.
The mixture is done cooking when you can turn your spoon to the side and most of the apple mixture on the spoon will stick to the spoon instead of falling back into the pot.
3. Take the pan off the heat, and carefully scrape the mixture into a bowl and allow to cool.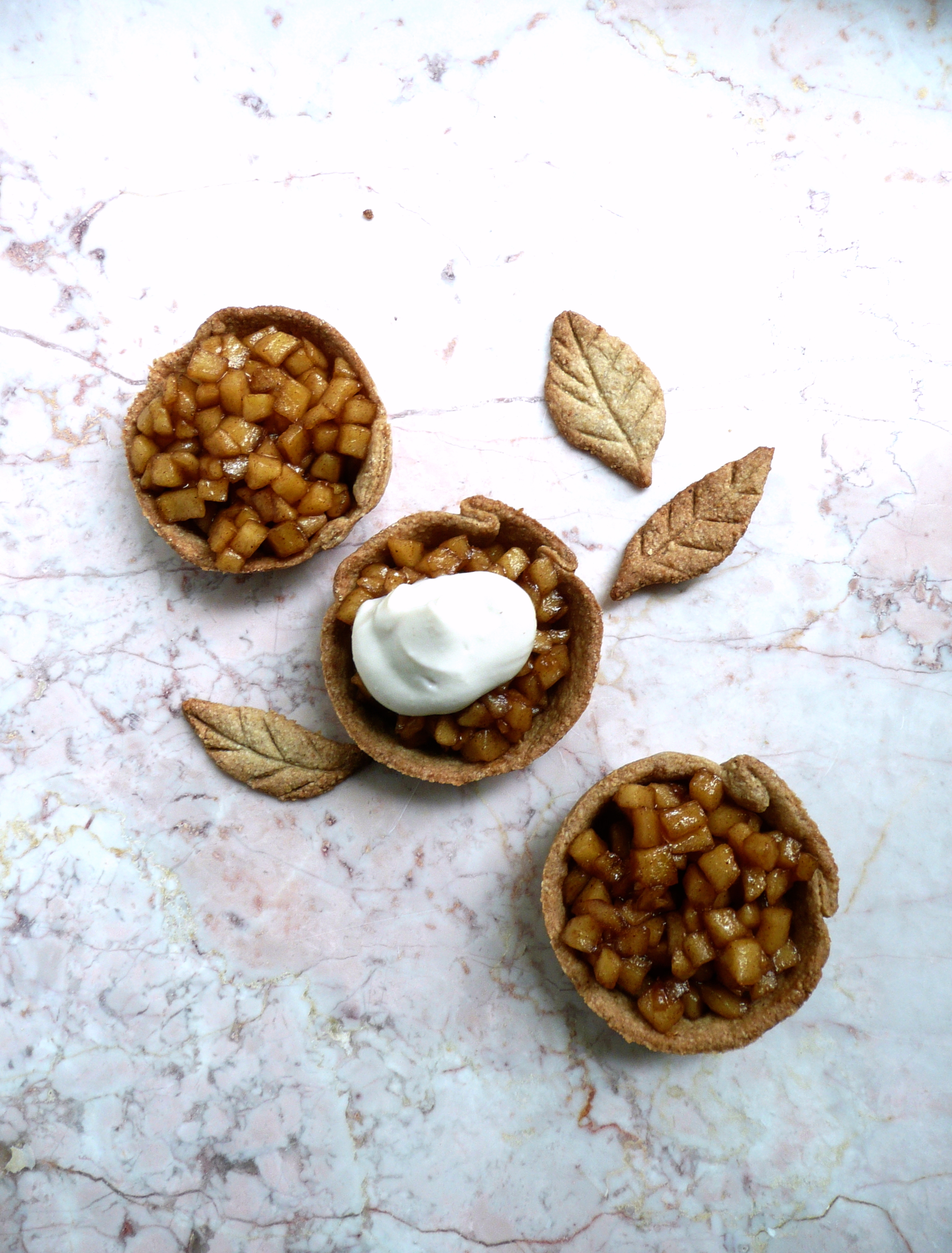 I kinda love how the middle tart almost looks like an apple pie version of a golden snitch. An apple tart with the wings of golden (gluten free) pie crust!
4. Add the cinnamon, vanilla extract, and oil to the cooled apple mixture and stir to combine. Spoon about 2 tbsp of the apple mixture onto each tart shell, and top with a dollop of cashew whipped cream. Serve immediately.
For 12 tarts
4 Fuji Apples – cut into 1/4 inch dice (about 5 cups)
1 cup maple syrup
3 cups water
1/2 level tsp ground cinnamon
1 1/2 tsp vanilla extract
4 tsp avocado oil (or any neutral flavored oil)