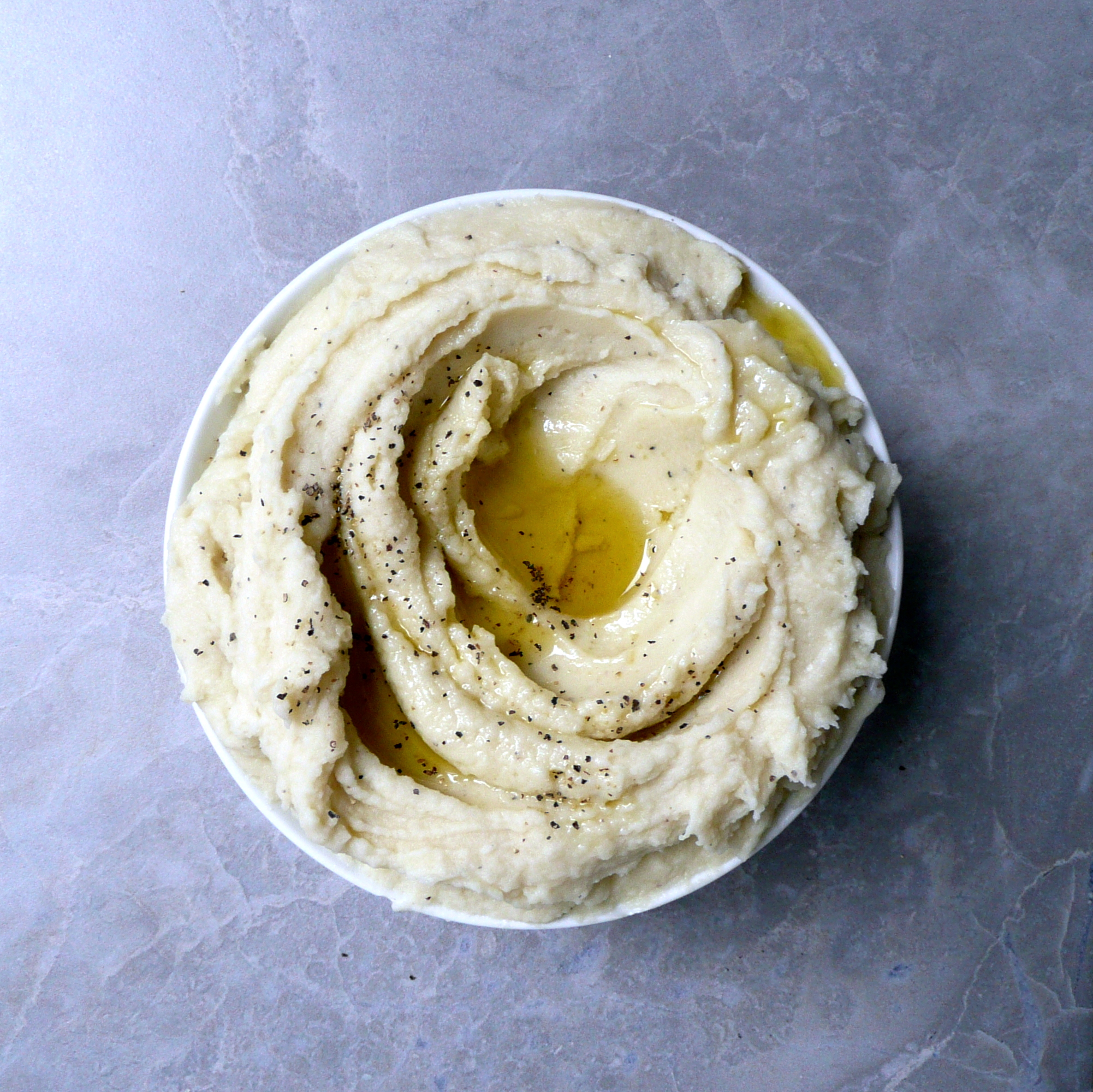 I first made these last year. I wanted super creamy, buttery rich mashed potatoes without any of the dairy. These definitely fit the bill. They were unbelievably good, and I hope that you love them as much as I do.
These mashed potatoes reheat better than normal mashed potatoes (hooray!) and can be made ahead of time and reheated just before serving.
Do be sure to let your guests know that the mashed potatoes have cashews in them though, just in case anyone has any nut allergies.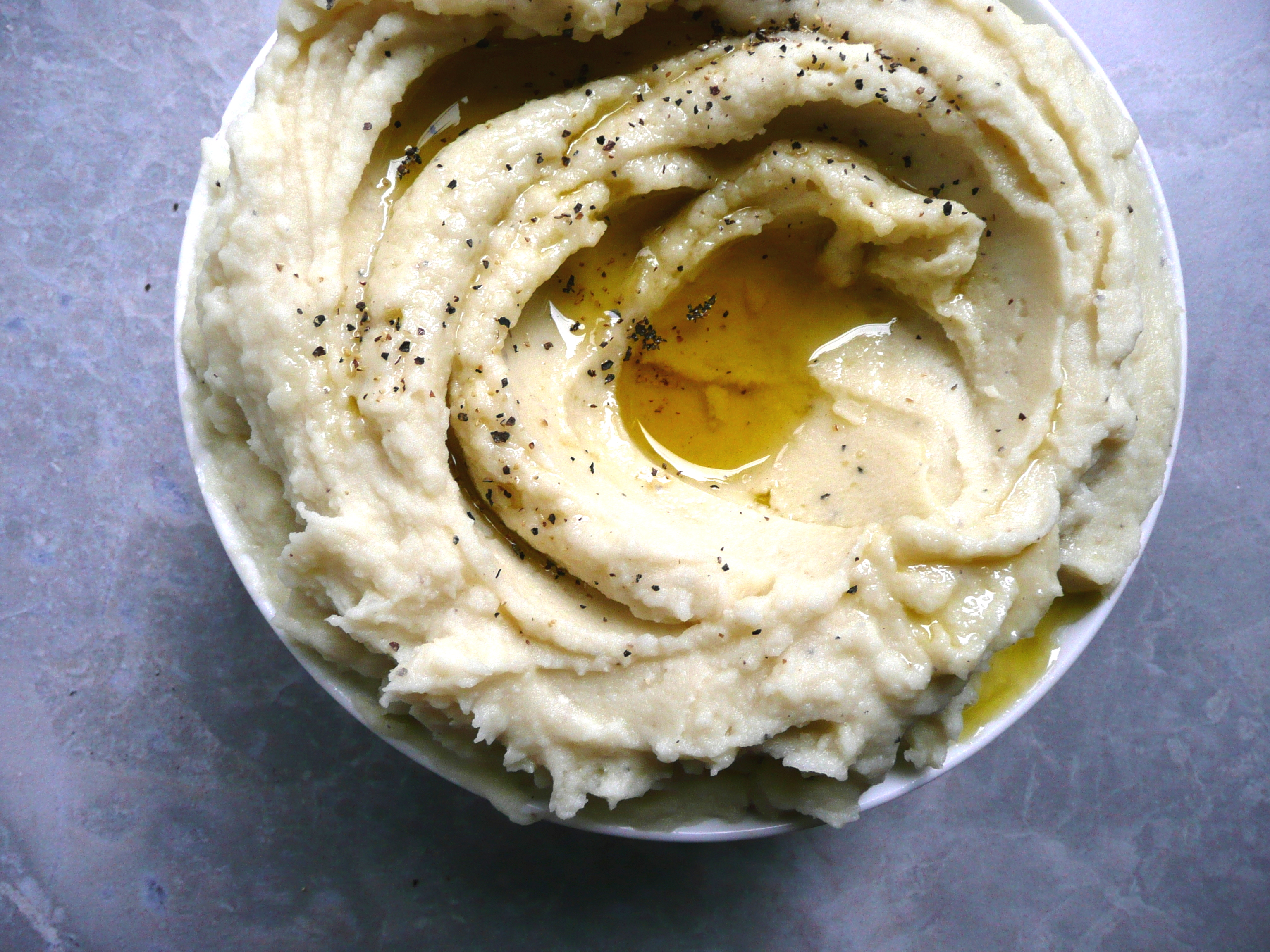 By gently heating the olive oil it removes the pepperiness of the olive oil, and gives it a much more neutral flavor. This also removes some of the nutrients of cold pressed olive oil. To me, that's ok for the holidays, but you could use any neutral oil in place of the olive oil and they mashed potatoes would probably still turn out well. If you do use a neutral flavored oil, then you can skip the step of heating the oil and add the oil directly to the cooked potatoes along with the cashew cream.
Amazing Mashed Potatoes
Serves 4-6
Ingredients

1/3 cup raw cashews, soaked overnight
½ cup + 3 tbsp. water
3 lb russet potatoes (I used 2.8 lb for reference)
2/3 cup + 1 tbsp. olive oil (or neutral flavored oil)
1 ¼ tsp. – 1 ¾ tsp. sea salt
¾ tsp. black pepper
Instructions
1. To make the cashew cream soak the cashews overnight, then drain them.  Blend the cashews and 1/2 cup + 3 tbsp of water until smooth. Set aside.
If you forget to soak the cashews, you can boil them for 50 minutes (it's a long time I know, but they plump right up), adding water the pot occasionally if the water runs low. Drain them and allow them to cool to room temp before using.
2. I would heat the oil on the back burner of the stove, just so it's less likely to be accidentally knocked over by a pet or a small child. Gently heat the olive oil in a dry medium saucepan (if there is any water in the pan, then the oil might splatter) over medium heat for 5-7 minutes, until it loses it's peppery aroma and smells slightly fruity. Don't touch the oil but waft it so that you can smell if the oil has lost its pepperiness.
Olive oil naturally smells peppery, but when it loses that smell, it loses that peppery bite in its flavor as well, which is what we're looking for here. Once it smells fruity, take the pan off the heat and set it aside to cool to room temp.
3. Peel and cut the potatoes into 1 inch cubes. Add the potatoes to a large pot of cool water along with a drop of oil to prevent the pot from boiling over. Bring the potatoes to a boil over medium high heat and then turn the heat to medium and cook the potatoes for about 10-15 minutes until you get no resistance at all when you pierce the potatoes with a fork.
4. Drain the potatoes and put them into a large mixing bowl. The potatoes should take about 50 minutes to cook, and at this point, the olive oil should be cool.
If the pan of oil is still warm, spoon about 1 tsp of oil onto a plate and let it cool for a few minutes. Taste the cooled olive oil and see if it's still peppery.
If it still has a peppery flavor, heat it for a few minutes longer over medium heat until it smells fruity. Drop a teaspoon of the oil onto a plate, allow it to cool and taste it again.
If the olive oil has lost it's peppery flavor, allow the olive oil to cool to room temp before adding it to the potatoes. Don't stir the hot oil into the potatoes, because you'll be using a hand mixer to whip the mashed potatoes and you don't want hot oil to splatter over anything or anyone while the potatoes are being whipped.
5. Roughly mash the potatoes with a fork, and stir the oil into the potatoes by hand until you no longer see any pools of olive oil. Stir in the cashew cream, 1 tsp of salt, and pepper. Then using a hand mixer, whip the potatoes until creamy and fluffy.
6. Taste the potatoes, and add salt ¼ tsp. at a time until you're happy with the seasoning. I ended up adding 1 ¾ tsp. salt to my batch, but you may have to adjust your seasoning depending on if you have a slightly different weight of potatoes.
7. Serve warm, or stash in the fridge to reheat right before serving.
If you're putting a dish straight from the fridge into the oven, put the fridge-cold dish into the cold oven (so that the ceramic dish does shatter from the temperature change between the cold fridge and the hot oven). Then preheat your oven with the dish inside so that it warms up with the oven and bake as usual.
You can reheat any mashed potatoes by covering the dish tightly with foil, and baking at 300 degrees for 45 minutes until warmed through.
Note- You can also add in some granulated garlic, and some nutritional yeast for "cheesy" mashed potatoes that are just delicious, or just have some extra nutritional yeast and granulated garlic on the table in case someone would like to add them to their own serving.