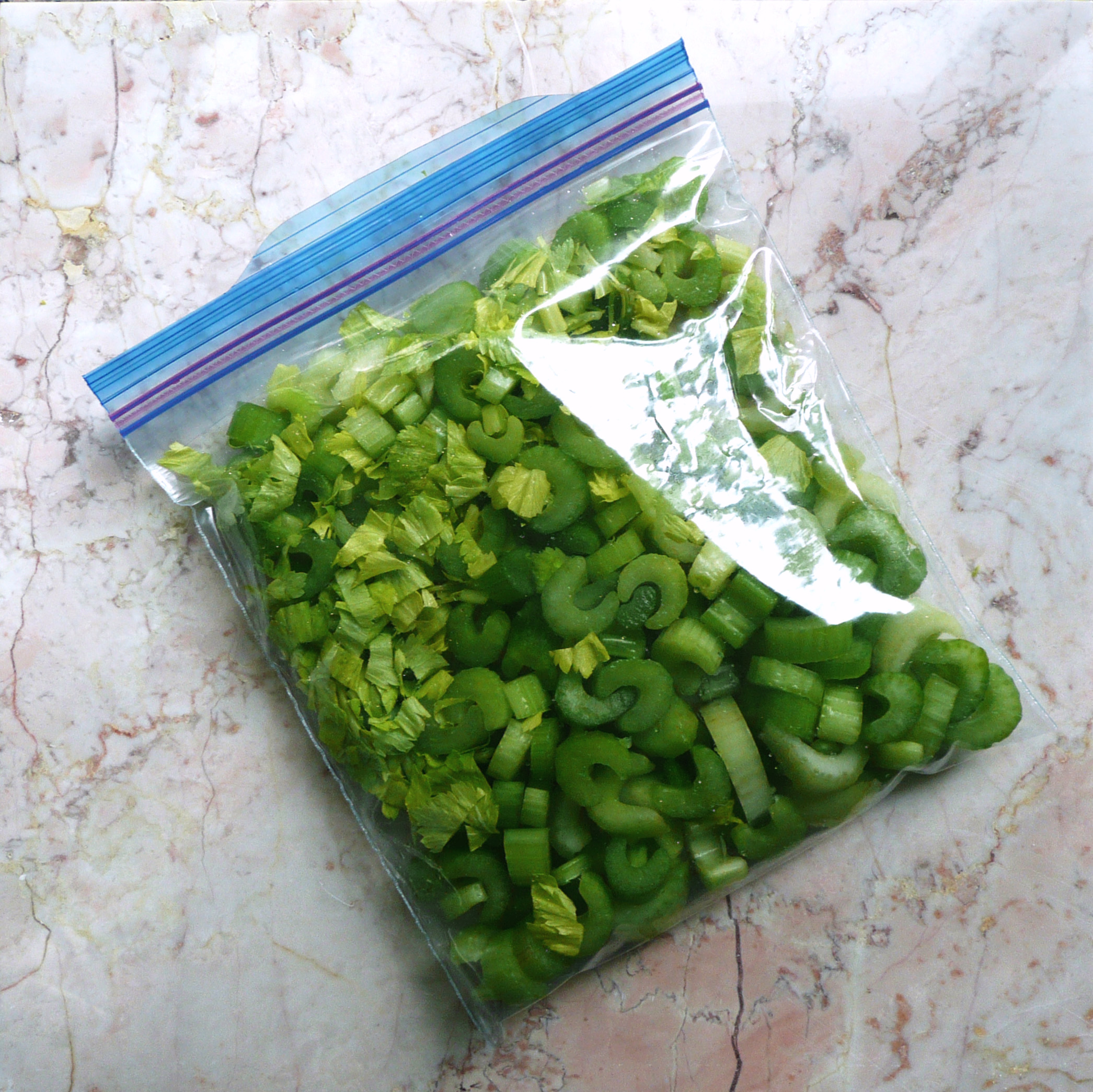 I don't often cook with a lot of celery, and I always seem to have some leftover this time of year after making stuffing and gravy.
Instead of letting it languish in the back of your fridge (until you have to throw it away) you can freeze it and use it in future dishes. There are just two things you need to remember with frozen celery.
1. Don't let it defrost before cooking with it or it will brown. Add it straight from the freezer to the pan. It's still edible when it turns brown, just not so pretty. If you need to dice the frozen celery further before cooking, try and do it quickly so that the celery doesn't have time to defrost before it hits the pan.
2. You can use frozen celery in any recipe that calls for cooking celery, it's not so great in recipes that call for raw celery (like potato salad) because frozen celery will lacks the color and crunch of fresh celery.
I've even used frozen celery to make dairy and gluten free clam chowder and it came out great.
You can also add some frozen celery to a pot with some diced onion, sliced carrot, leftover chicken, broth and cooked brown rice or gluten free noodles for a quick and tasty chicken soup. Its also great in minestrone or other vegetable soups.
Directions
1. Wash and slice the celery into ½ inch thick slices. They look like beautiful little crescent moons this way, and the size makes it easy to add to recipes. I also love when little bits of chopped celery leaves peeking out of dishes because they make any dish a little prettier and cheerier.
2. Place the celery into a Ziploc bag and freeze flat.
When you want to use the celery, just break off as much celery as you need in the recipe and put the rest back into the freezer. Ta da! No more wasted celery!