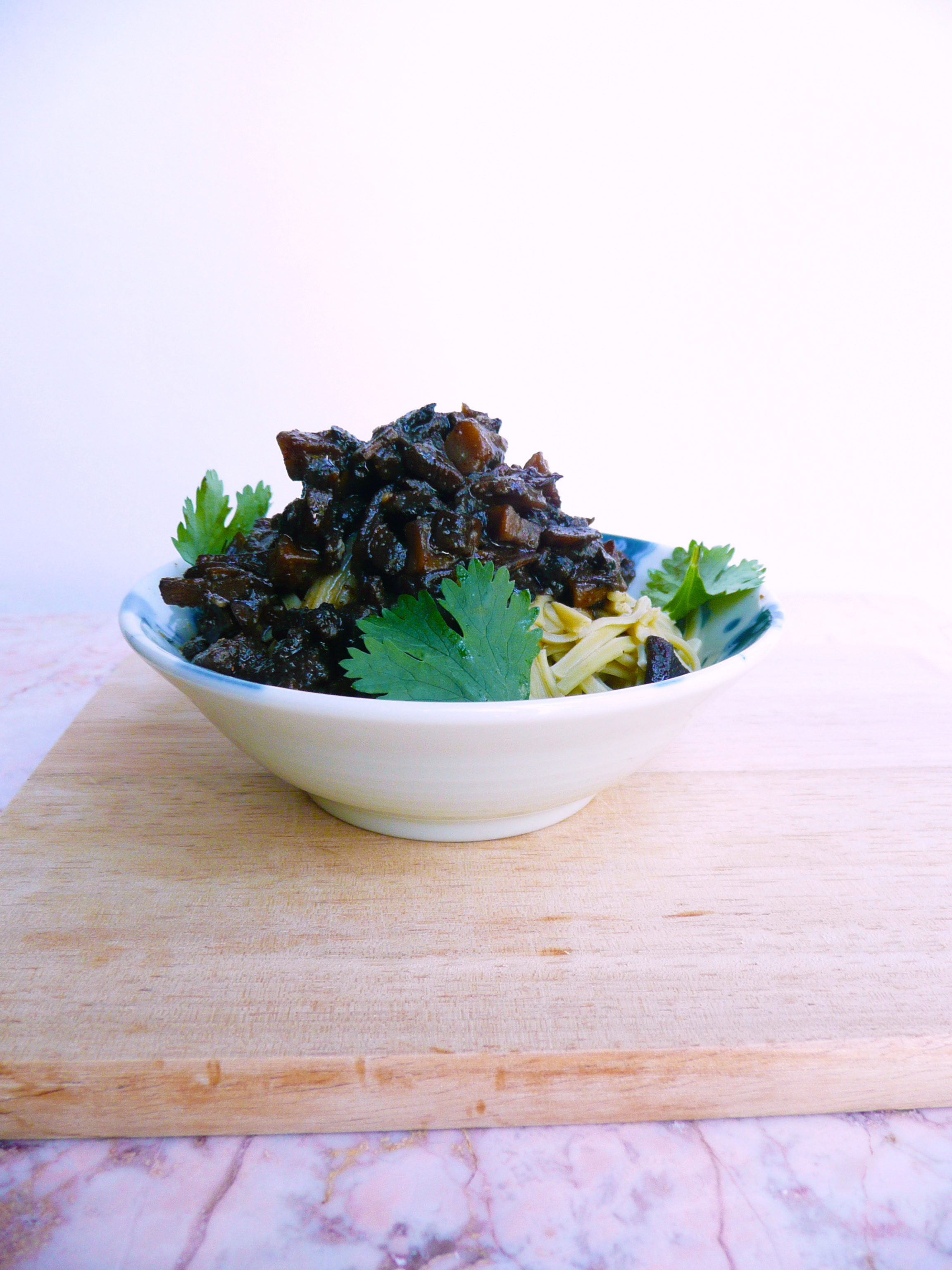 This vegan Taiwanese / Chinese sausage is easy to make and tastes very similar to the real thing.
Spooned over noodles or a steaming bowl of rice, it's happiness in a bowl.
Taiwanese and Chinese sausages can be found at Asian supermarkets, but I've never seen an organic one that's free of added nitrates yet (here's to hoping!). They taste amazing, and even though I've watched a YouTube video on how to make the sausages the traditional way, I haven't actually made them myself yet.
This recipe is an easy way to get a similar flavor and texture without the hassle of making the sausage, or the nitrates from the store bought versions.
I used this recipe instead of real Chinese sausage when I made Turnip Cake for Lunar New Year and it worked great, so you can potentially swap this in for recipes that call for diced Taiwanese of Chinese sausage.
Vegan Taiwanese Sausage (香腸) or Chinese Sausage (臘腸)
Makes 1 serving
Ingredients
6 white or crimini mushrooms – cut into ¼ inch dice (about 1 ½ cups)
2 ½ tbsp. avocado oil (or any neutral flavored high heat oil)
¼ tsp + 1/8 tsp granulated garlic
¼ tsp + 1/8 tsp 5 spice powder
½ tsp organic red miso paste
2 – 2 ½ tsp maple syrup*
maybe a pinch of salt to taste (depending on how salty your miso is)
*Taiwanese sausage or "Xiang Chang"(香腸) is usually a little sweeter than the Chinese sausages or "Lap Chong" (臘腸), so if you're looking for more of a Taiwanese sausage flavor, use the 2 1/2 tsp of maple, and 2 tsp of maple if your looking for more of a Chinese sausage flavor.
Instructions
1. Stir together the granulated garlic, 5 spice, miso, and maple syrup until smooth.
2. Make your pan non-stick. Add the oil and diced mushrooms to the pan and cook on medium high heat, stirring frequently, for 8-9 minutes until the mushrooms are golden brown around the edges.
3. Add the cooked mushrooms to the spice mix and stir until well combined. Give it a taste, adjust the seasoning to your liking.
You can also spoon this into romaine lettuce leaves (like vegan chicken lettuce wraps), or serve it over steamed rice or noodles.
However you eat it, I hope that you enjoy the recipe!
Note – This isn't sponsored, but I just wanted to mention that the noodles that I used in the picture were Organic Edamame Spaghetti Noodles made by Explore Asian Authentic Cuisine (it looks like they may have changed the company's name to "Explore Cuisine" now).
The only ingredients are water and soybeans and the noodles have a lovely flavor and texture and cook up in about 5 minutes are a good non-grain pasta alternative (if that's something that you're looking for). I used up the last of the box I had for this recipe (the box I had was from Costco, and they don't carry the noodles anymore) but you can find the noodles online.