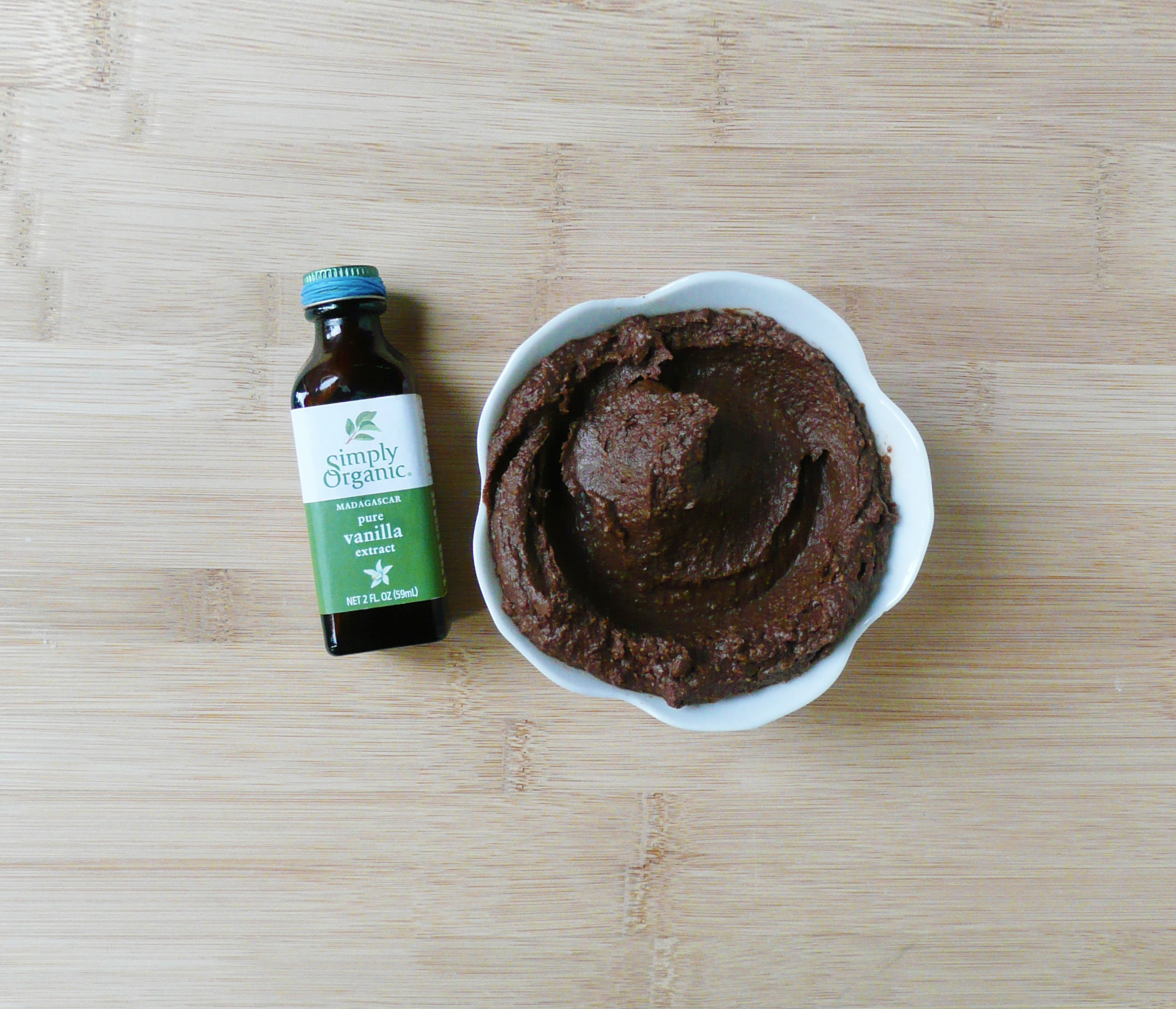 This fudgy chocolate frosting works great over my Chewy Sweet Potato or Adzuki Bean Brownies, and it's delicious enough that you can eat it by itself with a spoon. It tastes better than any store brought chocolate frosting, and it's refined sugar free and dairy free.
It's stable enough of a frosting that you can pipe designs with it and give cupcakes or brownies a little extra joy and decoration if desired.
The Fudgiest Sweet Potato Chocolate Frosting
Makes 1 cup (enough for 1 batch of brownies)
Ingredients
4 1/2 tbsp cocoa powder (25g)
1/4 cup oat flour (27g)*
1/2 tbsp ground chia seed (about 2.5g)
level 1/4 tsp sea salt
1/4 cup water
level 1/4 cup mashed roasted sweet potato
1/4 tsp vanilla extract
1/4 cup + 1 tsp maple syrup
5 tbsp melted coconut oil
Notes – * I grind oats into oat flour using a blender. Don't grind the oats in a food processor because the flour won't be fine enough.
Any extra oat flour I don't use in the recipe goes into an airtight container and I use it for another recipe.
If you're making this recipe for someone who has celiac disease, use certified gluten free oats, as the oats from the bulk bins can sometimes be processed on the same equipment as wheat.
Instructions
1. Add all the ingredients to a food processor and blend until smooth. Transfer to a bowl and gently heat over a double boiler and stir until glossy.
If eating with brownies, spread the frosting onto the brownies while the frosting is still warm and glossy. If you frost the brownies while the frosting is still warm, then the frosting will stay glossy when it cools and sets.
If you want to use this frosting to pipe flowers or designs, then the frosting needs to cool to room temperature before you transfer it into a piping bag. You can make this frosting in advance if needed and keep it in the fridge, and either heat it very gently and quickly over a double boiler, or let it sit a room temperature until softened before piping.