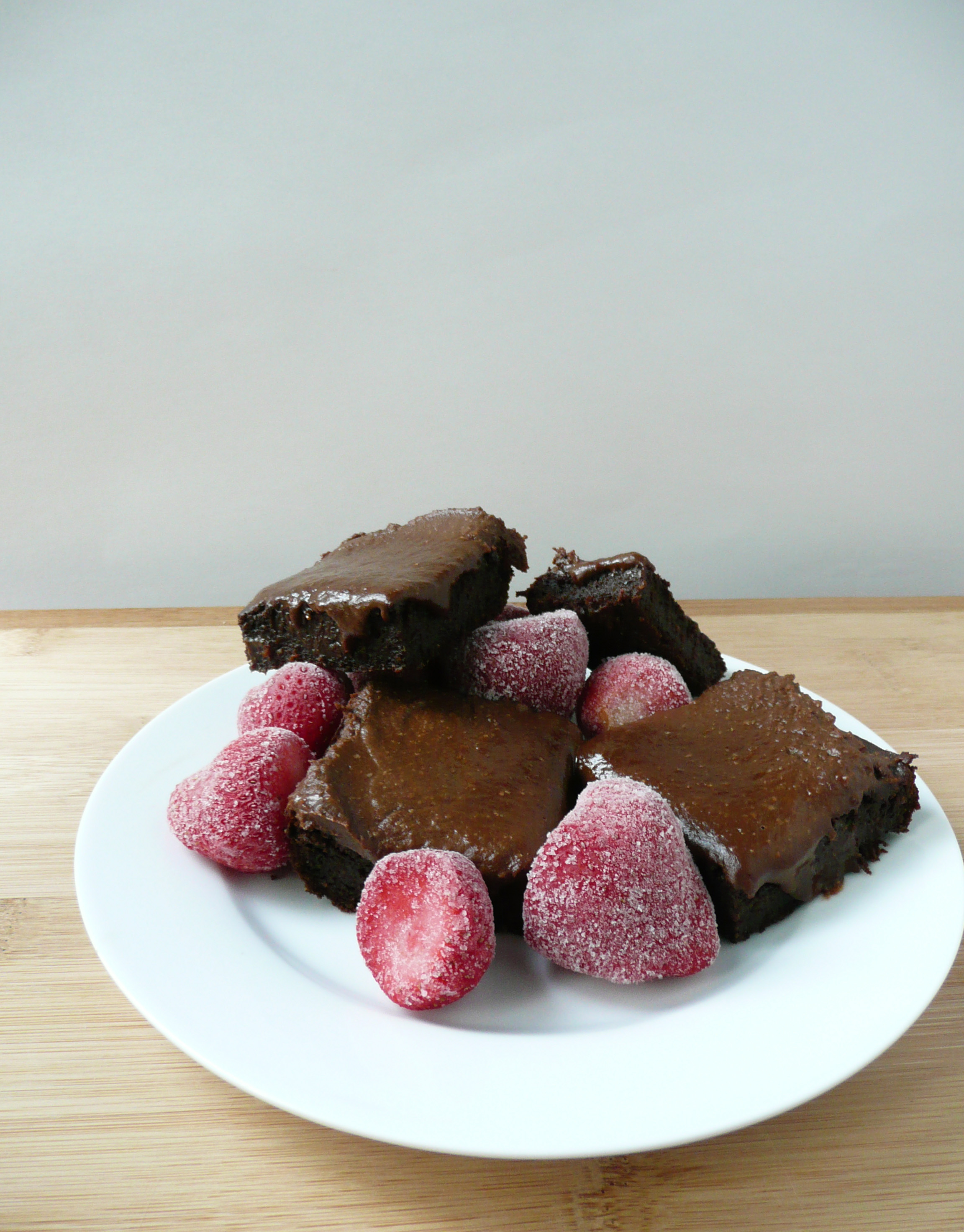 This is one of my best recipes.
These brownies are the brownies of dreams. They have a rich, deep chocolate flavor, but are not too dark or too sweet, and they taste like the best brownie you've ever had.
I came up with this recipe one day when I needed to use up some extra sweet potatoes that I had in the fridge. Somehow this recipe came together so quickly (and I worked perfectly the first time!), and taking the first bite of these brownies made my heart sing. I couldn't believe how good they were, and they were vegan! And made from leftovers!
The cool thing about this recipe is that you can also make them with adzuki beans (if you have any leftover red bean soup).  They actually turn out slightly chewier when made with adzuki beans rather than sweet potatoes, but both kinds of brownies are fantastic.
With brownies, most people fall into two camps – chewy, or fudgy. These brownies are the perfect marriage between the two, because the actual brownies are wonderfully chewy, and the frosting is gloriously fudgy.
They don't need the frosting, as they taste good enough without it, but a little frosting never hurt a good brownie.
The Best Chewy Sweet Potato (or Adzuki Bean) Brownies
Makes 9 brownies
Ingredients
1 tbsp ground chia seed (5g)
¼ cup + 1/8 cup hot water
1 cup of oat flour (90g)*
5 tbsp + 2 tsp cocoa powder (34g)
½ level tsp baking soda
½ level tsp + 1/8 tsp ground coffee (I used Starbucks Italian Roast Ground Coffee, which is also Fair Trade Certified, which makes it extra cool)
½ level tsp sea salt
2 tbsp apple cider vinegar
1 tsp of vanilla extract**
level ½ cup mashed roasted sweet potato (if using adzuki beans use ½ cup + 3 tbsp drained cooked beans instead of the sweet potato)
½ cup maple syrup
¼ cup + 1/8 cup melted coconut oil
Notes – for best results, please measure the dry ingredients by weight.
* I grind oats into oat flour using a blender. Don't grind the oats in a food processor because the flour won't be fine enough.
Any extra oat flour I don't use in the recipe goes into an airtight container and I use it for another recipe.
If you're making this recipe for someone who has celiac disease, use certified gluten free oats, as the oats from the bulk bins can sometimes be processed on the same equipment as wheat.
**If you run out of vanilla extract ( and it's been the kind of day where you really need a brownie) have no fear, these brownies still taste amazing without it. So go forth, and bake with a light heart.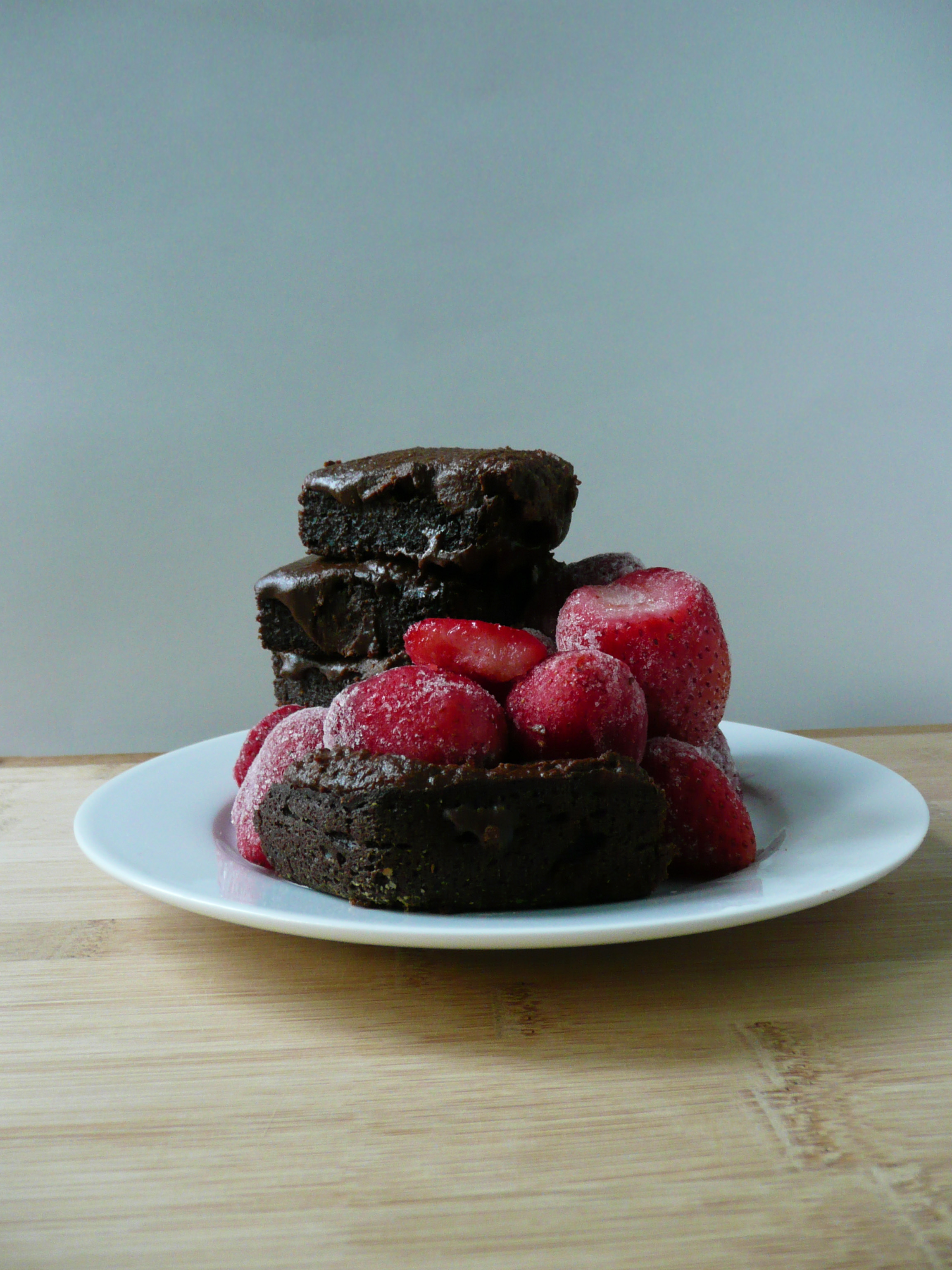 Instructions
1. Stir together the ground chia seed and hot water. Let sit for 10 minutes until thickened.
2. Add the cocoa, oat flour, salt, coffee and baking soda into the food processor and give it a quick blend so that everything is well combined.
3. Add the rest of the ingredients to the food processor and blend until smooth.
4. Turn the oven to 350F and let the mixture sit in the food processor for 15 minutes. Then give it one final blend for about 30 seconds and then spoon the mixture into a glass 8×8 inch baking dish that you've oiled and floured with coconut oil (or a neutral oil like avocado oil) and a bit of oat flour.
Take a spatula and smooth the brownie batter out so that it's sitting evenly in the baking dish.
5. Bake the brownies at 350F for 70-75 minutes until the brownies pull ¼ inch away from the pan on all sides.
Allow to cool completely (at least an hour for the best texture), frost with fudgy sweet potato chocolate frosting if desired, and then cut into 9 square pieces. Serve and enjoy!
I hope that you love these brownies as much as I do, and if you're having a tough day, I hope that these brownies make it just a little bit better and brighter.  🙂