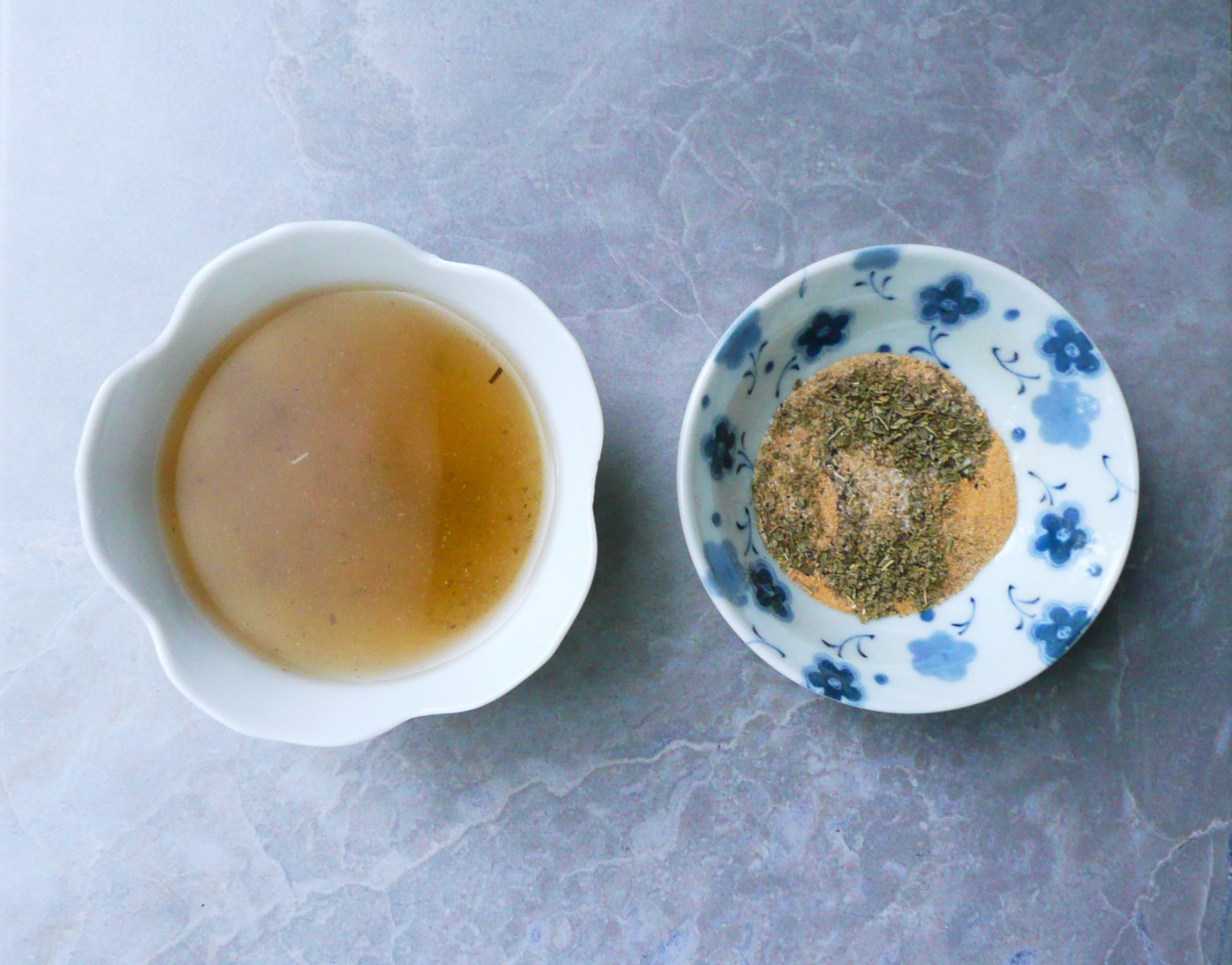 Vegetable stock is easy to make, but can be a little bit of hassle, and takes up a lot of space in the freezer. Store bought veggie stock can be expensive, and it can have a lot of added ingredients that leave you wondering "What is organic caramel coloring?" and "Why does it need to be in vegetable stock?" I find myself asking the same questions when I read the back of soup bouillon labels as well.
If you too have these questions (and are wondering if there is an easier way to make vegetable stock with less additives) this might be the answer that you've been looking for.
This is a super simple and easy recipe to always have vegetable stock on hand. This recipe is soy free, thrifty and easy to customize.
We're going to basically make a spice mix that contains a lot of flavors that you would normally find in vegetable stock. You can almost think of it as a tea. Admittedly, it takes 10 minutes to steep (so not quite "instant") but it's still pretty quick.
You can also make a large batch of this veggie stock mix and put it into a little jar to use as needed.
If you don't like the little bits of dried spices in your soup, you can strain the broth through a coffee filter, or place the spices in some layers of cheese cloth, tie it up with some kitchen twine and place it into your soup pot (basically like a tea bag) to fish out later once the flavors of the broth have infused.
I hope that this recipe helps you make lots of wonderful soups in the future. I plan on making a noodle soup with this pretty soon. Perfect for the cold weather.
Makes a scant 2 tbsp of veggie stock mix = 4 cups of vegetable stock
Ingredients
1 tsp granulated onion
3/4 tsp + 1/8 tsp celery salt
1/4 tsp + 1/8 tsp of granulated garlic
1/4 tsp dried rubbed sage
1/4 tsp dried parsley
1/4 – 1/2 tsp sea salt
1/8 tsp black pepper
Instructions
Stir all the spices together. Add the mixture to 4 cups of boiling water and allow to steep for 5-10 minutes. You can strain the mixture at this point or leave the spices in the stock depending on your preference.
Use in your favorite soup recipes, or add some noodles, and some veggies for a quick and filling lunch or dinner.
Enjoy!