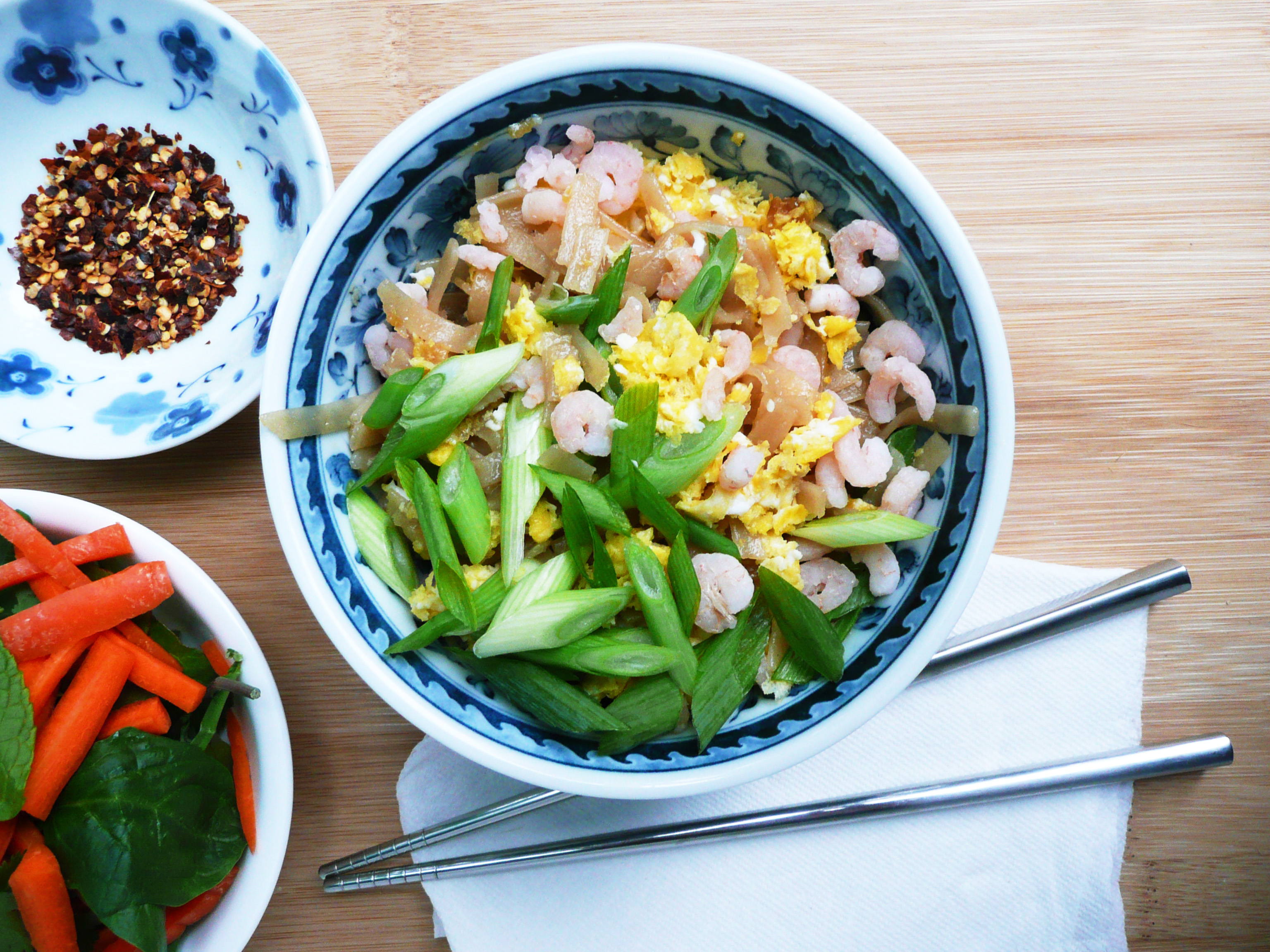 Pad Thai is the kind of dish that you love to eat, but are not quite sure how to make yourself.
At least that's what I thought until I found a really easy recipe for pad thai on Goop.
What I really loved about the recipe from Night + Market on Goop was how simple the recipe was. I love pad thai, but most of the recipes that I found online had a lot of specialty ingredients that I would have to go a little out of the way to find.
I never attempted to make it myself before, but that recipe looked so easy, and with a few swaps, I knew that I could make a pad thai that would work with my dietary restrictions.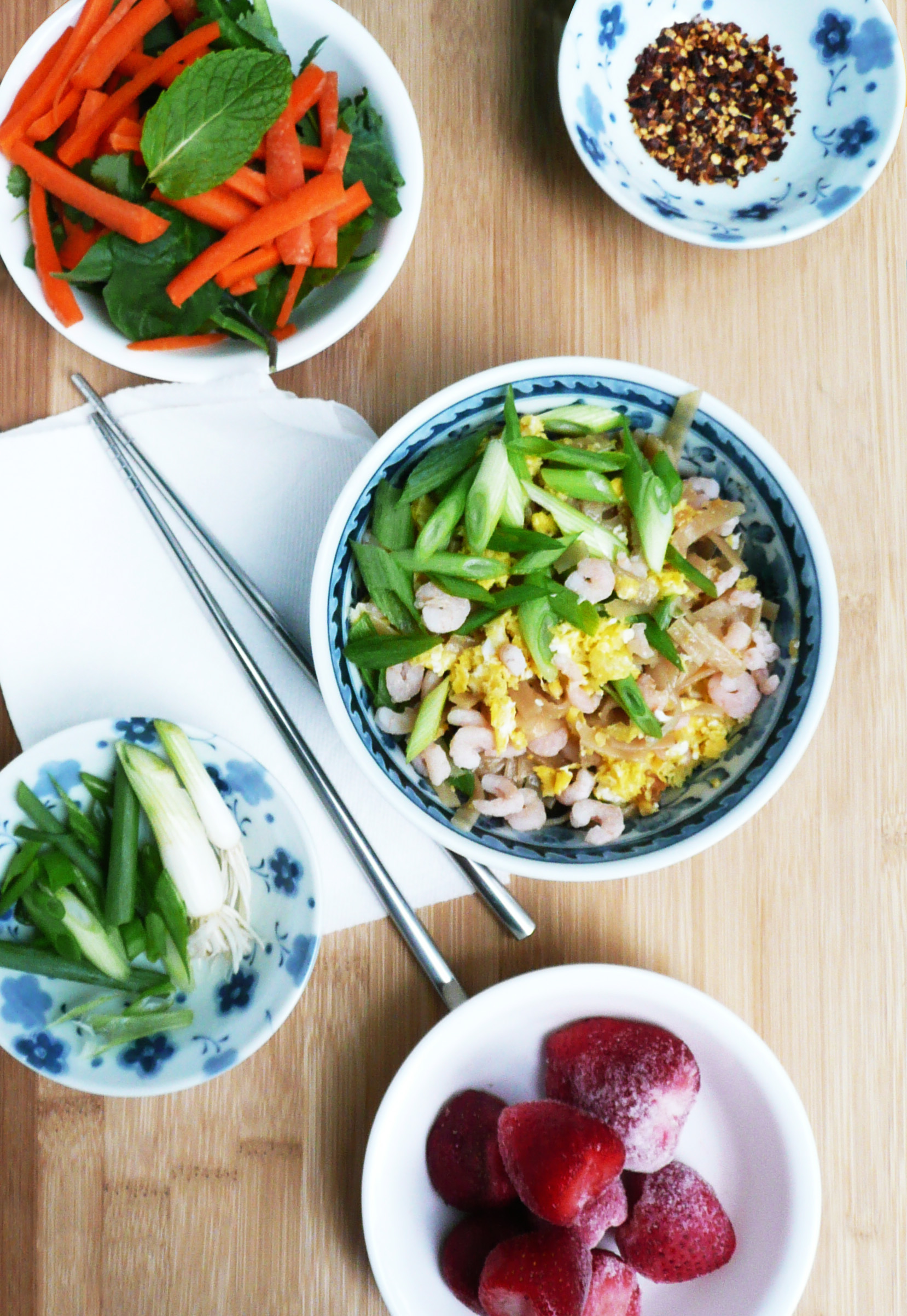 This pad thai is made from ingredients that you can find at your local grocery store, and can be made in about half an hour. Perfect for a weeknight dinner.
Also great if you're craving pad thai, but don't live anywhere close to a Thai restaurant…
I used wild caught pink shrimp from Oregon (which I was able to find at my local supermarket in the display case at the seafood section, but I've also seen it sold at Costco as well). I only buy this kind of shrimp these days because it's sustainably harvested, and also because it doesn't contain any preservatives or ingredients that many other frozen shrimp are processed with.
The working conditions for people who catch, farm, and process shrimp around the world can also be very harsh and inhumane, so by purchasing domestically caught shrimp, I hope that I'm supporting more ethical working conditions for people who work in the shrimping industry.
You can find more information about Oregon Pink Shrimp here. This isn't an affiliate link, just more info in case you're curious about how the shrimp are caught.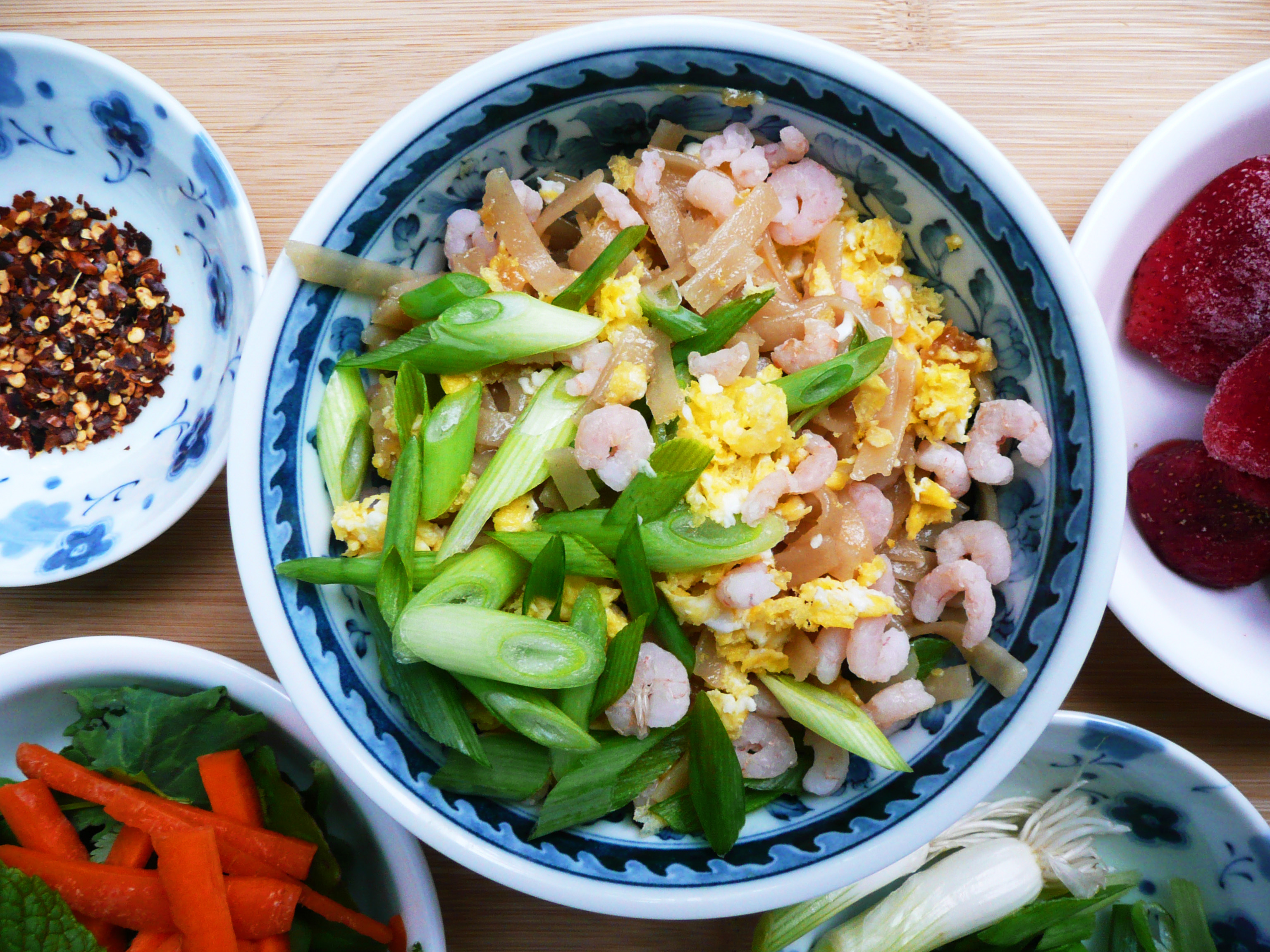 This type of shrimp is pretty inexpensive, at about $8 – $9 per lb, and it's also just as tasty as the larger shrimp which makes it a good buy in my book. The amount of pink shrimp in this dish cost about $1, so while this pad thai feels very luxurious, it's actually really budget friendly.
For more information on what to look for when buying shrimp, you can check out this article here.
About the fish sauce, I use the Red Boat brand fish sauce, because it's only made from anchovies and salt (and therefore paleo, and refined sugar free). You can find it online, but I managed to find a bottle of the 500 ml (17 oz.) size for about $7 at my local Asian market, so it's worth checking out your local Asian market if you have one nearby to see if they have it cheaper than online.
The noodles that I used were Fettuccini Style / Pad Thai noodles from Tinkyada which I found at my local grocery store. They weren't organic, (but hey, it happens, you do the best you can). They were also on sale, which was definitely a plus, and the noodles worked great for this recipe.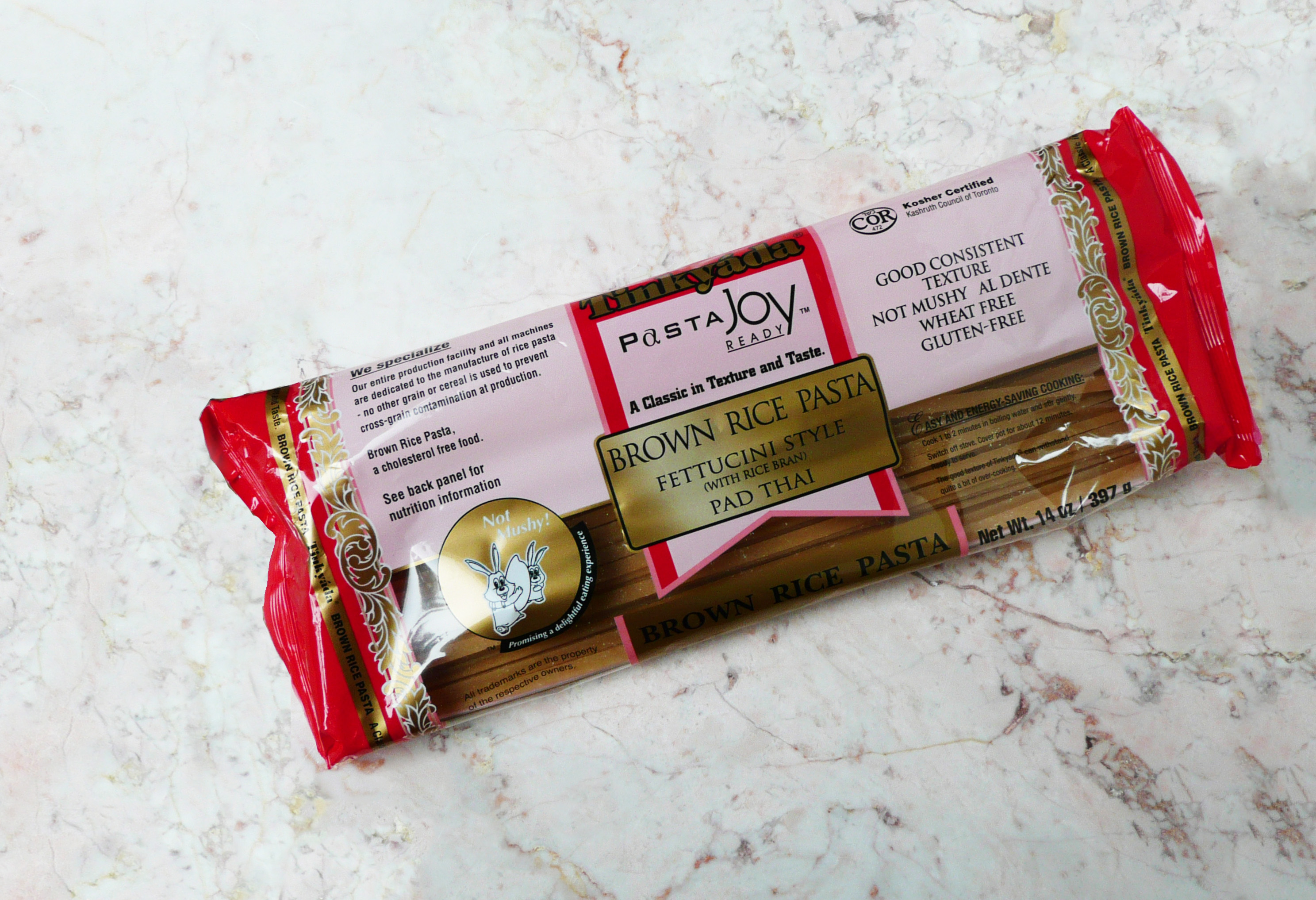 There is a decent amount of maple syrup in this recipe, so if you're watching your sugar intake, this may not be a meal that you eat every night, but it is certainly a really amazing and tasty dinner to have as a treat every once in a while.
If you're planning on eating a few sides along with this (like a salad, fruit, etc.) this recipe makes enough for 2 smaller servings, but if you're just eating it by itself, then it's really just enough for one person, especially if you're really hungry.
I hope that you give the recipe a try! It's so good, and you'll be super proud that you made a dish that you once thought that you could only enjoy in restaurants.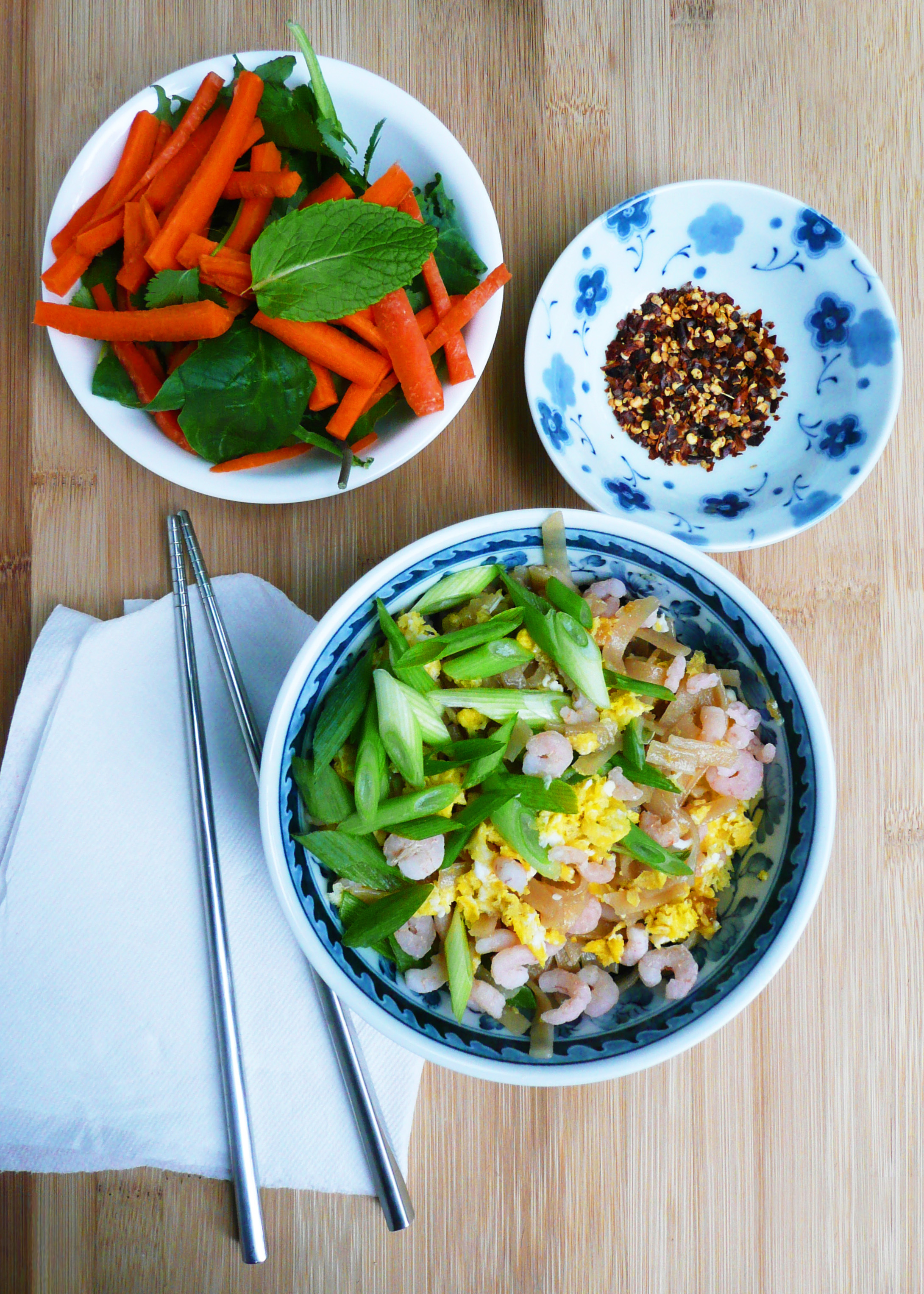 Weeknight Shrimp Pad Thai
Adapted from this recipe.
Makes 2 servings, or 1 larger serving for a very hungry person.
Ingredients
4-5 oz of dried brown rice noodles *
4 tbsp of maple syrup
2 tbsp of fish sauce
2 tbsp of apple cider vinegar
1/3 cup of frozen pink shrimp
1-2 eggs (depending on how hungry you are)
2 green onions, thinly sliced
1 lime, cut into wedges for serving
* Note – If you hold the noodles between your thumb and forefinger, the circle that 4-5 oz. of noodles should make will be about the size of a quarter.
If you can get your hands on some bean sprouts, then definitely add those in too, as they add a nice crunch to the dish. I just couldn't find any at my local grocery store, but the dish was still incredibly tasty.
Instructions
1. Make a skillet non-stick, and scramble your eggs. Tip the cooked eggs onto a plate and set aside.
2. Put the shrimp into a strainer and rinse under cool water. Place the shrimp into a medium size saucepan and cover them with about an inch of water. Bring the water to a boil and let the shrimp cook for a minute or two before draining. Set the shrimp aside.
The shrimp is already cooked, I just do this because it brings the shrimp up to temperature, but also kills off any potential pathogens that it may have picked up while it was sitting in the display case with raw fish.
3. Fill the medium saucepan with water and then cook your noodles. The directions for this package of noodles said to cook them for 10 -11 minutes, but I only cooked them for 6-7 minutes. You want to undercook your noodles a bit, as you're going to finish cooking the noodles in the pad thai sauce. Drain the noodles and set aside.
4. Stir together the apple cider vinegar, fish sauce, and maple syrup. Add the sauce to the skillet along with the cooked noodles and cook over medium heat, stirring frequently until the noodles have absorbed all the sauce.
5. Add in the green onions, cooked eggs, and shrimp and stir them through the noodles, and continue to cook them for another 30 seconds or so until the eggs and shrimp are warmed through.
6. Spoon the noodles into a bowl (or two bowls) and serve with lime wedges, and a little bowl of red pepper flakes on the side.
(I ate half of the pad thai before I realized that I had forgotten to photograph the lime wedges as well… Whoops. It was so good…)