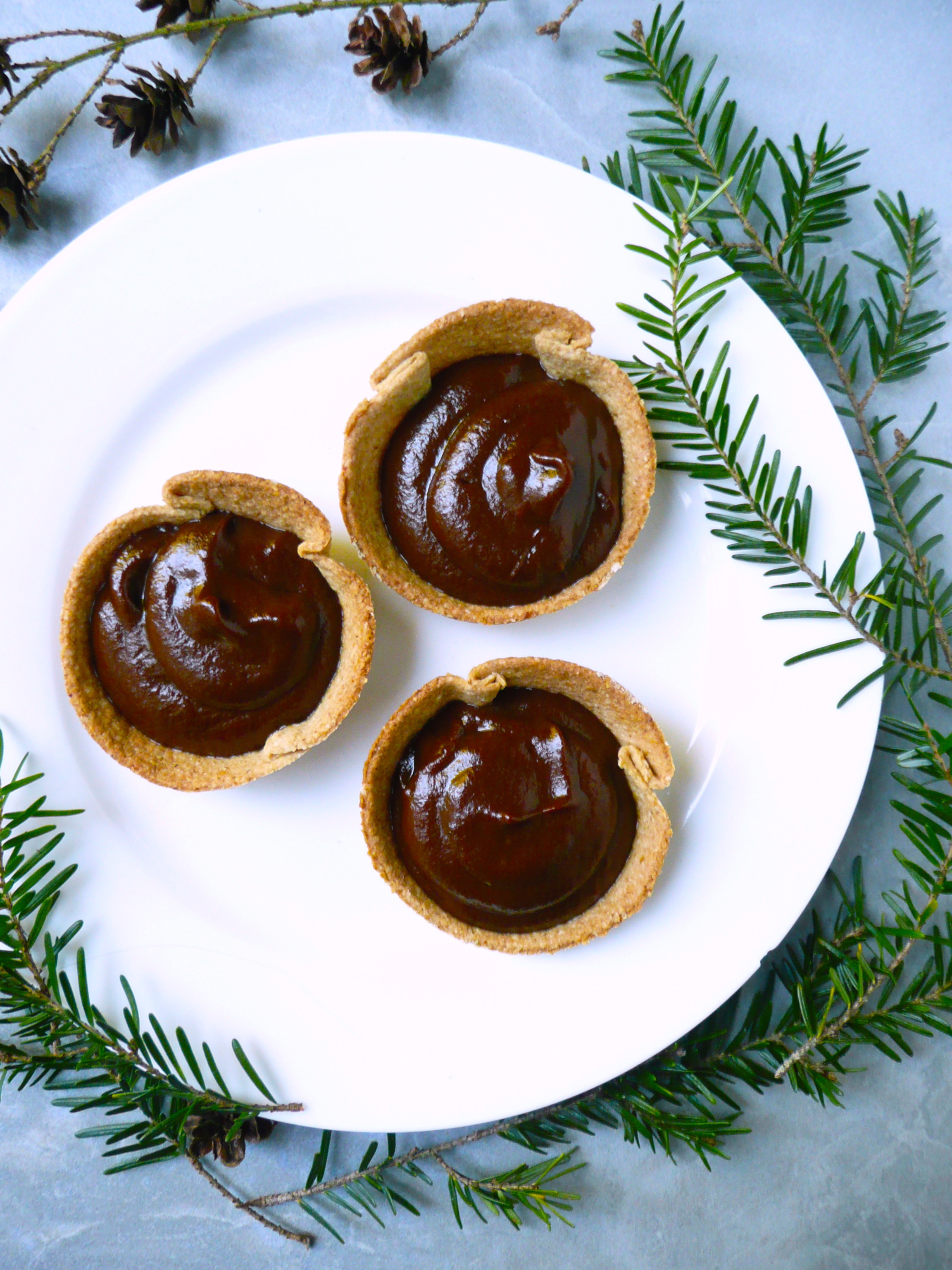 Before I cut out gluten, dairy, and refined sugar out of my diet, one of the things that I looked forward to every Christmas was the arrival of the Ghirardelli Chocolate Peppermint Bark Squares at the local grocery stores.
How I loved those little squares… so creamy, and rich, and wonderful. I loved opening each of those little brightly colored red and white wrappers.
I loved the little crunchy bits of that swirled in amongst the smooth bright flavor of the peppermint white chocolate. They were so festive, and eating each one felt like such a treat.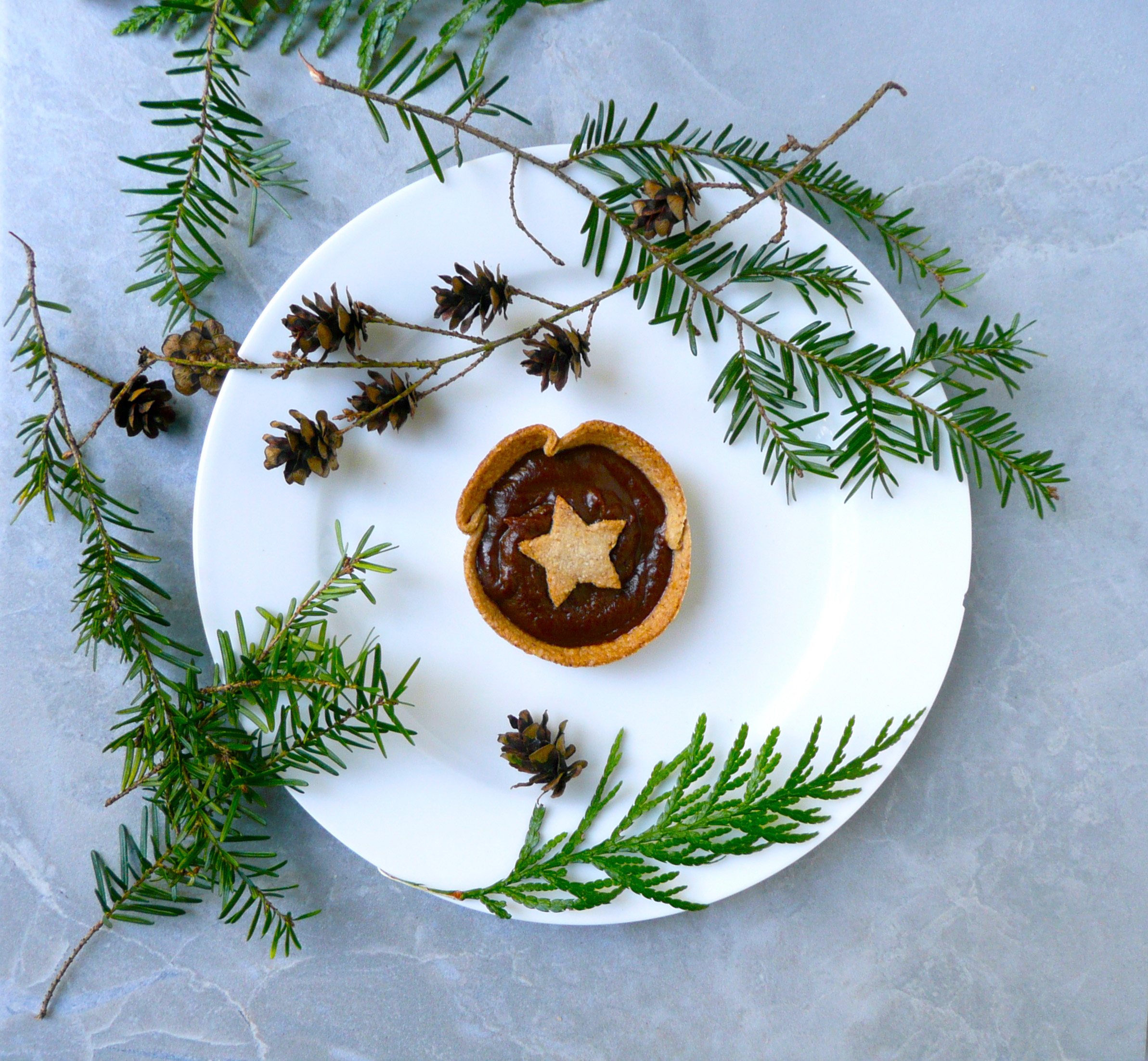 This year, I decided that I would come up with a recipe to get that same sort of feeling of eating a chocolate peppermint treat at Christmastime, (but one that I could eat with my dietary restrictions) so that I wouldn't feel like I was missing out on anything.
These little tarts are vegan, and nut (without the cashew cream) / soy / and gluten free, so they will work with a variety of food sensitivities and food allergies, and would be a good dessert to bring for any holiday party.
You can make this mixture ahead of time and spoon it into the tart shells right before serving. You can eat them as is, or top them with some cashew whipped cream, or a little star made from the scraps of your pie crust for a more festive look.
Any way that you eat them, I hope that you really enjoy them this holiday season!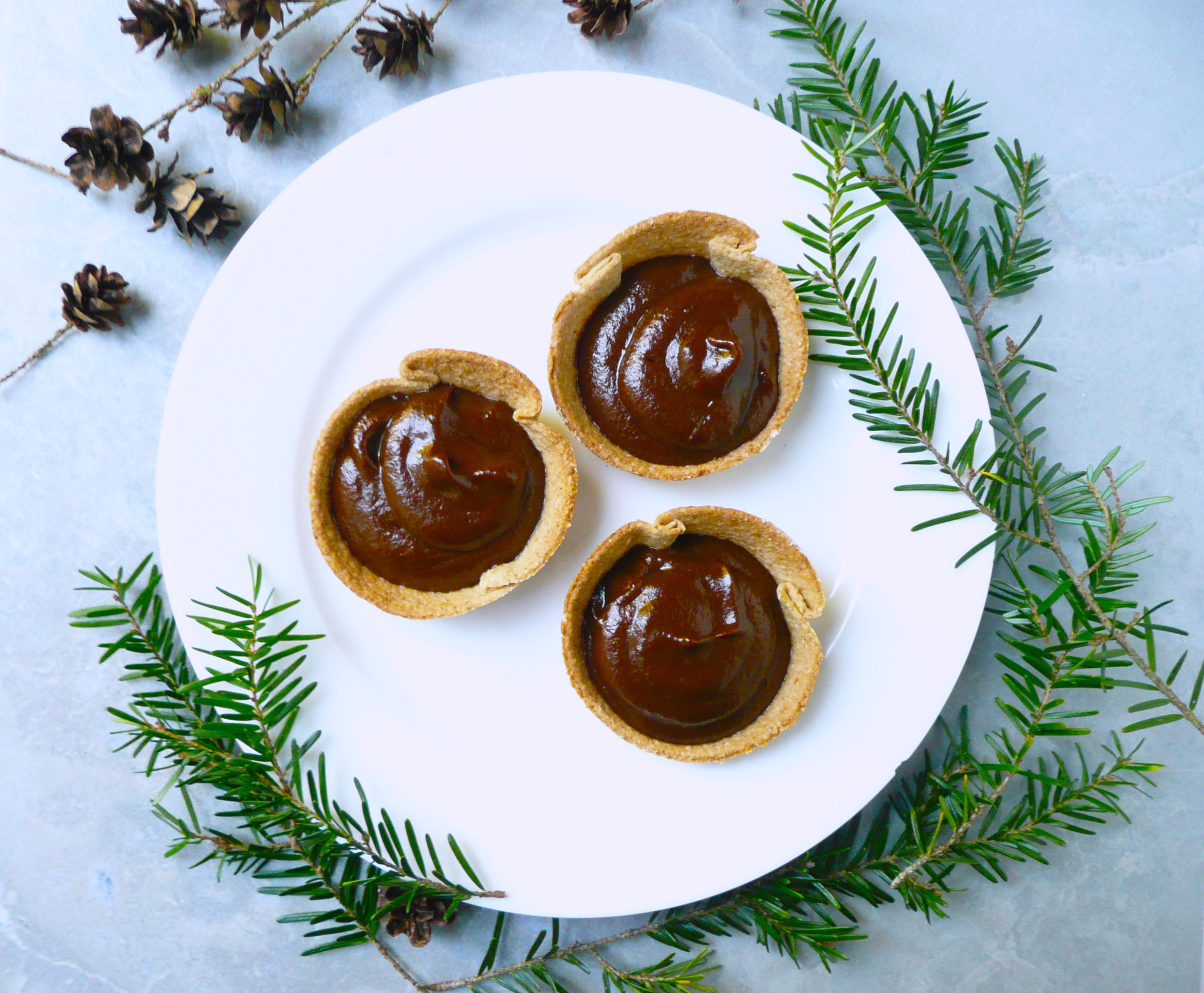 Makes 6 tarts
(Ingredient amounts for 12 tarts listed at the end of the post)
Ingredients
1/2 cup roasted sweet potato puree
5 tbsp maple syrup
4 tbsp unsweetened cocoa powder (I used the Ghirardelli's brand one)
1 tsp strong coffee or espresso*
6 tbsp melted coconut oil **
1/8 tsp peppermint extract (I used the McCormick brand one) ***
tiny pinch of sea salt to taste
Instructions
1. Melt the coconut oil, and add it along with all the other ingredients into a food processor and process until smooth.
2. Taste the mixture, and if the peppermint flavor isn't strong enough, add another drop of peppermint extract at a time to the mixture until you're happy with the flavor.
Peppermint extract can be very strong, and there's a very fine line between it being perfectly minty in flavor, and way too strong.
If you accidentally add too much extract, you can add in a little more of the other ingredients to balance the flavor out again. This recipe is pretty forgiving and can take a little tweaking if need be.
If your sweet potato puree was cold from the fridge before you blended the mixture together, the coconut oil may have set before it had a chance to incorporate with the rest of the ingredients. What you can do in this case is gently heat and stir the mixture over a double boiler until it's glossy and smooth.
For serving, if you want the mixture to be sort of soft and pudding-like, you can gently heat the mixture up again using a double boiler, just until the coconut oil melts and the mixture turns glossy, and then spoon it into the tart shells. Coconut oil melts at 76 °F, so it won't take long to heat up. For the pictures in this post, I heated the filling using this method before dolloping the filling into the shells, which gives the tarts a beautiful finish.
I prefer the texture when the filling has been refrigerated. It's like a cross between a fudgy peppermint chocolate frosting and a chocolate mousse. Once you spoon it into the tart shells, you can give the filling a glossy finish (it won't have the same "dollop" look, but will still look really nice) by dipping a teaspoon into hot water, and smoothing out the tops of the tarts before topping them with cashew whipped cream, a little pie crust star, or leaving them as they are.
3. Spoon the filling into the tart shells and serve immediately.
I used this recipe for the tart shells. For the stars, I used the scrap dough, cut them out using a small star shaped cookie cutter and baked them on a silpat at 375 for 10-15 minutes until golden brown around the edges.
* I add 1 tsp ground Italian Roast Coffee to a mug with 1/4 cup of hot water, allow it to cool, cover with plastic wrap and then refrigerate this overnight. This strong coffee is good to have on hand for this recipe, but also for adding a depth of flavor to other chocolate things like hot chocolate, brownies, and even chocolate frosting.
**I used regular coconut oil, and there is the faintest hint of coconut flavor in these tarts. If you that's not really your thing, you can used refined coconut oil instead so that you don't get that hint of coconut flavor in the tarts.
*** I would prefer to use an organic peppermint extract, but this is just the one that I had on hand, and the flavor is good.
P.S. I'll let you in on a little secret – this recipe makes enough filling for about 7 1/2 tarts, but what that means is that you can fill the 6 tart shells, and save the extra filling as a treat to eat later after all the holiday parties. When you get home, you can look forward to having a quiet moment to yourself to sit in your jammies, and eat this and fall asleep watching Christmas specials on TV. No one will ever know…
For 12 tarts
1 cup roasted sweet potato puree
10 tbsp maple syrup
8 tbsp unsweetened cocoa powder (I used the Ghirardelli's brand one)
2 tsp strong coffee or espresso
12 tbsp melted coconut oil
1/4 tsp peppermint extract (I used the McCormick brand one)
tiny pinch of sea salt to taste