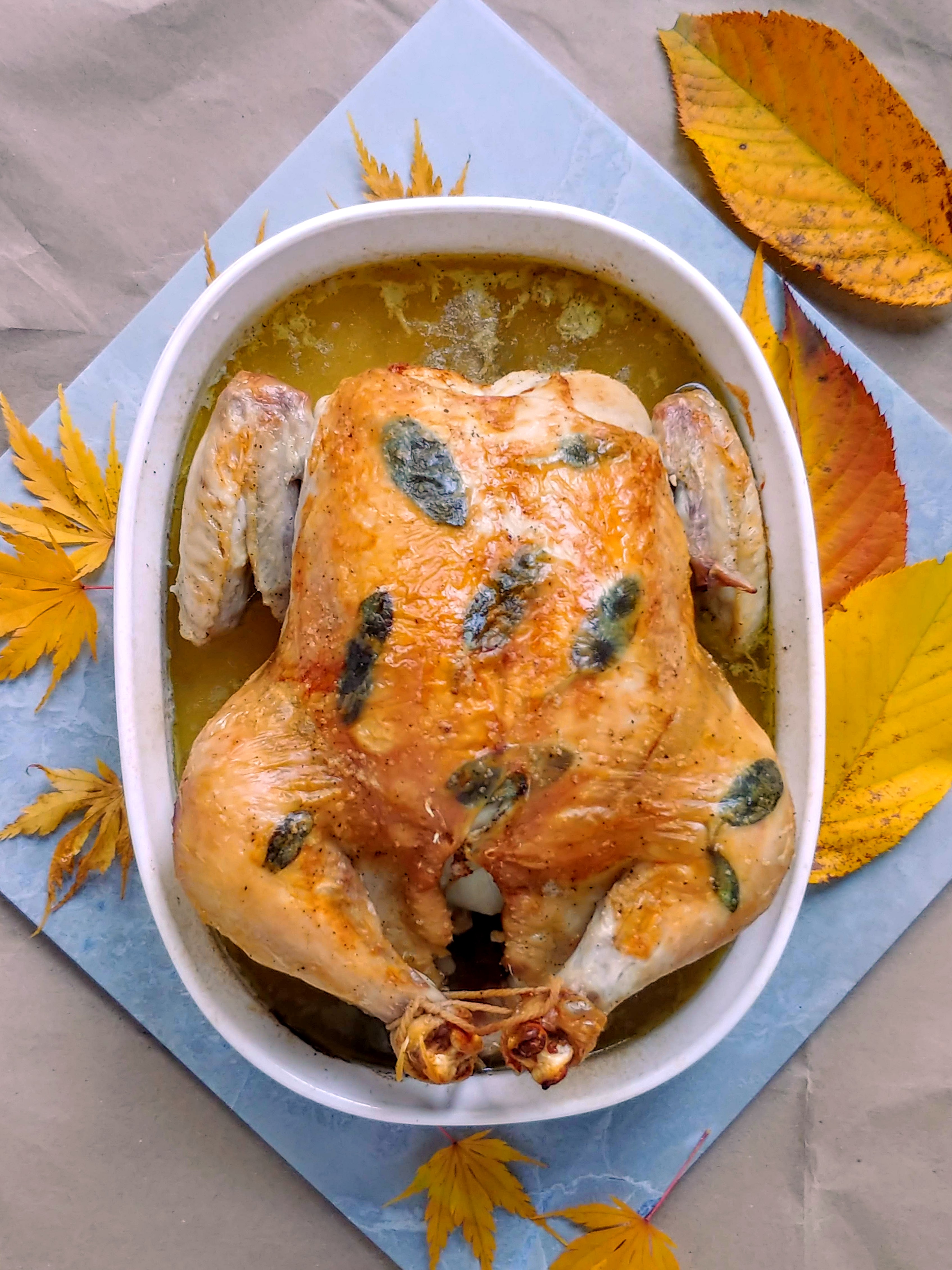 I love Thanksgiving! It's one of my favorite holidays of the year.
Friends, family, good food. What's not to love?
One funny thing about Thanksgiving in my family is that I'm the only one that really loves turkey. Everyone else prefers chicken.
But that actually works out ok (even on Thanksgiving)! Most of the turkeys at the local supermarket are really big 20 lb birds, which is way too much turkey for our family to finish, so a 4-5 lb chicken is the perfect size for us. With all the side dishes and desserts (cornbread dressing, mashed potatoes, pumpkin tarts, apple tarts, and pecan tarts), everyone ends up very happy and full by the end of Thanksgiving dinner.
Also, those turkeys are expensive. Even if you buy a conventionally raised turkey, a 20 lb turkey is going to be about $50. This chicken was $8, and it was free-range and organic to boot.
How did I get a free-range organic chicken for $8? I just bought it on the sell by date and it was marked 50% off.
The grocery store also sold a little packet of mixed fresh herbs (thyme, sage, and rosemary) for $2.50, that plus an onion and some frozen celery (that I had stashed in the freezer from about a month ago) meant that this beautiful roast chicken added up to about $11-$12 for 4-6 servings. Much more affordable than $50.
And if you're far from home this Thanksgiving, and you're making dinner for two, you can make this chicken and have some great leftovers to pack for lunch.
Some great things about this recipe are that it still has all those rich flavors that we associate with a Thanksgiving turkey, AND you don't even need to make a gravy! You can spoon the rich pan juices from this chicken over mashed potatoes and cornbread dressing to your heart's content. It will be just as delicious as any gravy, (with less work) promise.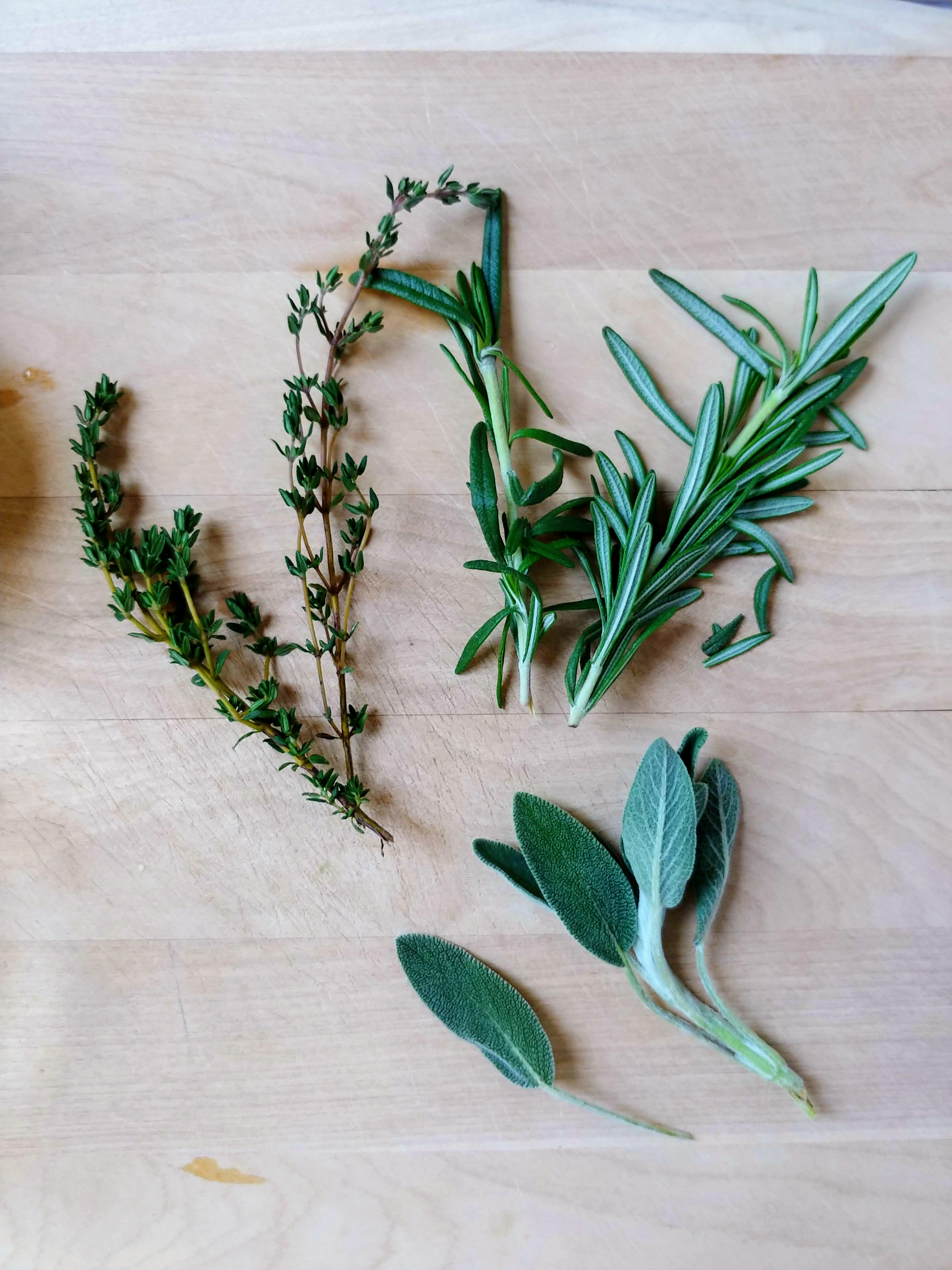 Sprigs of rosemary and thyme flavor the chicken from the inside out, and I tuck sage leaves under the skin for some color and extra flavor. The most delicious parts of that chicken are right under those leaves, so make sure to get some chicken with a sage leaf or two!
Thanksgiving Chicken
Makes 4-6 delicious servings
Ingredients
4 lb chicken
1/2 an onion (cut into 4 wedges)
2 sprigs of thyme
2 4 inch sprigs of rosemary
8 inch stalk of celery (cut into 1/2 inch slices)
2 1/2 tbsp olive oil
9-10 fresh sage leaves
sea salt
black pepper
1 cup of water
Instructions
1. Preheat the oven to 425 degrees F.
2. Wash your herbs, measure out the olive oil and water, and cut up your onion and celery and set all of this aside onto a separate plate along with some salt and pepper and a few toothpicks.
3. Whether or not your wash your chicken is completely up to you. There's some controversy about if you should do it or not.
Personally, I do wash chicken before cooking it. I fill a big bowl of water in the sink and submerge the chicken, then pour out the water (this way the water doesn't splash off the chicken). I do this a few times until the water runs clear. The chicken then goes into your roasting dish (I'm using a 12 inch oval CorningWare casserole dish) and the big bowl goes straight into the dishwasher.
Once the chicken goes into the oven, I sanitize the sink and any surfaces that the raw chicken may have touched.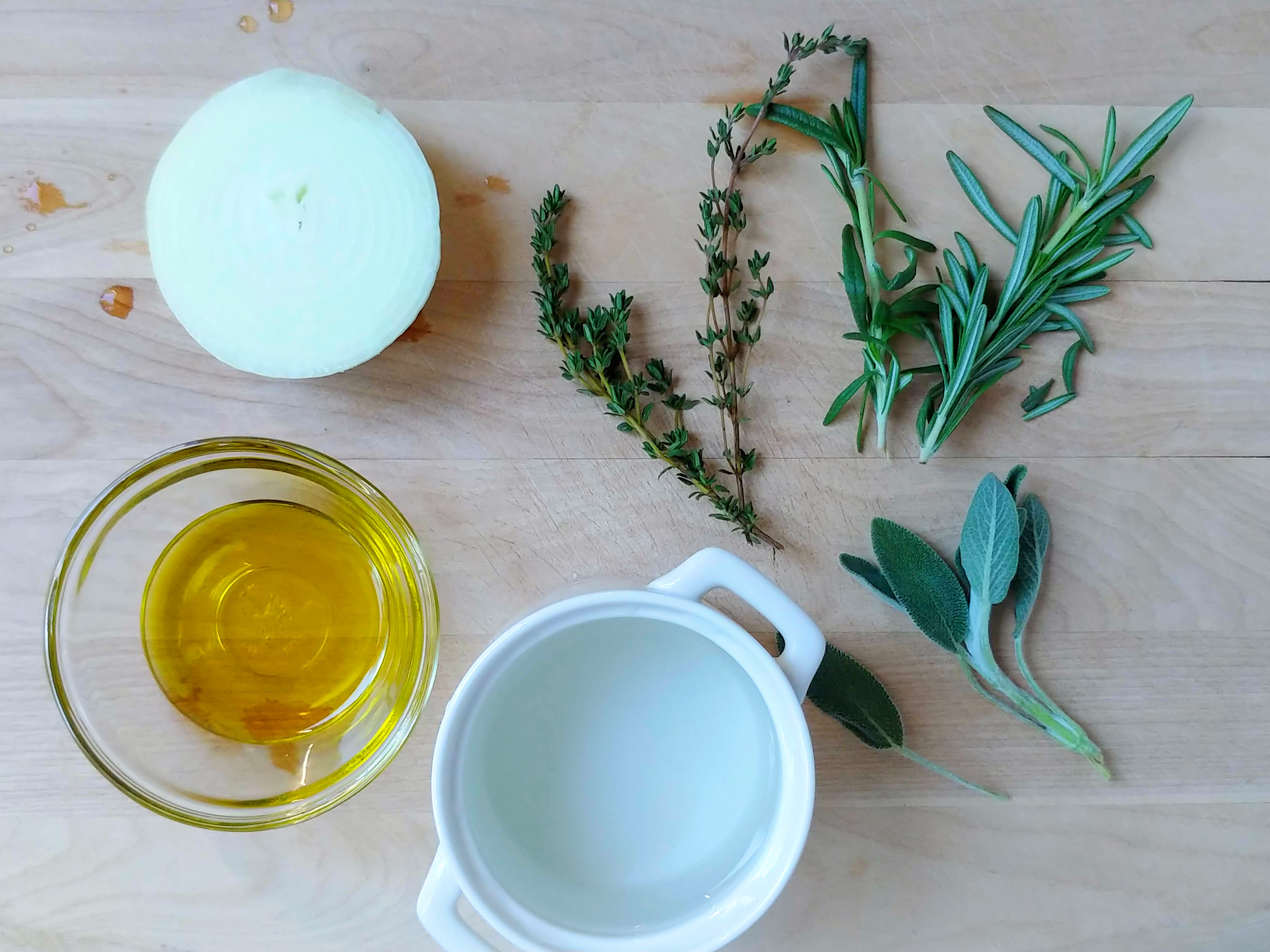 4. Dry the chicken off with a paper towel. Put the onion wedges, thyme, rosemary, and celery inside the chicken and tie the legs together with some kitchen twine.
Gently separate the chicken skin from the chicken breast and tuck the sage leaves around under the skin. If the skin tears, don't worry about it. The chicken will still be golden brown and amazing! Just use a few toothpicks to arrange the chicken skin back into place.
Rub the skin with olive oil, sprinkle over salt and pepper, and tuck in the wingtips using a few toothpicks to hold them in place while the chicken is roasting.
Pour the water into the bottom of the baking dish.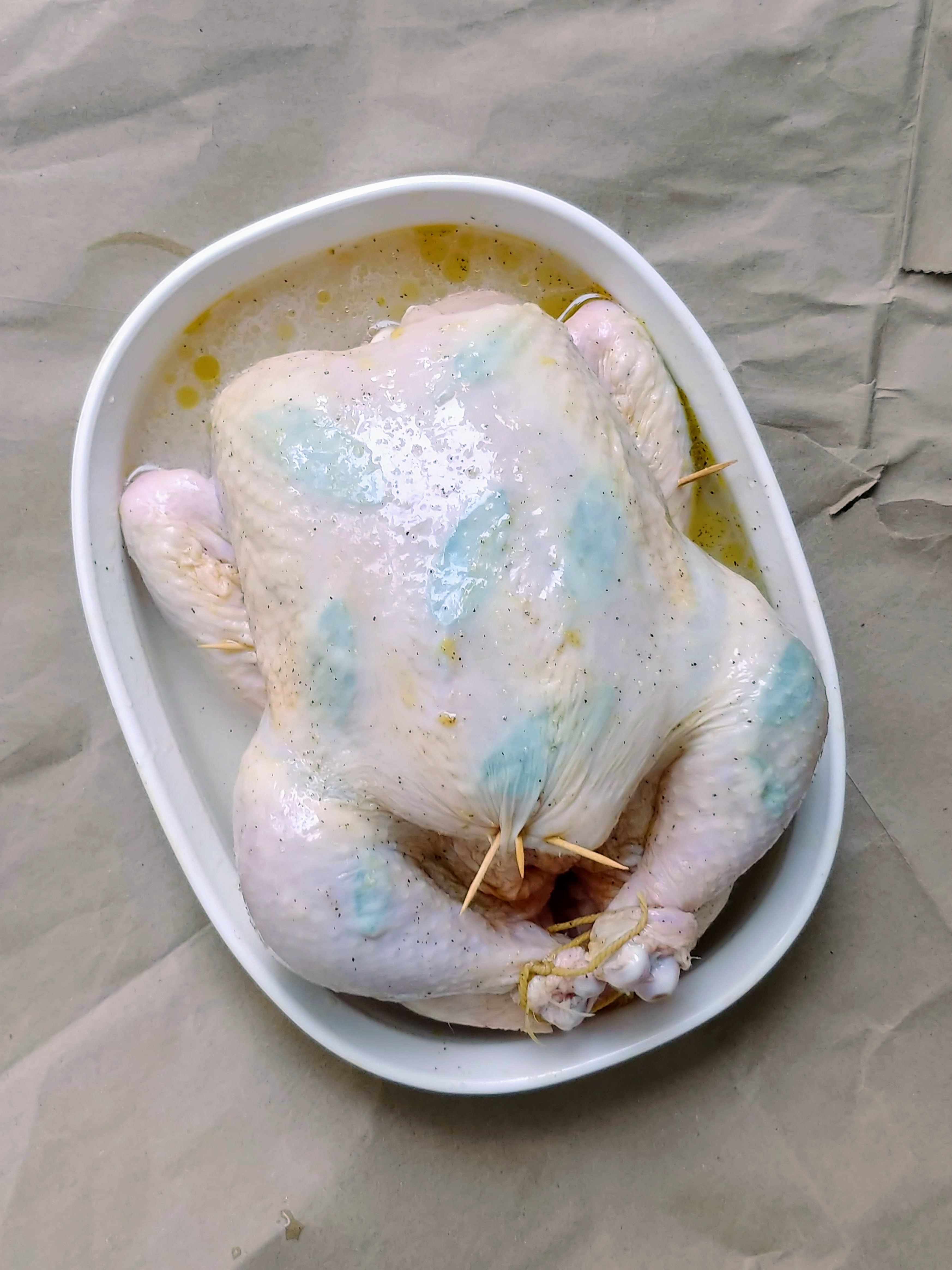 5. Roast the chicken for 50 min – 1 hr 15 minutes, or until the chicken is golden brown and a thermometer measures 165F in the thickest part of the thigh.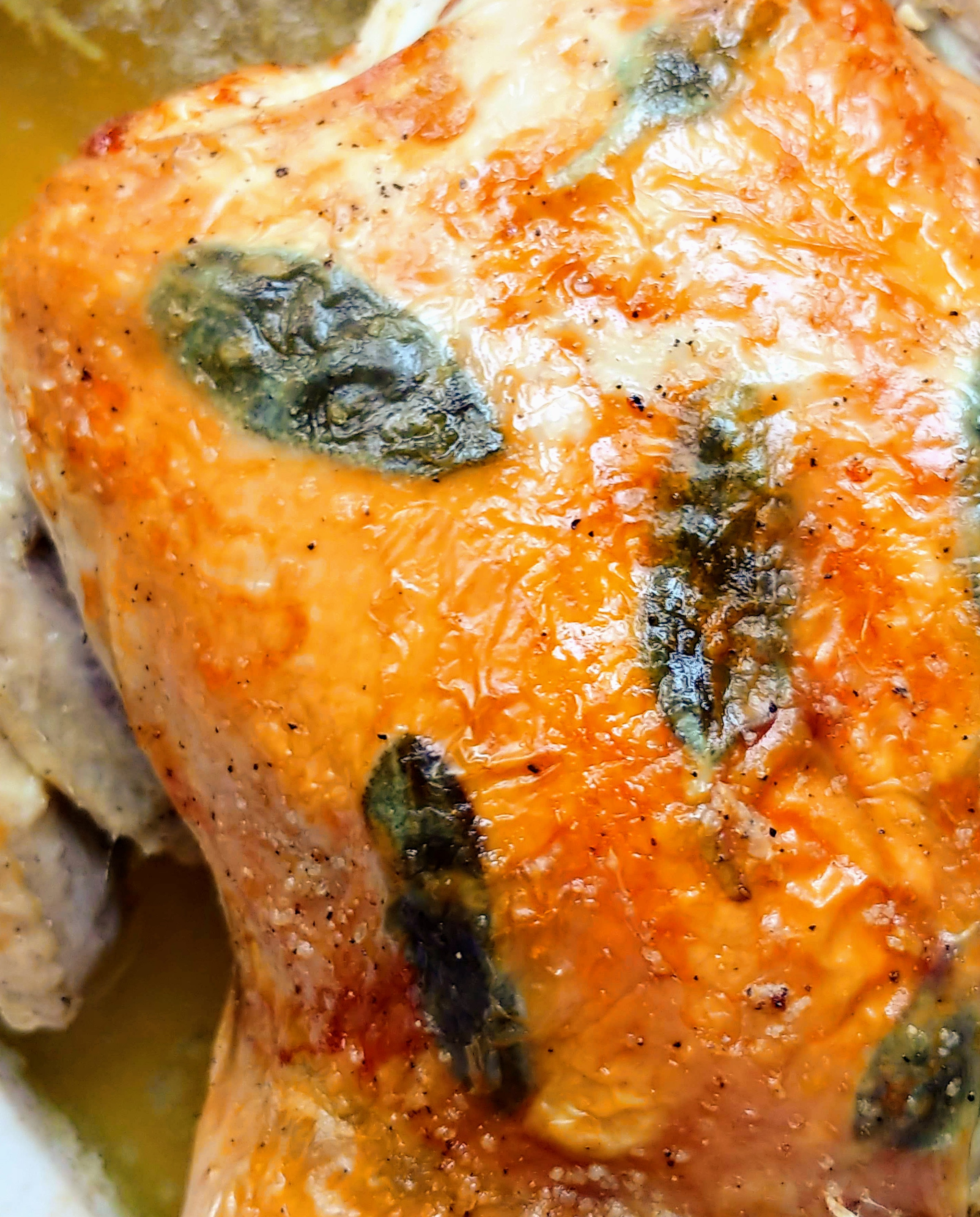 Look at that crispy skin! Yum.
Let the chicken rest 10-20 minutes before carving. Pull out the toothpicks and serve the chicken with the delicious pan juices.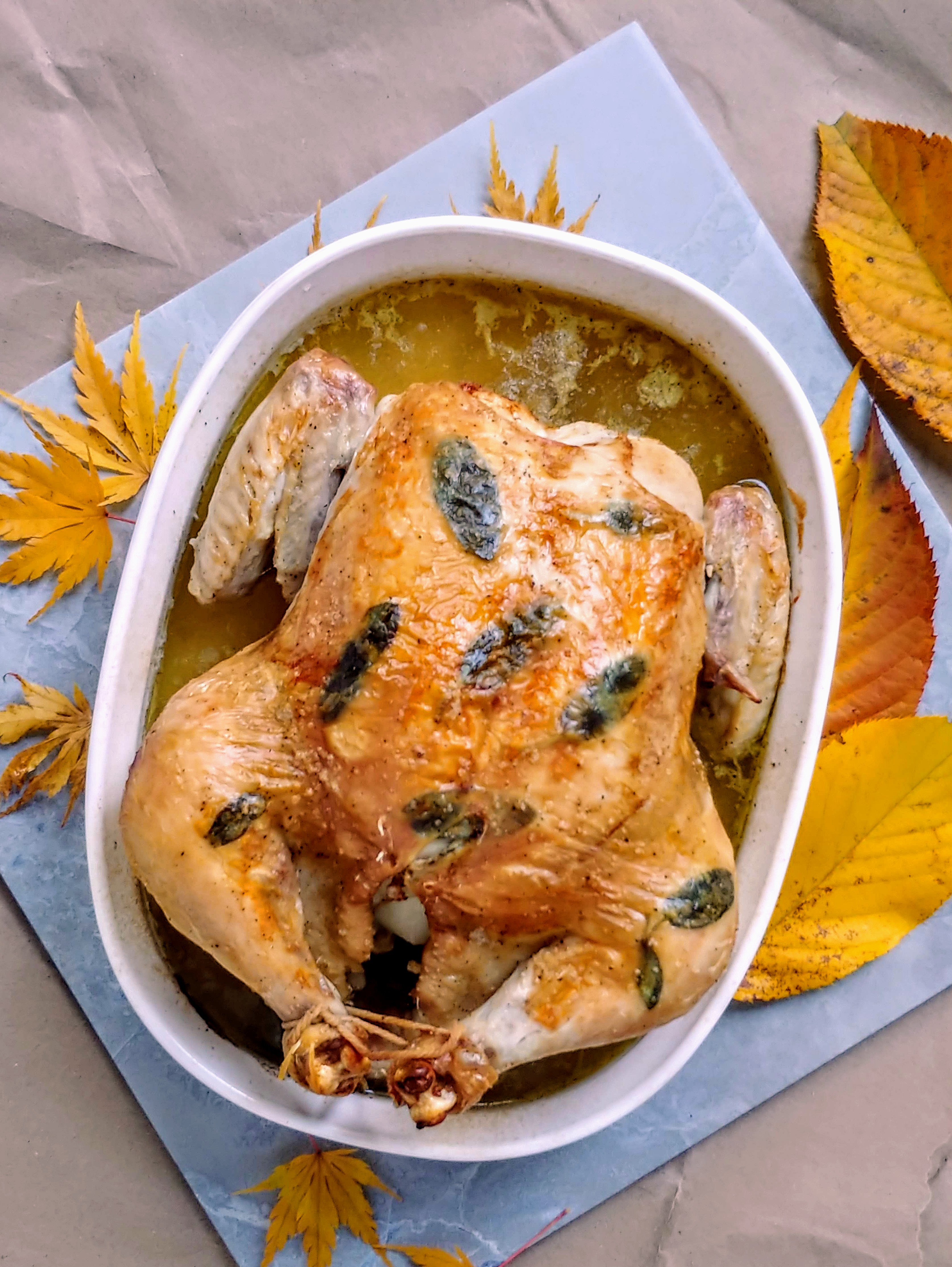 Ta-da! You just made a glorious roast chicken for Thanksgiving!
One more thing – this chicken still has a little magic left.
After dinner, pull the meat off the bones stash it in the fridge for later. Put the carcass with all the herbs and vegetables still inside of it into a slow cooker with a splash of apple cider vinegar and fill the pot with water (I cut off the kitchen twine before I put the bones into the slow cooker but I'm not sure if it's really necessary). Turn the heat to low and cook for 24-48 hours.
Strain out the solids, and you will be left with an incredible and flavorful bone broth!
Add in some of your leftover chicken along with some vegetables and you will have a beautiful soup to warm you up on a cold day.
Wishing you and your family a very Happy Thanksgiving!
Elaine