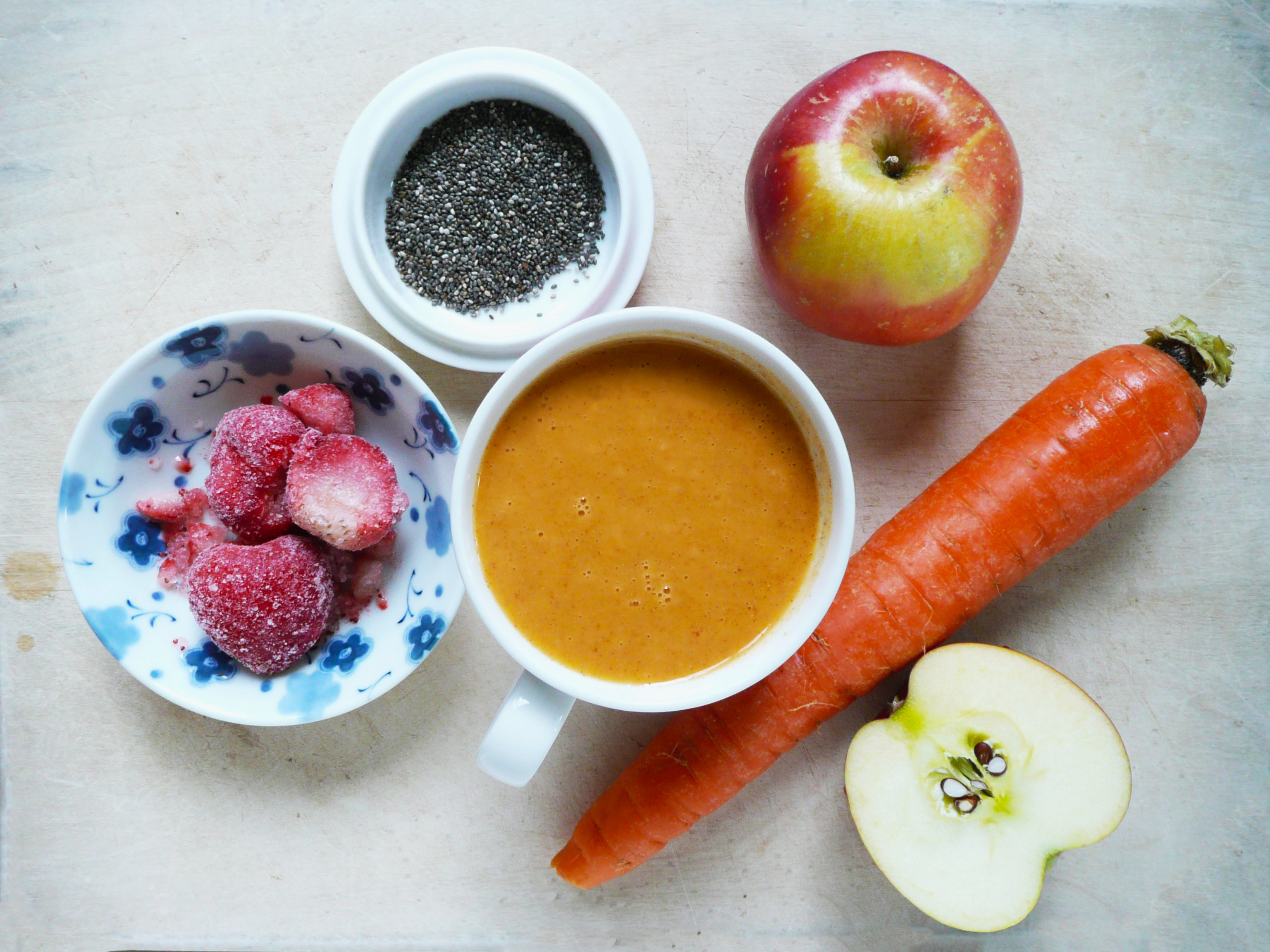 This super pretty smoothie looks like sunshine in a cup. It's a snap to make and is not only delicious, but also full of healthy and anti-inflammatory ingredients.
Chia seeds provide omega-3 fatty acids, and avocado oil is a monounsaturated fat that helps to increase the absorption of the beta carotene from the carrots. The pineapple adds sweetness (if you use fresh pineapple then you get the benefit of an added anti-inflammatory enzyme called bromelain which helps with pain) and the strawberries add anthocyanins (the compounds that give the strawberries their color) which can help boost neurogenesis (helping your brain to produce new brain cells).
What I'll sometimes do is pour one serving of the smoothie into a screw top jar (just an empty jar of coconut oil that I've washed and cleaned out) and keep it in the fridge to drink later in the day. It's a filling smoothie and drinking this is usually satisfying enough that I can walk by the wall of chocolate candy at the grocery store and not crave any of it.
The apples, strawberries and pineapple give the smoothie a lovely sweetness, but if you want the smoothie a little sweeter, you can squeeze in a little honey to taste.
Good Morning Sunshine Smoothie
Makes 2 generous servings
Ingredients
1 1/2 fuji apples, roughly chopped
1 large carrot, but into 1/2 inch slices (about 1 cup)
1/4 cup canned pineapple + 1/4 cup of the pineapple juice*
8 strawberries (fresh or frozen) about a scant 1 cup
1 1/2 tbsp chia seeds
1/2 – 1 tbsp avocado oil (or any neutral flavored oil)
1 1/2 cups water
Squeeze of honey (optional)
*If you don't want to use canned pineapple, Trader Joe's sells pineapple juice in a carton which tastes great. You can just add a few splashes of that to the smoothie instead of the canned pineapple for sweetness.
Instructions
Add all ingredients into a blender and blend until smooth. Pour into cups and serve.
If your blender isn't that great at blending frozen things, you can let the strawberries thaw for 15-20 minutes before blending.
I hope that this colorful smoothie brings a little joy and sunshine to your day!