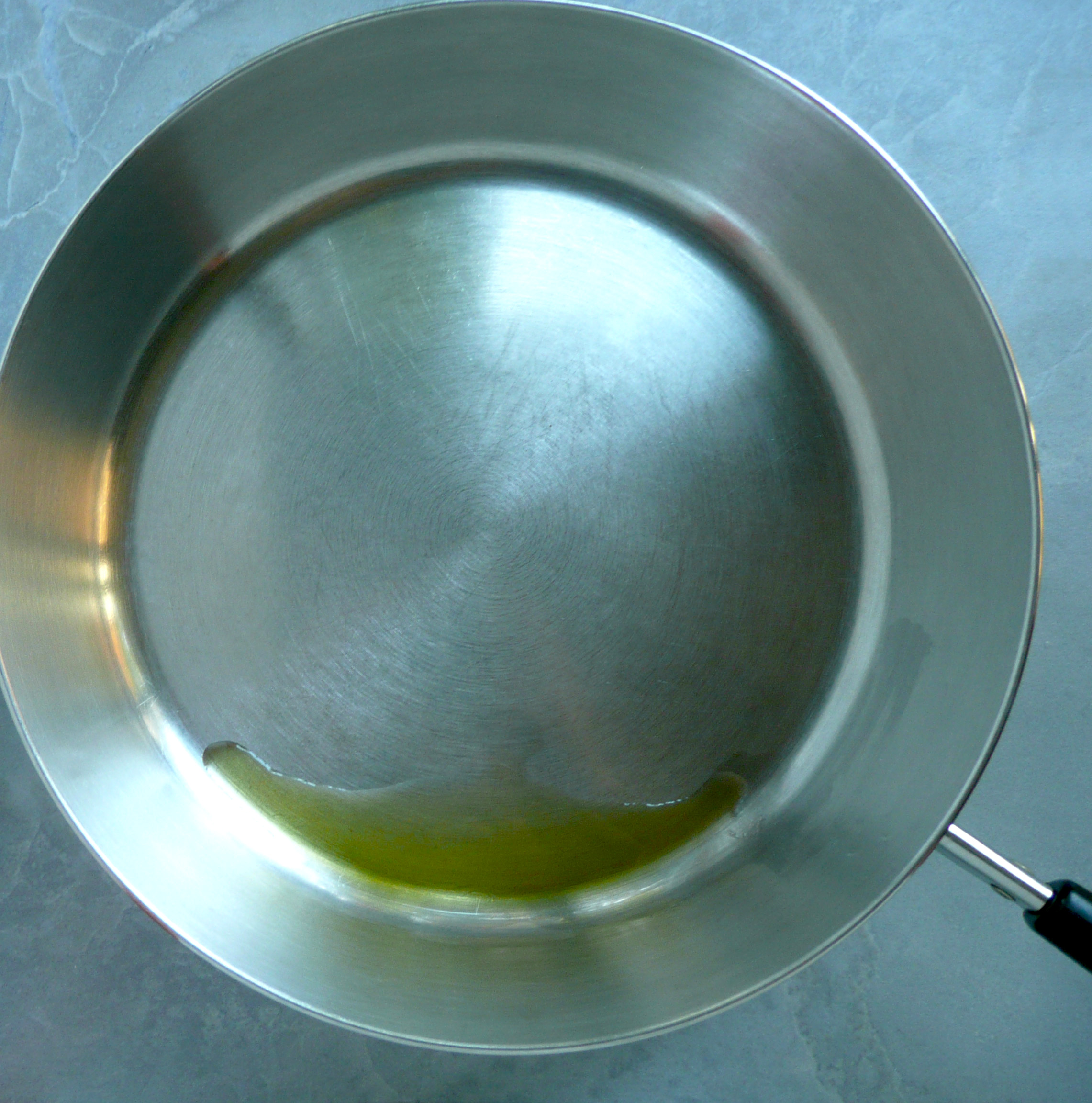 (This is what the pan looks like before the coating of oil).
When I decided to stop using non-stick cookware, one of the hardest thing to get my head around was how I was going to be able to cook things like pancakes and sunny-side up eggs.
I googled "how to make a stainless steel pan non-stick" and wasn't able to find an answer.
So after much trial and error, I finally figured it out. And it's actually super simple to do.
By heating the oil in a pan this way, the oil binds to the surface of the steel (forming a polymer – whatever that means…), creating a temporary non-stick coating. I've used this method with olive oil, coconut oil, and avocado various times and all have worked great.
Instructions
1. Start with a cool stainless steel pan. Rub the bottom of the inside of the pan with probably about ½ tsp (maybe less) of olive oil with either your fingertips or a paper towel. You only need a thin layer, but want to coat the entire bottom of the pan so that there are no gaps in where you put the oil.
2. This can get a little smelly so, I'd turn on the cooking fan for this.
Put the pan onto a cold burner and turn the heat up to medium. Hover your hand a few inches above the pan. When the air over the pan feels about as warm as a warm bath you'd give a baby (so not too hot) then turn the burner off, and leave the pan to cool on the burner while you prep your veggies for your stir-fry, or your pancake batter.
3. Then just cook as usual.
The non-stick coating is temporary, but you should be able to get through cooking a batch of pancakes, or fry a few eggs on this surface just fine before you need to add a little more oil.
When you're done cooking, you can scrub this non-stick surface off with some baking soda mixed into a paste with a little dish soap and a scrubby sponge. When I need a non-stick surface next time, I just repeat the process.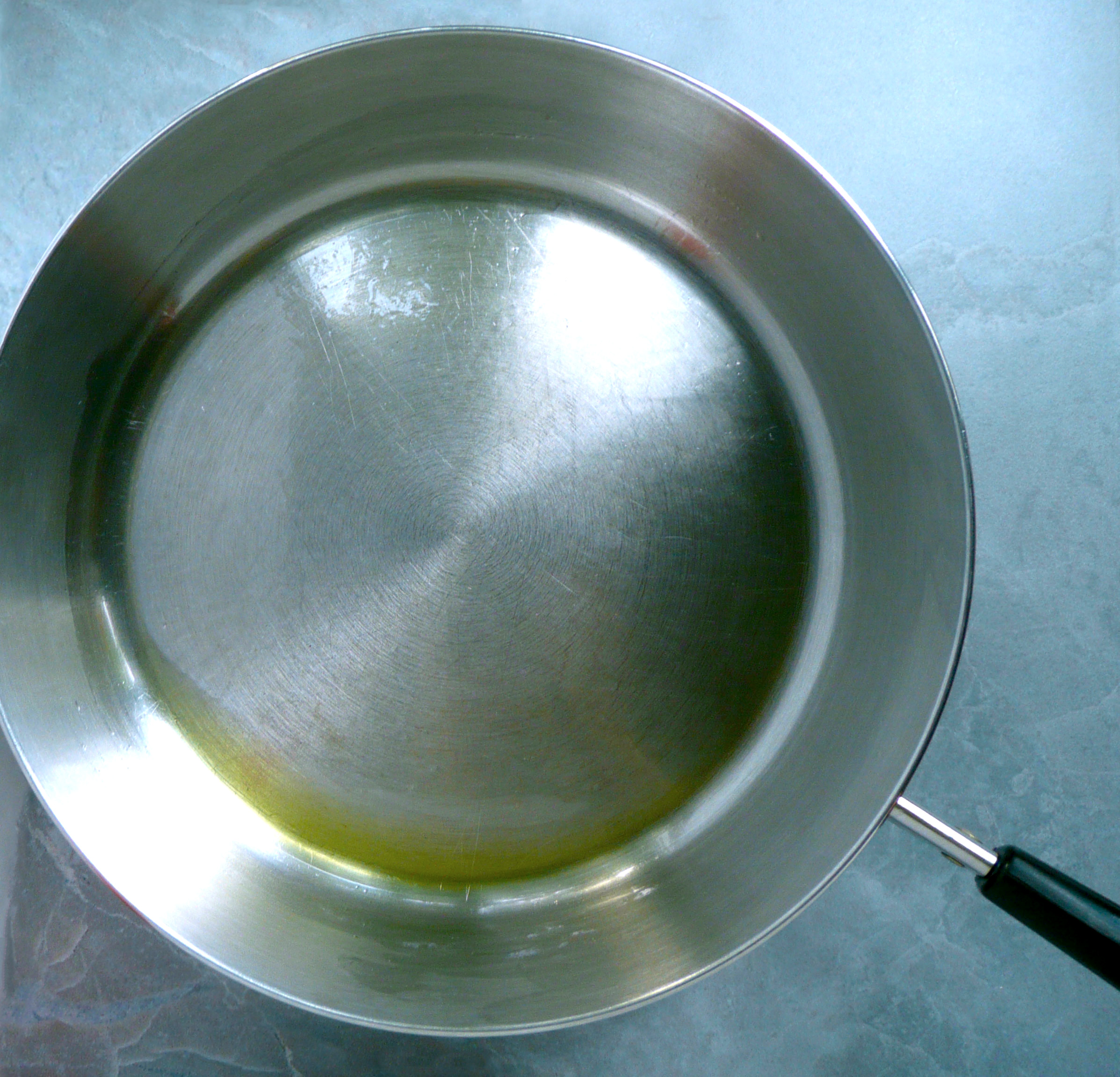 (This is what the pan looks like after it's been heated with the oil).
For me, I cook on an electric stove, and I've done this enough times now that I know that if I start with a cold pan, it takes 5 minutes to heat to the baby bath level of warmth. Now I can just rub the pan's surface in oil, put it onto the burner, turn on the stove, turn on the fan, and set a timer for 5 minutes.
You may have to adjust the timer for your stove, as you may find that your stove heats up more quickly or more slowly than mine does.
I always stay in the kitchen as I do this, just in case the pan starts to smoke.
If you see the pan start to smoke, pull the pan off the hot burner right away (also turn off the burner) and put the pan on one of the cold burners to cool. Once cool, it should still have created a non-stick surface and you can just cook on this pan as usual.
If you fry an egg sunny side upon this surface, I'd cover the pan with a plate or a lid while the egg is cooking. The egg white cooks through more evenly with a lid on the pan.
What would you cook using this trick? Let me know in the comments below.
Happy Cooking!