Hi Friends! I know I've been a little quiet on the blog lately, but there's a good reason for that.
I opened my society6 shop a few weeks ago, and I've been working on some exciting new things to share with you! I've been designing all sorts of fun things and I hope that you will like them as much as I do.
5% of anything that I make from Society 6 sales will be donated to a girls education charity ($1 from each sale in my Etsy shop will be donated as well).
Since it's back to school season, let's start with the backpacks first!
Backpacks are an essential item for going back to school and these are some of the backpacks that I designed. I wanted them to be really fun and make you happy when you look at them (because school isn't always easy) and hopefully having a fun backpack can bring a little brightness to any school day.
Each backpack is a unisex size, has a padded back and bottom, and has an interior pocket that fits up to a 15 inch laptop. I would loved to have any of these backpacks when I was a student and heading back to school.
I also designed some fun tote bags – these are great to keep folded in your purse or backpack for grocery shopping.
These are the awesome leggings that I designed! It still kind of amazes me that someone can wear something that I dreamed up. The teal design is in the color scheme "Unicorns Frolic, " (which I thought was such a sweet and cheerful name). I designed the pattern so that it would be flattering on a lot of different shapes and be bold and eye catching. I can totally see myself running around in any of these leggings, as well as exercising, or relaxing at home in them. Leggings are an all occasion item, and these are sleek enough to wear just about anywhere.
I've got a few tops that are available in the shop, and I'll be adding more soon. I wanted the shirts to look chic and modern and look great on everyone.
This is super neat! I've added furniture to my shop recently as well! There are coffee tables, credenzas, benches and side tables in the shop, and many of them allow you to choose between black or gold hardware so that it's easy to match your existing furniture or design scheme.
Last, but not least are my favorite items in the shop – the duffle bags!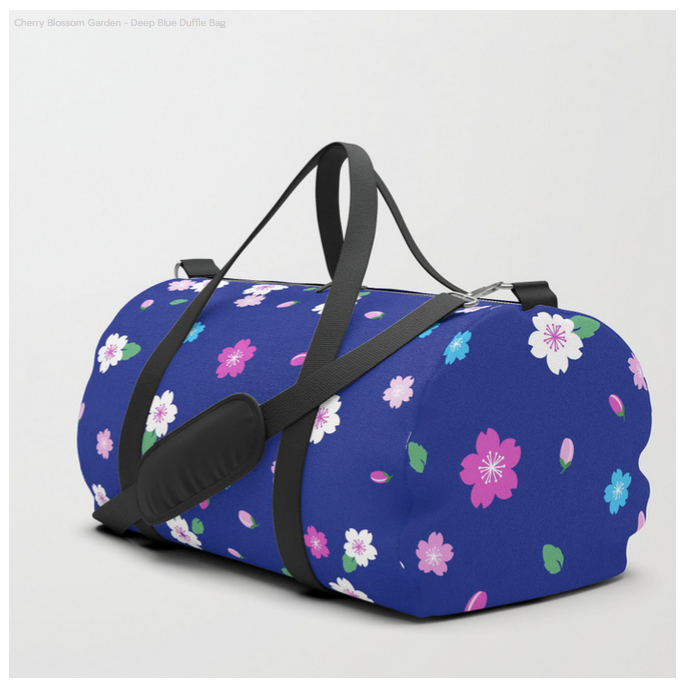 When I was working out the color scheme and patterns I was thinking of what I would want to take with me to the airport. I love duffle bags because you can use them for your work out gear in everyday life, or fold them into your luggage when you go on a trip and fill them up with souvenirs or gifts to bring back for your friends and family.
The duffle bags come in a few different sizes. The two here are in the design "Cherry Blossom Garden" in Deep Blue and Blush Pink shades.
So cute!
You can find more items I designed here.
Thanks so much for looking! I'll be back with more recipes and DIYs soon.
I hope that you have a great week!
Elaine
P.S. Which one is your favorite item?