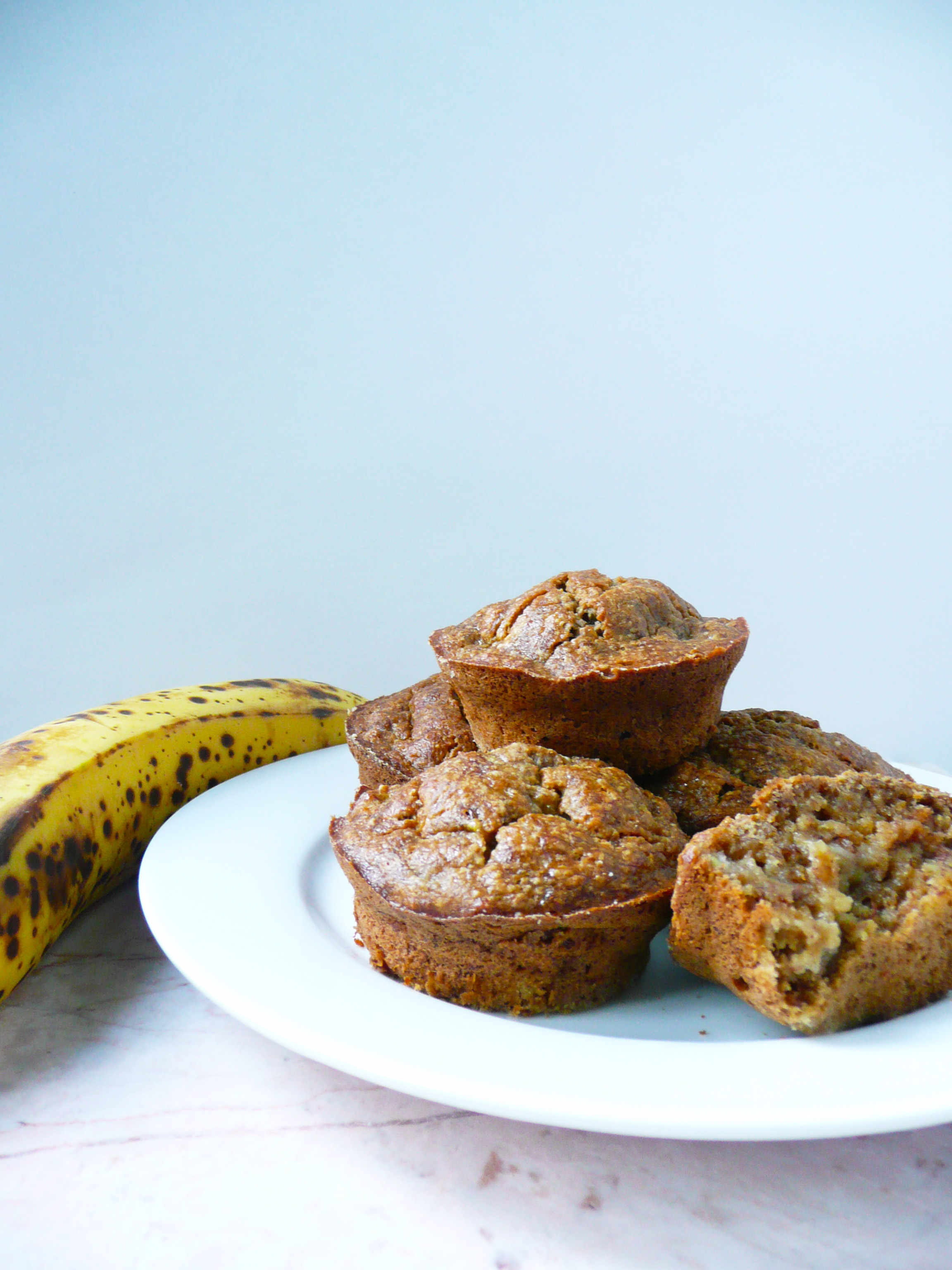 There is something magical about making muffins. You sift together a few ingredients, stir in a few more, and a little while later 12 mini cakes emerge from the oven ready to fill your heart with joy and comfort.
If there is a practice more conducive to self care than baking, I have yet to discover it.
If I'm ever having a bad day, I bake. It takes focus and when you're measuring and stirring everything together, the things that troubled you before seem far away.
The scent of delicious muffins wafts through the air and makes any house and home seem more warm and friendly. It's a scent that makes the world a little softer and everything feel a little more possible.
And once you bite into a freshly baked muffin the spell is complete, and life feels ok again.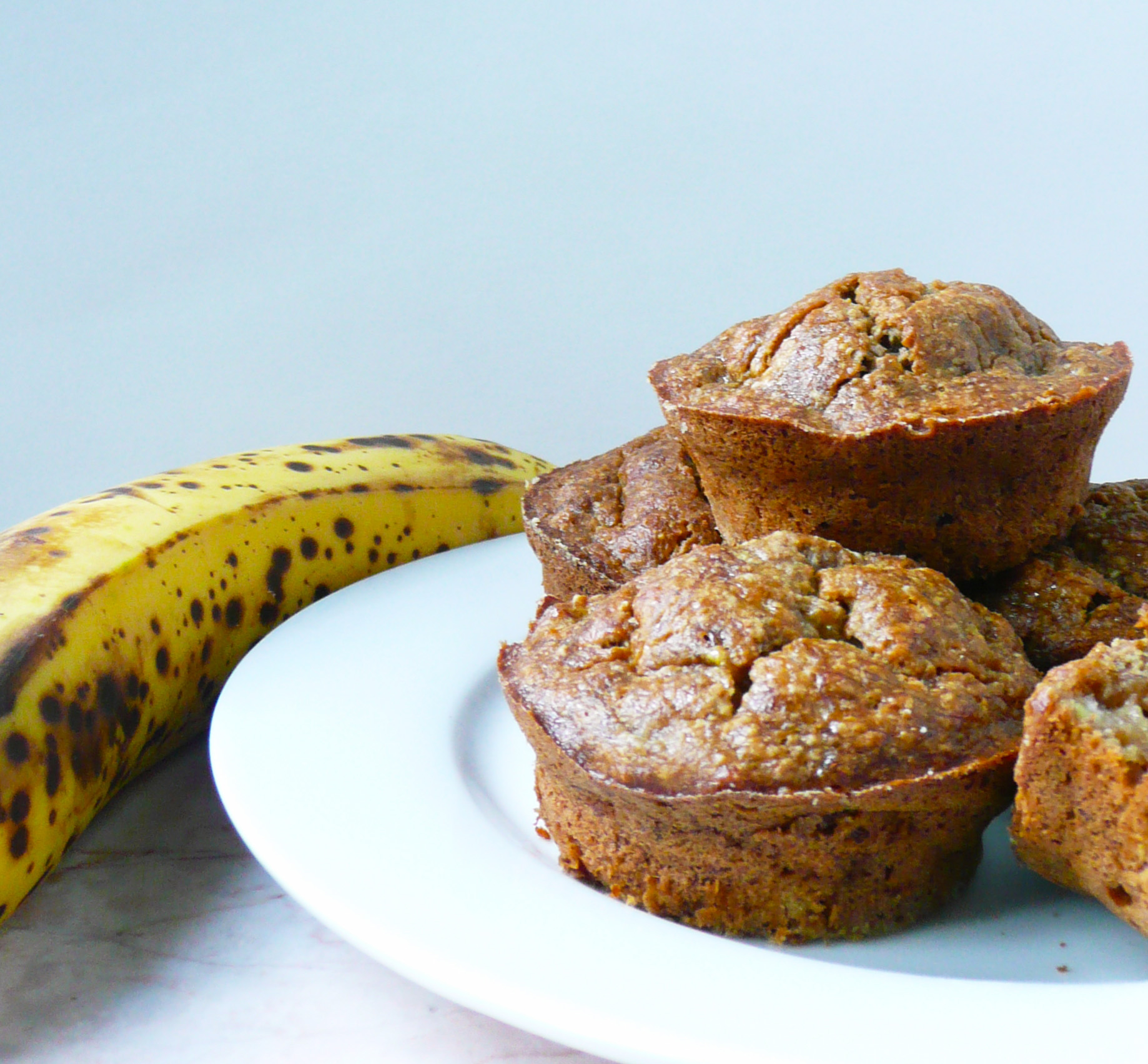 I love blueberry muffins, but there's something about banana bread muffins that seem extra nourishing to your soul.
When I first cut gluten out of my diet, I really missed banana bread. I missed it's buttery sweetness, and cozy banana richness.
It took me a couple of tries to get this recipe right, but these muffins taste just like the banana bread that I used to love eating. They also have a touch of cinnamon and vanilla to give them an extra bit of warmth to their flavor.
I like to use the ripest bananas that I can find (overripe bananas work the best as they are sweeter) and baking these muffins is a great way to cut down on food waste and have breakfast ready to go for the next few days (even if you eat 3 – 4 muffins still warm from the oven like I normally do).
I like to make these muffins a day ahead and leave them out on a plate on the counter covered by a paper towel. They dry out a little overnight, and the texture gets even better the next day.
Banana Bread Muffins
Makes 12 muffins
Ingredients
1 3/4 cups mashed ripe bananas (about 4 – 4 1/2 bananas)
2 tbsp apple cider vinegar
1/3 cup melted coconut oil
2 eggs
1/4 cup maple syrup
1 1/2 tsp vanilla extract
2 cups oat flour
level 3/4 tsp baking soda
1 tsp ground cinnamon
Notes –
* I grind oats into oat flour using a blender. Don't grind the oats in a food processor because the flour won't be fine enough.
Any extra oat flour I don't use in the recipe goes into an airtight container and I use it for another recipe.
If you're making this recipe for someone who has celiac disease, please use certified gluten free oats, as the oats from the bulk bins can sometimes be processed on the same equipment as wheat.
Instructions
1. Preheat the oven to 350F.
Grease and flour muffin pan with melted coconut oil and oat flour.
2. In a large bowl, sift together the oat flour, baking soda, and ground cinnamon and set aside.
3. In a separate bowl stir together the mashed bananas, apple cider vinegar, melted coconut oil, eggs, maple syrup, and vanilla extract until well combined.
Pour the wet mixture into the dry and stir until well combined. Divide the batter evenly between the 12 muffin cups and bake at 350 F for 33 minutes (until golden). Turn the oven down to 300 F and bake for another 10 minutes until the cake tester comes out clean.
Let the muffins cool in the pan. To pop them out of the muffin tin, run a small knife around the edge of each muffin (a small butter knife works great for this) and they should come right out.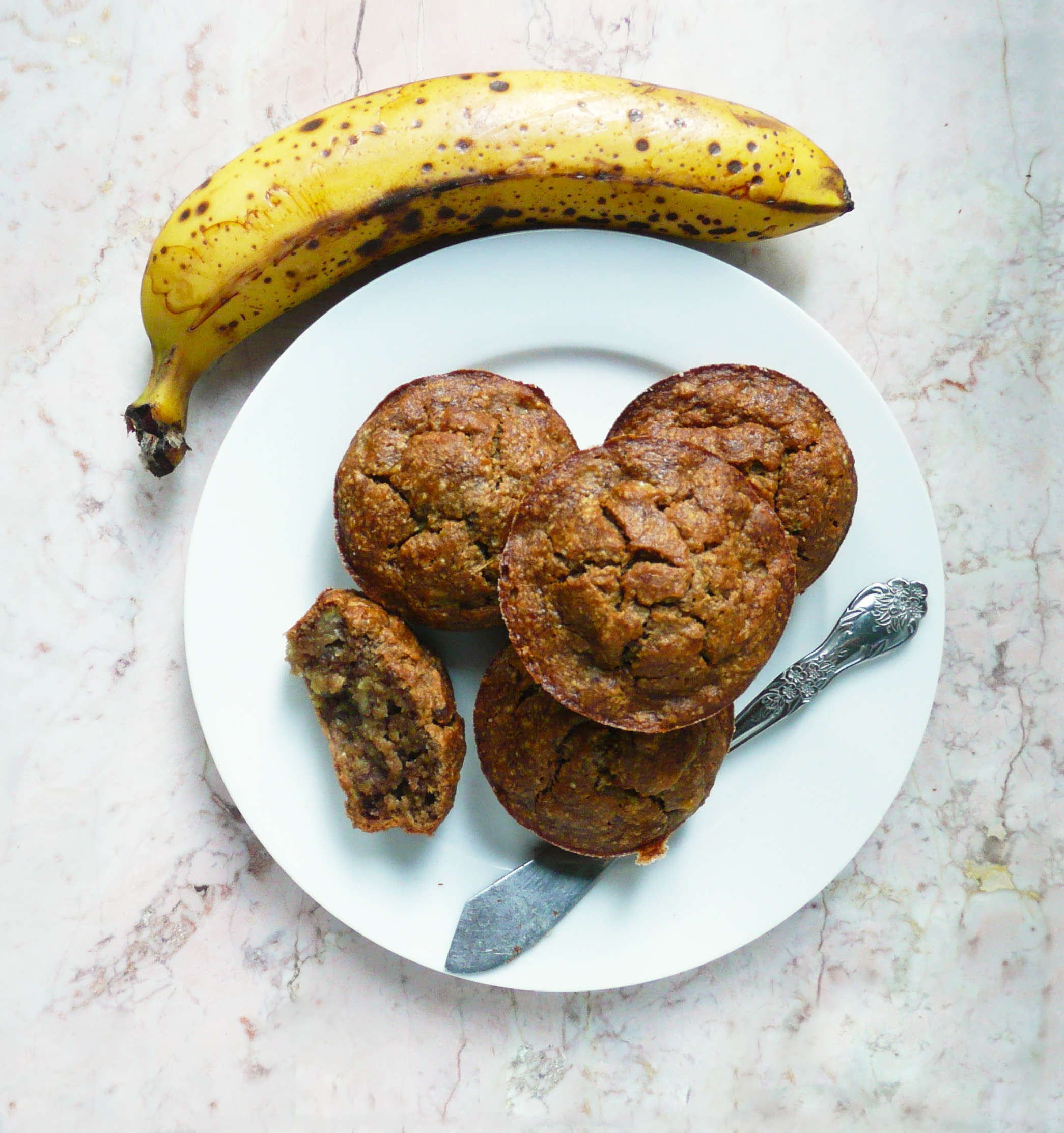 I wish you many happy breakfasts (and memories) with these wonderful muffins.