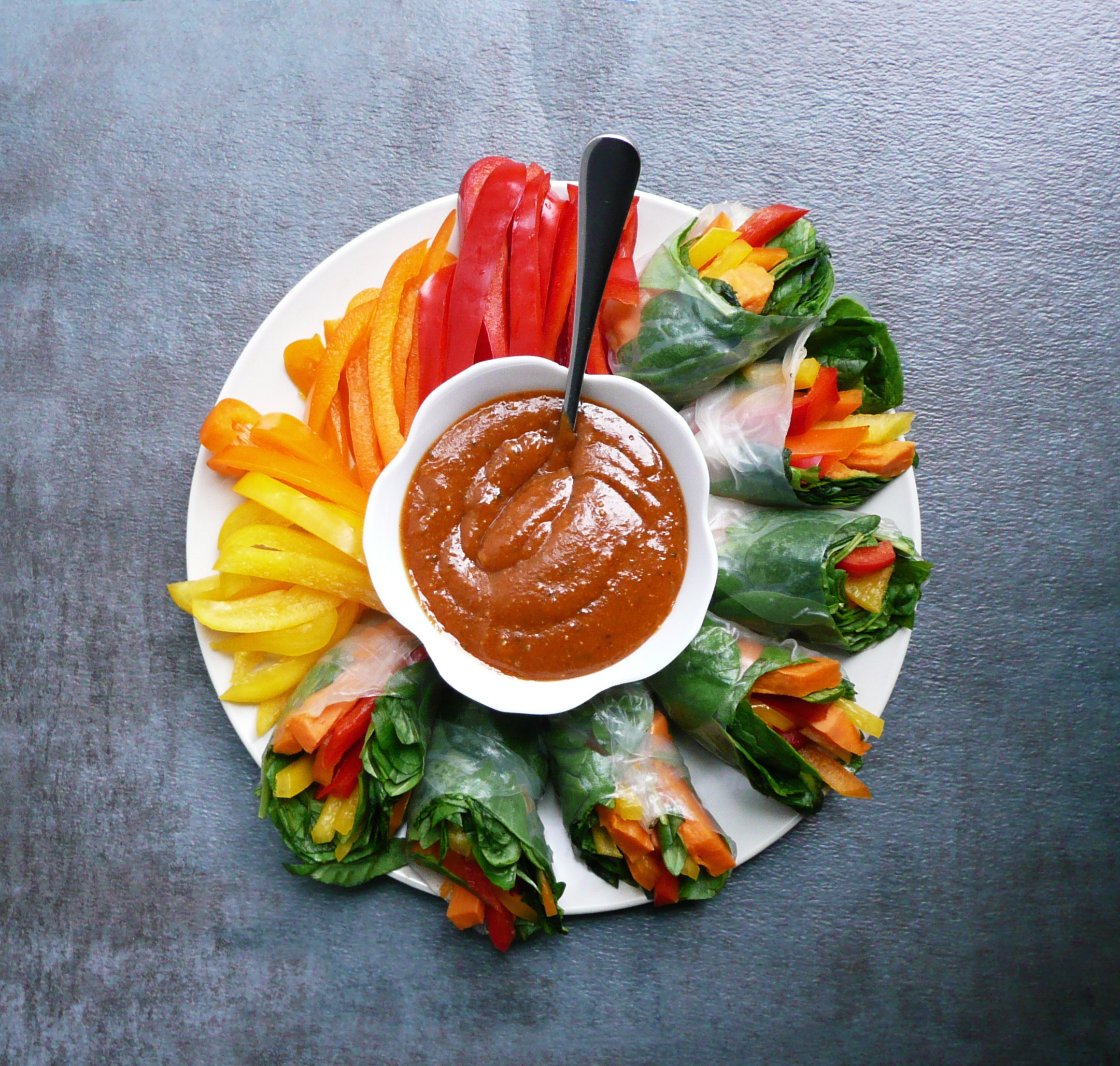 When I was in high school, our "wild night out" on the weekends (more often during the summer) was going bowling, and then going to eat shrimp spring rolls at the Thai restaurant that my friend's family owned.
The spring rolls were actually a Vietnamese dish, but I didn't know that at the time. All I knew was that these spring rolls were amazing! They were one of the best things that I'd ever eaten, and we always ate them with the Thai peanut satay sauce.
When I moved away, the shrimp spring rolls and peanut sauce was the dish that I most associated with that time in my life.
I absolutely loved eating those spring rolls, and I could never find a restaurant that made them the same way. I wanted to make them myself, but the most difficult part of recreating that dish was trying to get the peanut sauce right.
I never did get the recipe for that peanut sauce. I managed to recreate the sauce a few years later through trial and error, but it did have a lot white sugar in it, so I wanted to create a version that was refined sugar free.
And this version is vegan to boot.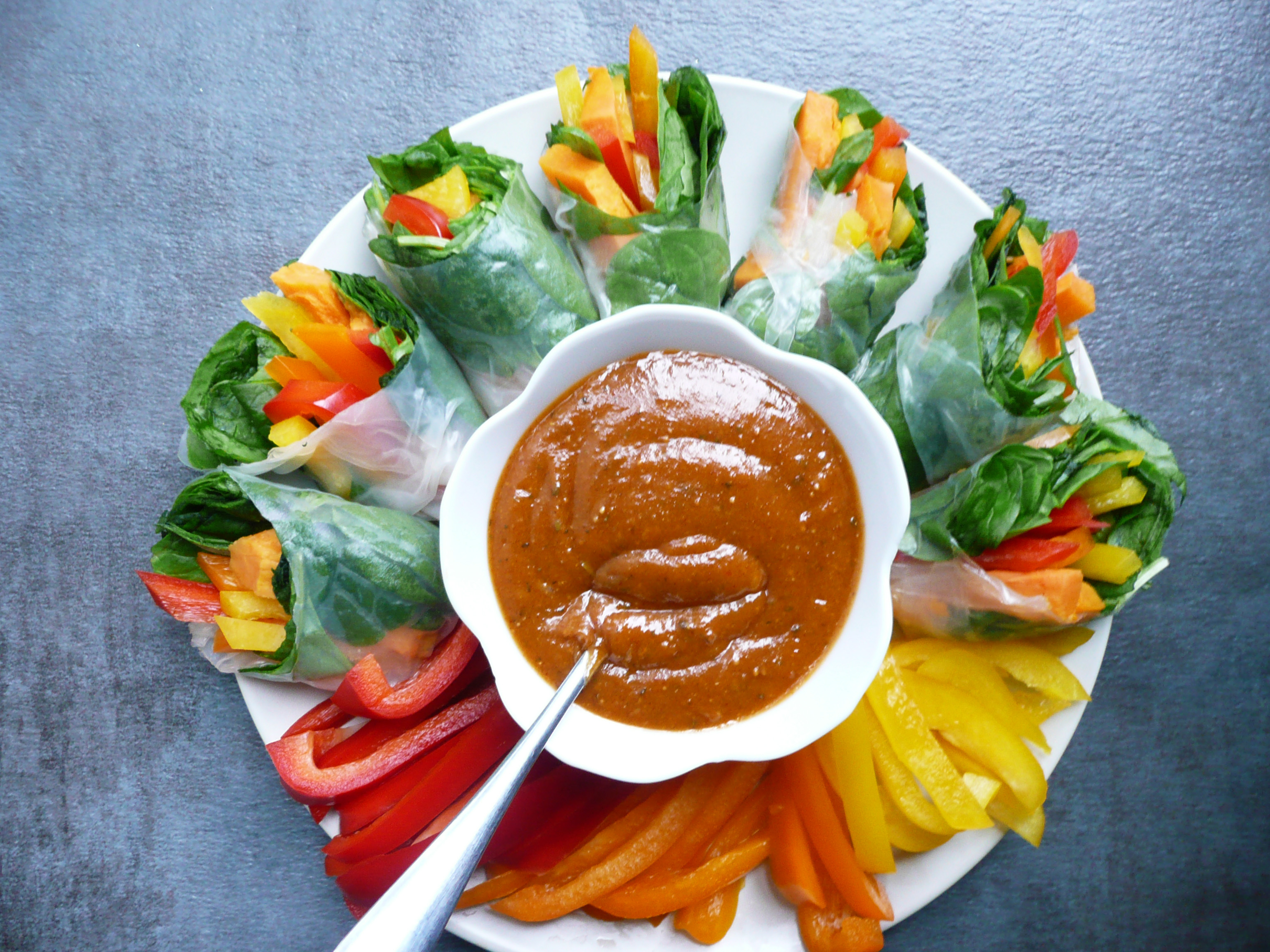 It tastes very similar to that peanut sauce that I first had all those years ago, sweet and mildly spicy, rich with the flavors of ginger and chili, with just a hint of salt to round out the flavor. The extra salt replaces the savoriness of the fish sauce, and the sauce is so good that you won't miss the fish sauce.
This peanut sauce is also easier to make than the traditional version (this one you don't have to cook, just stir it all together), but still tastes incredibly similar.
You can make this peanut sauce in advance, and it will thicken and become creamier in the fridge as it chills.
I usually make extra sauce, as you can dip vegetables in it, or spread it over noodles, and I usually eat more than one serving of spring rolls at a time, so having extra sauce on hand is great.
Vegan Thai Peanut Sauce
Makes ¼ cup of peanut sauce (1 serving)
Ingredients
3 tbsp. + 1 tsp unsweetened natural peanut butter
1 level tsp of red curry paste (most supermarkets carry it these days, I used the Thai Kitchen Brand)
3 tbsp maple syrup
4 tbsp hot water
¼ tsp – ½ tsp sea salt (to taste)
¼ tsp. crushed dried mint* (optional)
1/8 tsp ground coriander seed* (optional)
*If you don't have a few leaves of fresh mint and cilantro to put into your spring rolls, you can add these spices to the peanut sauce to give it a similar herby brightness.
Instructions
Ideally, your peanut butter would be room temperature, but if it's cold from the fridge, that's ok too. It will just take a little more mixing to get everything to combine.
Stir together the peanut butter, curry paste, maple syrup and optional spices until smooth. Add in the 4 tbsp of hot water, and still until well combined. Add salt to taste (I added ½ level tsp of sea salt).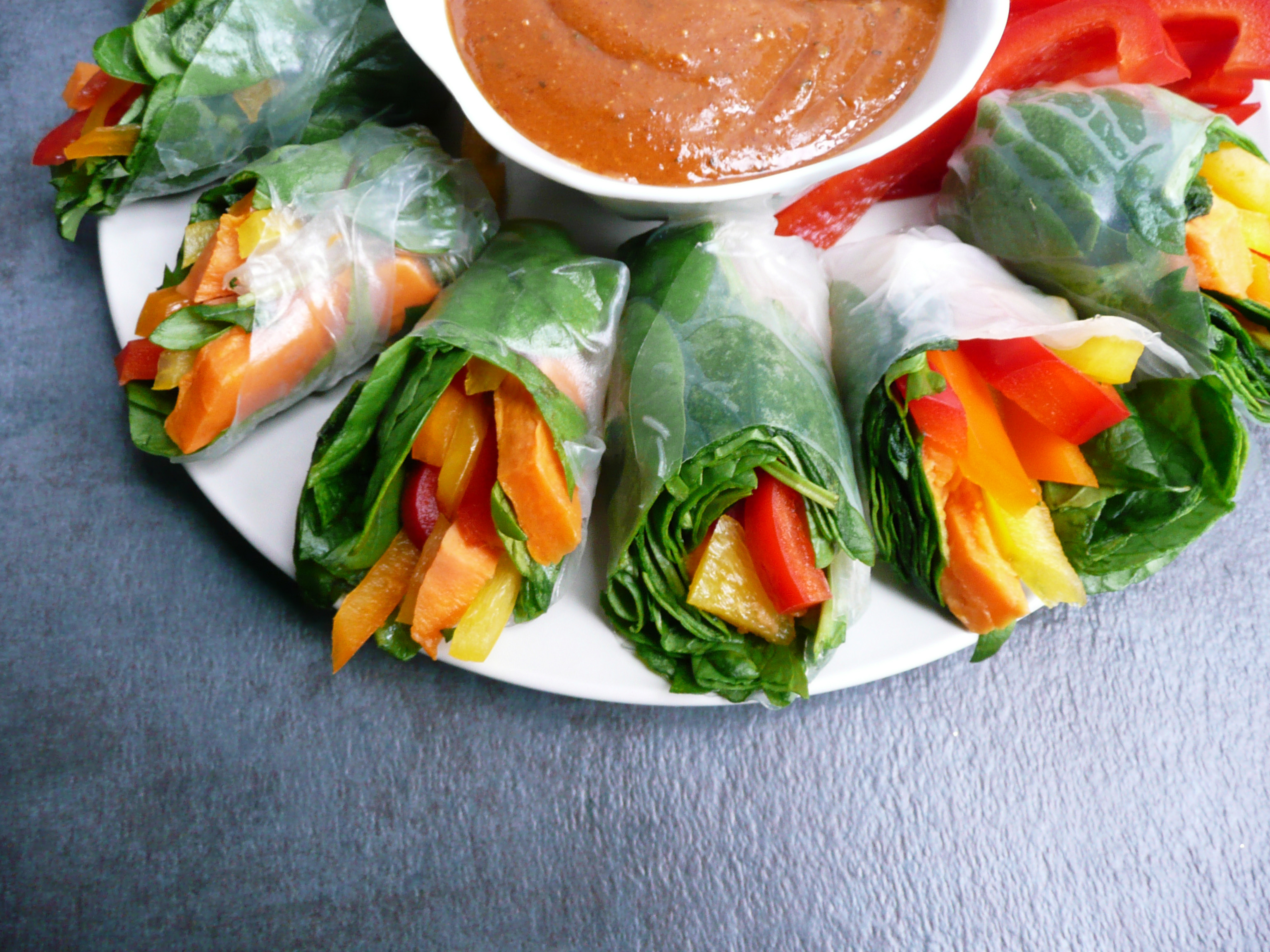 Veggie Packed Spring Rolls
For the spring rolls, I wanted to make a more colorful version, because it's January, and spring rolls are a good way to eat lots of vegetables without having to think too hard about it. You can fill them with whatever you like really, that peanut sauce tastes amazing on pretty much everything.
I'd count on making about 4-5 spring rolls per person if you're want to make them a main course, and 2-3 spring rolls per person if you want to make them as an appetizer.
You can cut them in half on an angle if you want to show off the colorful vegetables inside, or just leave them whole (which does make them a little easier to dip into the sauce, or you can spoon the sauce over the spring rolls instead).
I used Three Ladies Brand of rice paper wrapper in the 25 cm size (which is non-GMO and gluten free), but feel free to use your favorite brand of rice paper wrapper.
I would make the spring rolls right before you plan to eat them. They texture of rice paper wrapper changes after it's been refrigerated, so it's better to make them fresh. You can also pre-cut your vegetables in advance and assemble them right before serving to save time.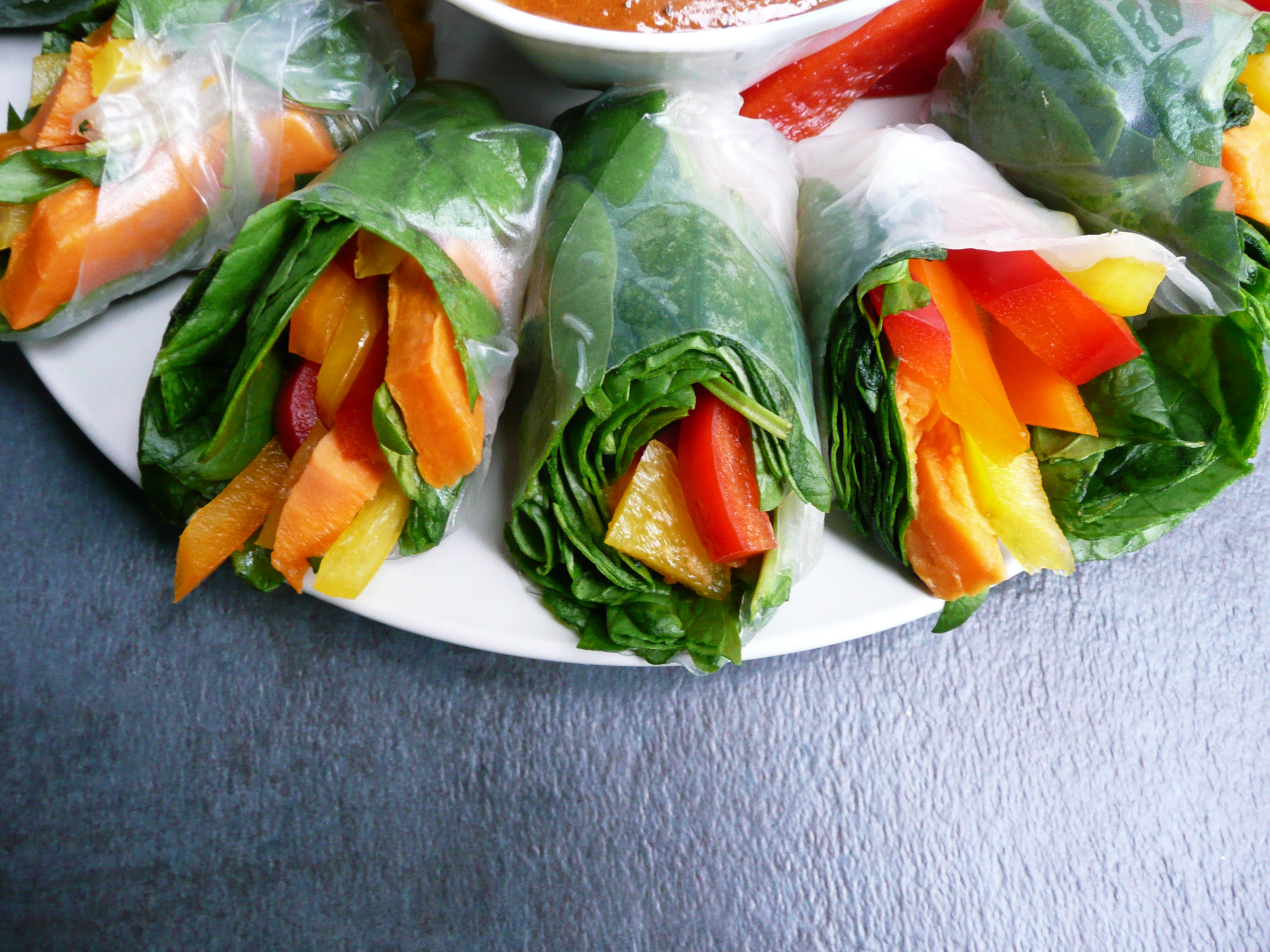 Ingredients
(For each spring roll)
1 rice paper wrapper
¼ cup lightly packed baby spinach leaves
4-5 slices bell peppers
1-2 pieces of roasted sweet potato (cut into ½ inch thick strips)
2-3 mint leaves (if you have them)
3-4 cilantro leaves (if you have them)
To make the spring rolls, dip one rice paper wrapper into warm water for about 20-30 seconds. It should just begin to feel like silk between your fingertips. Spread the rice paper onto a plate, place the mint and cilantro leaves on first, followed by the baby spinach, then the bell peppers, and roasted sweet potato.
Wrap each roll like a burrito, so the sides get folded in first, then the fold the edge closest to you over the vegetables, and roll until the spring roll is closed, and then set the spring roll aside onto another plate, and start the next one.
Here's a good visual lesson on how to do it.
https://www.youtube.com/watch?v=IfI1wMeDXhg
Before I moved away, I did have the foresight to buy some spring rolls from my friend's restaurant, and take one home. Here's what was in it:
1 1/2 teaspoons of bean sprouts
1 Sprig of Cilantro
2 one inch long pieces of mint leaves
3 pieces of Halved Shrimp (shrimp cut in half length ways)
3 teaspoons of rice noodles (possibly cooked in chicken broth, as they were light brown in color, I seem to remember my friend mentioning that they may have mixed the noodles with a bit of oyster sauce).
6 teaspoons of shredded romaine lettuce
1/2 teaspoons shredded carrots
My friend's family has since sold the restaurant, and I make simpler version of these spring rolls now at home (which I will post on the blog another day), but I thought that I'd include the recipe just in case you were curious.
Happy Eating!